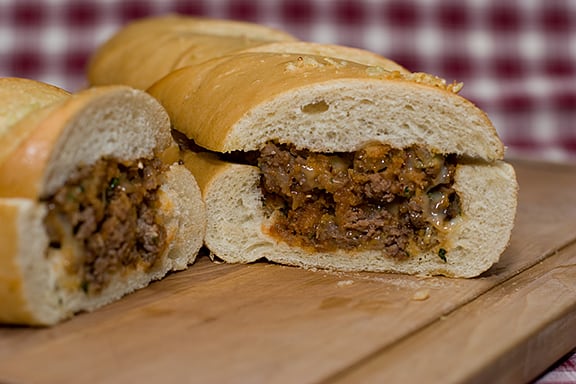 Awhile back, I got a comment from a reader asking if I had any tips on saving money or how to make sure nothing goes to waste while cooking on a budget. Now, I'm not sure, but I'm guessing that if I were to ask all of you if you are trying to pinch your pennies, especially on your grocery bill, the majority of you would raise your hands. Well, I definitely don't have the perfect system and I don't have all the answers, but I thought I'd share one of my tips with you.
My biggest problem in the kitchen is things that go to waste. When cooking for 2, if I cook a full recipe, we usually have tons of leftovers. And since my husband isn't the biggest fan of leftovers, that usually means that after a couple of days, I'm so sick of that meal from eating all the leftovers that I never want to see it again. I try to have "leftover night" every week, but then my husband usually just eats cereal, and once again – I'm the one stuck eating the leftovers. So I will usually make a half recipe, which still usually gives us a little bit of leftovers, but just enough for lunch the next day. The problem with making half a recipe, though, is that you usually end up with leftover ingredients. If a recipe calls for a can of something, then you'll have the other half of the can, waiting to be used. I almost always have a few things in my fridge and pantry that are halfway used. And this is what I've been trying to be better about – not throwing out those leftovers, but making good use of them.
So, here you have a little bit of this and a little bit of that. On the nights you decide to use these up, those cookbooks and magazines, and even food blogs, aren't going to help much. On those nights, I head to the internet. Now, there may be other places that do this, but on allrecipes.com, you can search for a recipe by ingredient. I can't tell you how many times this feature has saved me. Like for this particular recipe, for example. I had a loaf of French bread that I had bought to serve with another meal, but a neighbor brought by a fresh loaf of bread that night, so the French bread didn't get eaten. I also saw that I had a little bit of sausage in the fridge that needed to be used. So I headed over to allrecipes, click on the "ingredients" at the top, and enter the ingredients you want to use. You can even enter the ingredients you don't want the recipe to have in it! For this example, I typed in "French bread" and "sausage" and up popped this recipe. It was perfect, because I actually had everything on hand, and 40 minutes later, not only was dinner on the table, but nothing went to waste!
This is just one of my little ways of saving money in the kitchen. What do you do?
Sausage & Beef Stuffed French Loaf
adapted from allrecipes.com
Serves 6
Cooking Time: about 40 minutes
1 (1 pound) loaf French bread
1/2 pound ground beef
1/2 pound pork sausage
1 medium onion, chopped
2 tablespoons tomato paste
1 cup shredded mozzarella cheese
1 egg, beaten
1/4 cup chopped fresh parsley
1 teaspoon Dijon mustard
1/4 teaspoon pepper
1/4 teaspoon salt
2 tablespoons butter
1 garlic clove, minced
Preheat the oven to 400F.
Cut the top off of the loaf of French bread. Hollow out the bottom half, leaving a 1/4-inch shell.
In a food processor or blender, process the bread that was taken out of the bottom half into crumbs. Set aside 1 cup. (Save the remaining crumbs for another use.)
In a skillet, brown the ground beef, sausage and onion; drain. Add the tomato paste and cook for a few minutes. Stir in the reserved crumbs, cheese, egg, parsley, mustard, pepper and salt; mix well.
Spoon filling into the bread shell; replace the bread top. Place on a large sheet of heavy duty foil. In a small saucepan, melt the butter; add the garlic and cook for 1 minute. Brush over the tops and sides of the loaf. Seal the foil around the loaf.
Bake in the preheated oven for 20 minutes or until the cheese is melted.