These Chocolate Thumbprints are soft vanilla cookies that are pressed down in the middle and filled with a rich chocolate ganache.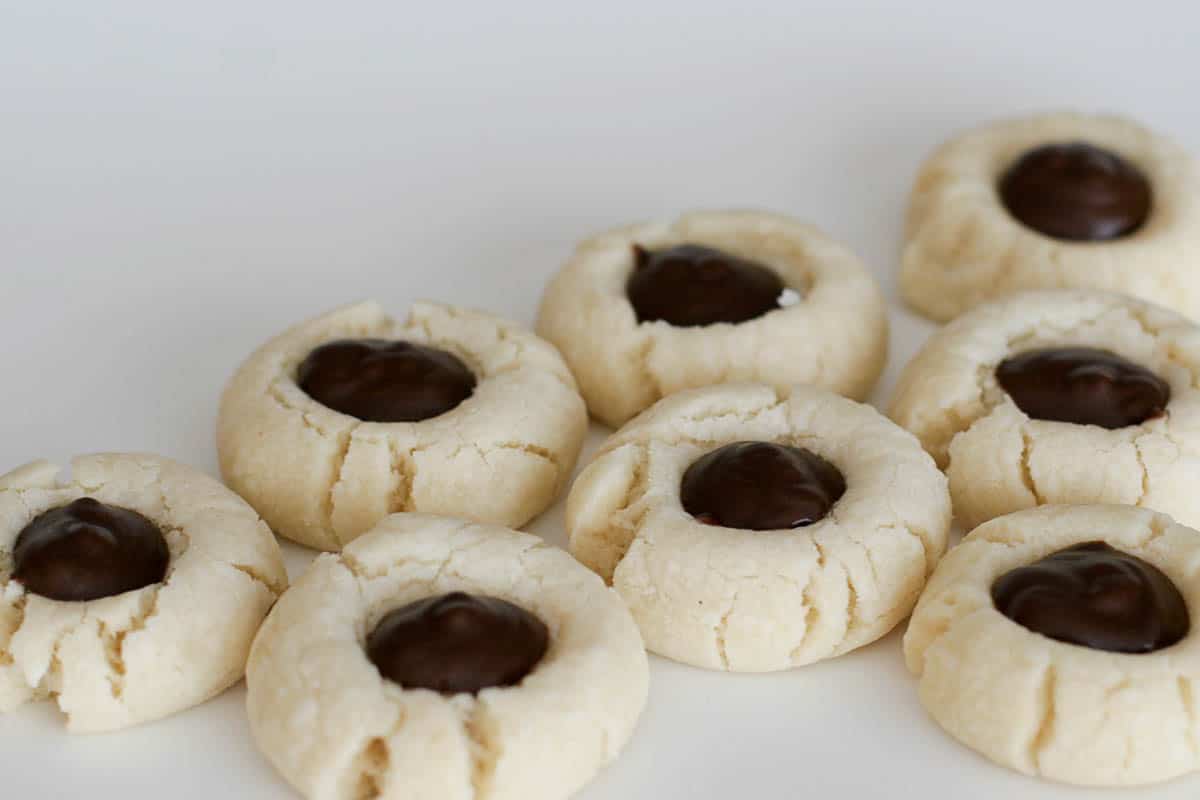 There are some cookies that you know everyone will always love – and I'm a believer that thumbprint cookies fall into that category.  Whether filled with fruit, chocolate, or peanut butter – I'm always attracted to a thumbprint cookie!!
These little guys are no exception.  I actually made them back at Christmas, when a co-worker of my husband's was asking for cookie donations to take around to some people that needed some Christmas cheer.  While flipping through Martha Stewart's Cookie cookbook, (which seems to be my "go-to" cookie cookbook!), I saw these and immediately knew that I needed to make them – because these would cheer anyone up!!
The only problem I have with this recipe is that it says to press your thumb into the hot cookies, making the indentation half way through the baking time.  Unless you have fingers that are completely heat-proof, this doesn't work all that well.  I suggest using the bottom of a wooden spoon – that has always done the job for me!!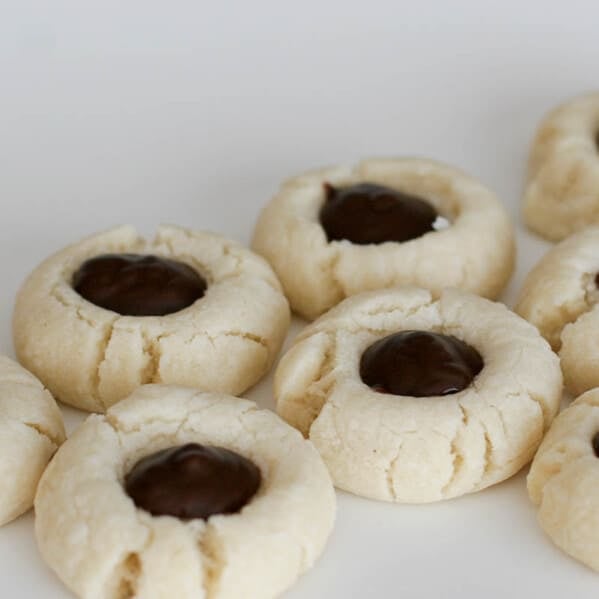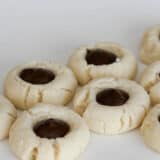 Chocolate Thumbprints
---
Author:
Prep Time: 20 minutes
Cook Time: 19 minutes
Total Time: 1 hour 30 minutes
Yield: 4 1/2 dozen 1x
Category: Cookies
Method: Baked
Cuisine: American
Description
These Chocolate Thumbprints are soft vanilla cookies that are pressed down in the middle and filled with a rich chocolate ganache.
---
Scale
Ingredients
1 cup (2 sticks) plus 6 tablespoons unsalted butter, at room temperature
1 cup powdered sugar
1/4 teaspoon salt
2 teaspoons vanilla extract
2 1/2 cups all-purpose flour
6 oz semi-sweet chocolate, chopped
2 teaspoons corn syrup
---
Instructions
Preheat oven to 350F. Line 2 baking sheets with parchment paper.
In the bowl of an electric mixer fitted with the paddle attachment, beat together 1 cup (2 sticks) butter, the confectioners' sugar, salt and vanilla on medium speed until smooth, about 2 minutes. Beat in flour, beginning on low speed and increasing to medium until combined.
Form balls using 2 teaspoons of dough for each; place balls 1 inch apart on prepared baking sheets. Bake 10 minutes, remove from oven, and press thumb into cookies to make deep, wide indentations. Rotate pan, and return to oven; bake until light brown on the edges, 7 to 9 minutes more. (If the indentations begin to lose definition, remove cookies from oven and press again.) Transfer to a wire rack to cool completely.
Combine chocolate, the remaining 6 tablespoons butter, and the corn syrup in a small heatproof bowl set over a pot of simmering water; stir occasionally until melted and smooth. Allow to cool a bit until slightly thickened. Fill thumbprints with the chocolate mixture, and set aside to firm up. Cookies can be stored in single layers in airtight containers at room temperature up to 3 days.
Recipe Notes:
Keywords: chocolate thumbprints