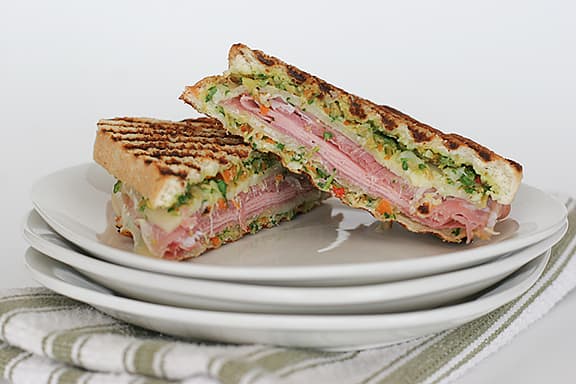 First of all, I just want to mention that this will be the last Saturday with Rachael Ray for 2010!!  Since next Saturday is Christmas, and the Saturday following is New Year's Day, I figured a Rachael Ray recipe will be the last thing on your mind those days!  But it will be back in January.
And yes – like I said yesterday, another sandwich.  I'm blaming it on pregnancy.  Not that I don't have an appetite – because I certainly do have one – but I'm just so tired lately that I have no will power or motivation to make dinner.  I'm slipping into my 3rd trimester already – I just hope I can find some energy to make it through!!
This sandwich really is a winner.  I liked yesterday's sandwich, but today's was even better!  I wasn't sure I was going to like the relish, because I'm not really an arugula fan, but it was just perfect.  I couldn't find the hot soppressata, and the girl that was at the deli counter that day was just filling in, so she didn't know a good substitution.  So I just got something that looked good and went with some mortadella.  Not the same, but it sure was delicious!!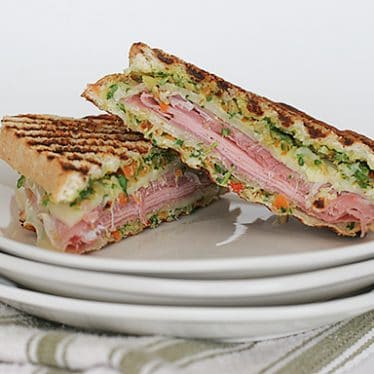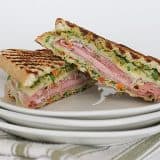 Muffuletta-Style Grilled Ham-and-Cheese Sandwiches
---
Prep Time: 10 minutes
Cook Time: 8 minutes
Total Time: 20 minutes
Yield: 4 servings 1x
Description
Muffuletta sandwich meets grilled ham and cheese for this great twist on a delicious sandwich.
---
Scale
Ingredients
1 cup giardiniera (hot pickled vegetable salad), drained
1 cup packed baby arugula leaves
1/4 cup pitted green olives
8 slices pullman-style white bread
4 tablespoons butter, softened
8 thick slices provolone cheese
8 thin slices proscuitto cotto or boiled ham
8 thin slices hot soppressata
8 thin slices genoa salami
---
Instructions
Using a food processor, grind the giardiniera, arugula and olives.
Coat 1 side of the bread slices with the butter. Build each sandwich as follows: a bread slice (buttered side out), giardiniera relish, a cheese slice, 2 prosciutto slices, 2 soppressata slices, 2 salami slices, another cheese slice, more relish and another bread slice (buttered side out).
Preheat a griddle or cast-iron skillet over medium heat. Add the sammies and cook, turning once, until the cheese melts, 6 to 8 minutes.
——————–

Check out these other Muffuletta-inspired recipes:
Muffuletta Hot Dogs on The Bitten Word
Proscuitto-wrapped Tuna Muffuletta on Lisa is Cooking
Muffuletta Panini on Panini Happy