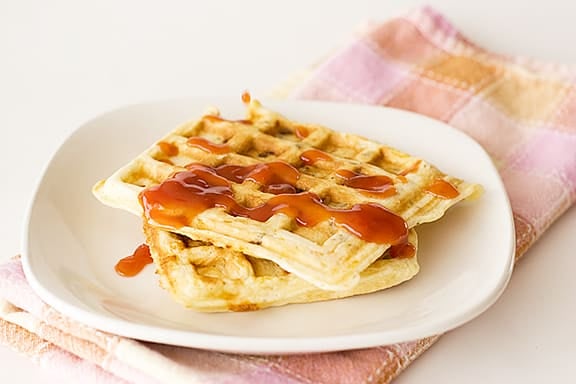 I have a confession to make – I eat breakfast for dinner more than I eat breakfast for breakfast. Don't get me wrong, I love breakfast food in the morning.  But my breakfast is usually pretty simple – some toast, a bowl of cereal, some fruit, maybe some muffins if I'm feeling adventurous.  It's actually pretty rare that we eat a big breakfast for breakfast.  But breakfast for dinner?  I do it all the time!  Since breakfast foods are some of my favorite foods, it only makes sense that I would enjoy them anytime of day!
I was super excited to see a little bonus section with breakfast recipes in the November issue of RR's magazine.  I really think I want to try every one of the recipes!  But I was initially drawn to these savory waffles.  I've been wanting to try savory, beefed up waffles for awhile, and this was my perfect chance!
There are not any suggestions for toppers in the recipe.  I think these are meant to be just eaten plain.  But to me, they were missing a little something.  They were great for snacking on, but actually sitting down and eating a plate of waffles?  They needed some sort of topping.  So I tried 2 different ideas that I thought sounded good.  The first is what is pictured in the first photo above.  It's a sweet/sour combo.  I did 2 parts ketchup to 1 part maple syrup, and warmed it in the microwave.  It was really good, and tasted like it belonged on these savory waffles, but it is a bit overpowering.  You tend to only taste the topping, and not much of the sausage, potatoes and cheese.
The second was a simple idea, but a delicious one.  Eggs.  Top the waffles with whatever kind of eggs are your favorite.  For me, it was a sunny-side up egg, nice and runny.  This was my favorite, and it screamed out breakfast to me.  I'd definitely go back to these over and over again!!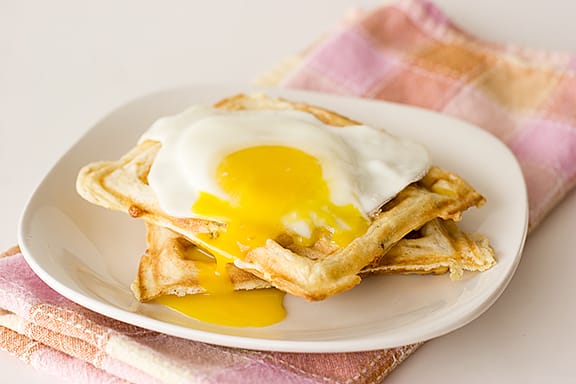 Sausage, Potato and Cheese Waffles
from Every Day with Rachael Ray November 2010
serves 6
total time:  40 minutes
1 link sweet Italian sausage (about 3 ounces), casing discarded
1 baking potato, grated and excess water squeezed out
4 tablespoons butter
1 3/4 cups flour
1 tablespoon baking powder
1/2 cup shredded cheddar cheese
1 tablespoon chopped flat-leaf parsley
1 1/4 teaspoons salt
1 1/4 teaspoons pepper
2 cups milk
2 eggs, lightly beaten
In a medium skillet, cook the sausage over medium-high heat, breaking it up with a fork, for 5 minutes. Add the potato and butter, lower the heat and simmer until the butter is melted, about 2 minutes. Remove from the heat and let cool, about 10 minutes.
In a large bowl, whisk together the flour, baking powder, cheese, parsley, salt and pepper. Stir in the milk and eggs until smooth. Stir in the sausage-potato mixture.
Using a waffle maker, cook the waffles according to the manufacturer's directions.
———————————-
Saturdays with Rachael Ray rules:
* You can link any blog post, present or past, as long as it is a Rachael Ray recipe.
* Your blog post must link back to this post, mentioning Saturdays with Rachael Ray.
That's it!! Simple, simple. Just make sure the recipe is a Rachael Ray recipe – it doesn't matter if it comes from her talk show, 30-Minute Meals, her magazine, or one of her cookbooks. But it must be from Rachael Ray. Any posts that don't follow these two rules will be deleted from the Mr. Linky.
I can't wait to see what you've made!