Perfect for a special occasion or holiday, this Larger-Than-Life Praline Cheesecake is sure to impress!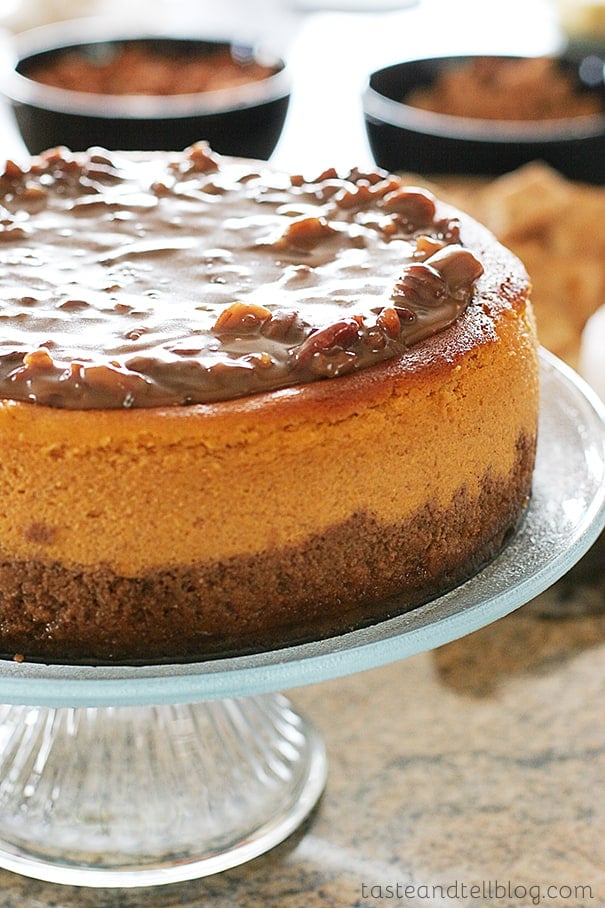 One thing I love about Christmas is that we eat a lot of the same foods for Thanksgiving as we do for Christmas.  That means if I fill myself up too much on Thanksgiving and don't get to try everything, chances are that I will get to try whatever I missed out on during our Christmas feast!  And one thing I want every Thanksgiving and Christmas is pumpkin pie.  I wouldn't even say that pumpkin pie is my favorite – although I do love it – but I always do want it for both holidays!
Well, this past Thanksgiving, as I was deciding what to bring to our dinner, I came across this cheesecake that members of the baking group that follow the Pastry Queen cookbook had made.  After I saw it, I couldn't get it out of my mind.  And all of a sudden, the idea of a pumpkin pie wasn't so important and I only wanted this cheesecake!
I'm really glad I made it, because I loved it.  I would suggest cooking it longer than the instructions indicate – especially if you are using a 9″ springform pan like I did.  It was cooked through, but it was a little soft for my liking.  But that topping?  I could have eaten it all off with a spoon!  And it was a wonderful addition to the pumpkin cheesecake.
And even though Thanksgiving is over, I think this would make a great addition to your Christmas feast. I know I'd be happy to see another one!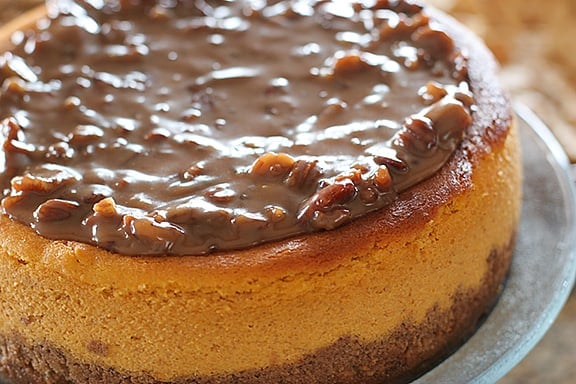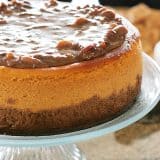 Larger-Than-Life Praline Cheesecake
---
Prep Time: 20 minutes
Cook Time: 1 hour
Total Time: 6 hours
Yield: 14-16 servings 1x
Description
Perfect for a special occasion or holiday, this Larger-Than-Life Praline Cheesecake is sure to impress!
---
Scale
Ingredients
Crust
2 cups crushed graham crackers
1/2 cup (1 stick) unsalted butter, melted
1/4 cup sugar
1 tablespoon ground cinnamon
Pumpkin Filling
3 (8-ounce) packages cream cheese, at room temperature
1 1/3 cups sugar
3 large eggs
1 teaspoon vanilla extract
1 (15-ounce) can pure pumpkin
1/2 teaspoon ground cinnamon
1/2 teaspoon ground nutmeg
1/2 teaspoon ground ginger
Praline Topping
1 cup pecans
1/2 cup firmly packed brown sugar
3/4 cup heavy whipping cream
1 tablespoon unsalted butter
1 tablespoon vanilla extract
1/4 teaspoon salt
---
Instructions
To make the crust: Line the bottom of a 9- or 10-inch springform pan with parchment paper and coat with cooking spray or Baker's Joy. In a large bowl, stir together the crushed graham crackers with the melted butter, sugar, and cinnamon. Press into the bottom of the prepared pan.
Preheat the oven to 350 degrees.
To make the filling: Using a mixer fitted with a paddle attachment, beat the cream cheese in a large bowl on medium-high speed about 1 minute, until fluffy. Add the sugar and beat until smooth, about 1 minute. Add the eggs one at a time, beating on medium-high for 20 seconds after each addition. Add the vanilla, pumpkin, cinnamon, nutmeg, and ginger; beat on medium speed about 1 minute, until incorporated.
Pour the filling over the crust. Put the springform pan into a larger baking pan and set it on the center rack of the oven. Pour enough boiling water into the larger pan to reach halfway up the sides of the springform pan. Bake about 1 hour, until the filling is set and golden brown on top. Cool the cheesecake on a rack about 30 minutes, then chill for several hours or overnight. Remove the cheesecake from the springform pan and set it on a serving plate.
To make the praline topping: Preheat the oven to 350 degrees. Arrange the pecans on a baking sheet in a single layer and toast them for 7 to 9 minutes, until golden brown and aromatic. Coarsely chop the nuts.
Stir together the brown sugar, cream, and butter in a saucepan set over medium heat. Boil the mixture for about 1 1/2 minutes, adjusting the heat to make sure it does not boil over. Do not stir. Remove the pan from the heat and stir in the vanilla, salt, and pecans. Cool the topping at least 15 minutes before pouring over the top of the chilled cheesecake. Serve immediately, or cover and chill until ready to serve. The cheesecake will keep, well wrapped, in the refrigerator for 3 to 4 days.
Here are some other great holiday cheesecakes:
Eggnog Cheesecake with Gingersnap Crust at The Naptime Chef
White Chocolate Peppermint Mini Cheesecakes at Korean American Mommy
Mini Vanilla Bean Cheesecakes with Holiday Cranberry Topping at Handle the Heat