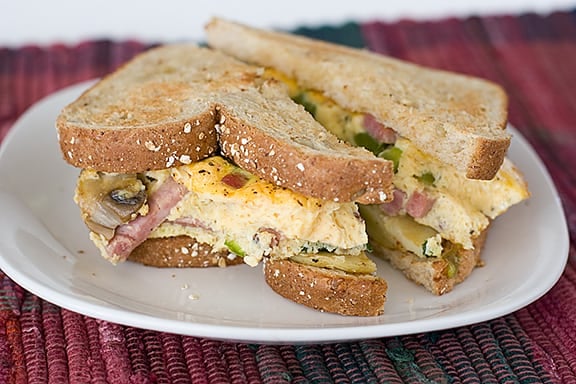 I love breakfast for dinner. We don't do it often, and I'm not sure why. So when I saw this recipe, I knew I wanted to try it.
I actually saw it in the Rachael Ray magazine, but didn't even bookmark it my first time around. But then I saw her make it on her talkshow, and I knew I wanted to try it!! And the bonus is that it is a pretty cheap meal. I love it when things all work together like that!
The only thing I think was missing from this is some sort of cheese. Cheese would have been really good. Oh, and the portions are HUGE! I halved the recipe, and could have easily gotten 3 servings out of it. These are super filling sandwiches – perfect for that breakfast for dinner night!
And of course, it's Saturday, so share your Rachael Ray recipes below!

Denver Eggs-and-Potato Hash Sammies
from Every Day with Rachael Ray April 2010
serves 4+
total time: 30 minutes
2 tablespoons extra-virgin olive oil
1 clove garlic, crushed
8 small yukon gold potatoes, thinly sliced
salt and pepper
3 tablespoons butter
12 eggs
3 tablespoons milk
2 teaspoons hot pepper sauce
3/4 pound mushrooms, thinly sliced
1 large green bell pepper – seeded, quartered lengthwise and thinly sliced
3/4 pound cooked ham steak, cut into matchsticks
6 scallions, thinly sliced on an angle into 2-inch pieces
8 slices good-quality white or whole wheat pullman bread, toasted and lightly buttered
Preheat the oven to 400°. In a large nonstick skillet, heat the EVOO, 2 turns of the pan, and the garlic over medium heat for a minute or so, then discard the garlic. Add the potatoes in a thin layer and season with lots of salt and pepper. Cook until crispy-brown, 8 to 10 minutes. Flip and cook until the other side is crisp, 6 to 7 minutes.
In another large nonstick skillet, melt the butter over medium heat. In a bowl, beat the eggs, milk and hot sauce. Add the mushrooms to the skillet and cook until just softened, about 5 minutes. Add the bell pepper and ham and cook for 4 minutes. Add the scallions and heat through, then add the beaten eggs; season with salt and pepper. Cook until the bottom of the eggs set, then transfer to the oven and cook through, 10 to 12 minutes.
Pile the potatoes on 4 slices of toast and top each with one quarter of the omelet. Cover with the remaining toasts, then cut the sammies corner to corner.