If any of you are new mothers, or if you are planning on having kids one day, let me give you one piece of advice.  Now, I don't know everything about parenting – not even close, but this much I know:
Never even introduce your kids to that blue box of macaroni and cheese.
I'm not a food snob.  I'm not going to look down on you if you are looking for a little bit of conveniece every now and again.  But believe me, once you feed your child that blue boxed mac and cheese, you may never be able to get them to eat another kind of macaroni and cheese again.
I've been on a bit of a macaroni and cheese kick lately.  Must be something about winter and wanting comfort food.  But try as I may, I cannot get Abbi to love any of these homemade versions like she does the blue box.  Seriously – she'll eat half of the box of the boxed kind herself.  But put a bowl of homemade macaroni and cheese in front of her – a few bites and she's done.  I'm hoping that with lots of persistance (and no more buying the blue box!), that one day, she will come around and love homemade just as much as the conveniece kind.
Even though she didn't really eat it, that definitely didn't stop me from devoring this mac and cheese.  Not only is it made with extra sharp cheddar, (my favorite), but you add in pureed root vegetables.  I used carrots and parsnips, but I think there would be all kinds of delicious combinations you could create here.  The vegetables add the perfect layer of flavor, and give you a little nutritional boost, as well.  (Just forget about all the cheese – and you could maybe call this a semi-healthy meal, right?)  And then you top it all off with some chopped pickled vegetables.  Yeah, I know it sounds kind of strange.  But I kind of totally loved it.  In fact, there wasn't anything about this recipe that I didn't love.  I'm going to start calling Rachael Ray the queen of mac and cheese!!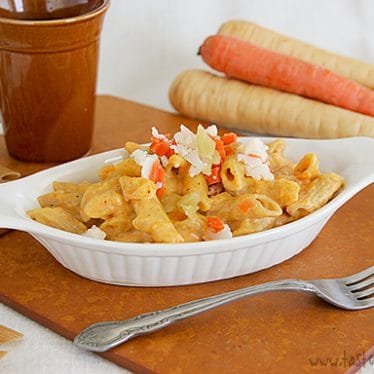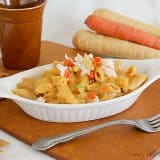 Root Vegetable Mac and Cheese
---
Total Time: 30 minutes
Yield: 4 to 6 servings 1x
Description
Add not only another level of flavor, but some extra nutrition when you add pureed root vegetables to this delicious macaroni and cheese from The Rachael Ray Show.
---
Scale
Ingredients
salt and pepper
1/2 pound carrots, peeled and sliced 1-inch thick
1/2 pounds parsnips, peeled and sliced 1-inch thick
1 pound whole grain or whole wheat small-cut pasta
4 tablespoons butter
1 small onion, finely chopped
2 cloves garlic, minced
3 tablespoons flour
2 cups milk
2 teaspoons mustard powder
2 1/2 cups grated extra-sharp cheddar cheese
1/2 cup pickled vegetables, finely chopped
---
Instructions
Bring a pot of water to a boil. Salt it and add the carrots and parsnips. Cook until tender, about 10 minutes. Drain and transfer to a food processor; puree until smooth.
Meanwhile, bring another large pot of salted water to a boil. Add the pasta and cook until just short of al dente. Drain and return the pasta to the pot.
While the pasta is cooking, melt the butter in a large pan over medium heat. Add in the onions and cook until softened, a few minutes. Add the garlic and cook until fragrant, about 30 seconds. Whisk in the flour and allow to cook for 1 minute. Whisk in the milk and simmer until thickened, about 3 minutes.
Season the sauce with the mustard powder, salt and pepper. Add in 2 cups of the cheese, stirring with a wooden spoon until completely melted.
Preheat the broiler. Stir the pureed vegetables and the cheese sauce into the pasta. Transfer to a casserole dish and top with the remaining 1/2 cup of cheddar. Broil until the cheese is melted and bubbly, about 5 minutes. Serve topped with the pickled vegetables.
—————–
adapted from The Rachael Ray Show
——————————————-
More Mac and Cheese love:
Pumpkin Cheddar Mac and Cheese from Taste and Tell
Spinach Macaroni and Cheese from RecipeGirl
Baked Macaroni and Cheese with Panko and Bacon from Roti and Rice