A roast beef sandwich is served up panini style with a quick homemade coleslaw with sundried tomatoes and melty cheddar cheese.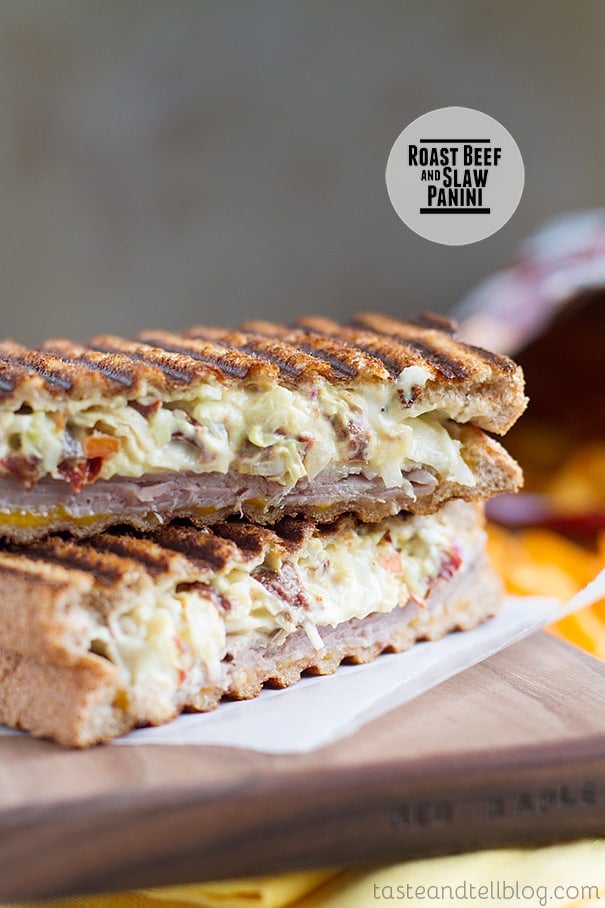 Photos Updated May 2014



Originally posted January 16, 2009 – Summer is right around the corner, which means lots of activities and less time in the kitchen. I like to stock up on sandwich recipes for those nights when there is just not enough time to make a big meal. This one is a husband favorite and one that he requests when he knows it's sandwich night!
Back when I had a 9 to 5 job, I always had grand ideas of how my days would go if I didn't have to work and I could just be a stay at home wife. Those ideas included getting up early, but not too early, to go to the gym, getting home and doing some housework, baking treats, organizing my home, and working on all kinds of projects and hobbies that I'd like to get to but never seem to have the time. Also included in my day would be time to make a healthy lunch, and also time to prepare dinner to be on the table for my husband when he got home from work.

Wow – was I wrong about how things would actually go!! I don't even have a child yet, and even though I get to be a stay at home wife before I get to become a stay at home mother, my days seem to fly by without anything getting done. I still struggle to keep up with the laundry, I haven't even started organizing anything yet, and hobbies and projects?? Yeah, right. There still is just not enough time in the day.
Along with all of my other misconceptions, I have found that I mostly just snack throughout the day – sometimes even forgetting to eat at all, depending on how busy I am. I thought I'd have time to make myself a delicious lunch each day, but that just doesn't really happen. So I thought I'd do something about this and I asked for a panini press for Christmas. I was so excited to try my new gift out, and I'm happy to say, it's had quite a bit of use these last few weeks, even if most of the time it has been to make a quick dinner for my husband and I.
This recipe actually didn't even start out as a panini. The original recipe has the sandwich made in a pita pocket. I ate my original sandwich that way, but my husband asked if he could have his as a panini. I obliged, and was pleasantly surprised to find that I liked it much better that way. I kept sneaking tastes of his sandwich!!
So the next day at lunch, I decided to actually sit down to a homemade lunch, and I made up the same sandwich that I made my husband the night before. And I loved every bite. Served with a side of oven baked sweet potato fries, my lunchtime was just as I had always imagined it would be. Maybe I need to take time out of my day more often for a delicious lunch!!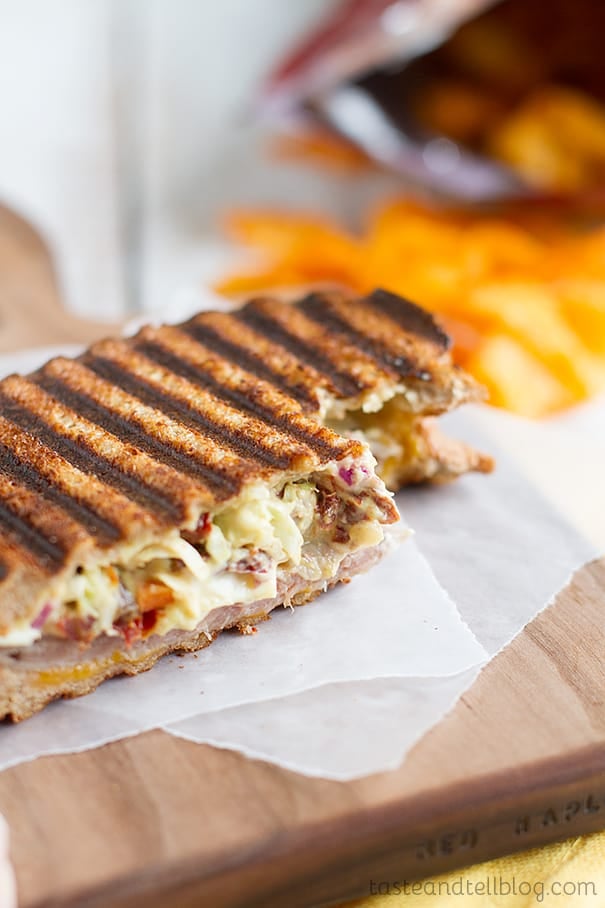 Like what you see here? Make sure you are following Taste and Tell for more great recipes and ideas!!

Facebook ** Pinterest ** Twitter ** Instagram ** Google+
or you can subscribe to my newsletter or Feedly or Bloglovin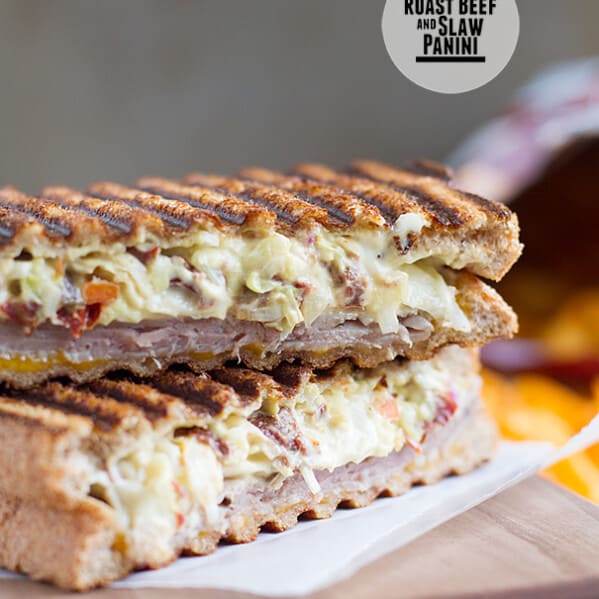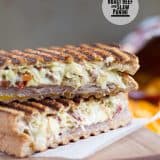 Roast Beef and Slaw Panini
---
Prep Time: 15 minutes
Cook Time: 5 minutes
Total Time: 20 minutes
Yield: 4 sandwiches 1x
Description
A roast beef sandwich is served up panini style with a quick homemade coleslaw with sundried tomatoes and melty cheddar cheese.
---
Scale
Ingredients
1/4 cup sundried tomatoes, drained well and rinsed
1 1/2 cups packaged coleslaw mix (shredded cabbage and carrots)
3 tablespoons mayonnaise
1 tablespoon prepared deli horseradish
1/2 tablespoon mustard
1/4 teaspoon caraway seeds
1/2 pound deli roast beef, thinly sliced
4 slices cheddar cheese
8 slices whole-wheat bread
butter
---
Instructions
Cut sundried tomatoes into thin strips.
In a bowl, combine the sundried tomatoes, coleslaw mix, mayonnaise, horseradish, mustard and caraway seeds. Mix well.
Preheat a panini press. Lightly butter the outsides of each slice of bread. For each sandwich, use 1/4 of the roast beef, a slice of cheese, and 1/4 of the slaw mix. Place sandwiches, buttered side to the press, and press until the sandwich is toasted and the cheese is melted.