A recipe for Chocolate Peanut Butter Thumbprint Cookies – peanut butter cookies are filled with a delicious chocolate ganache.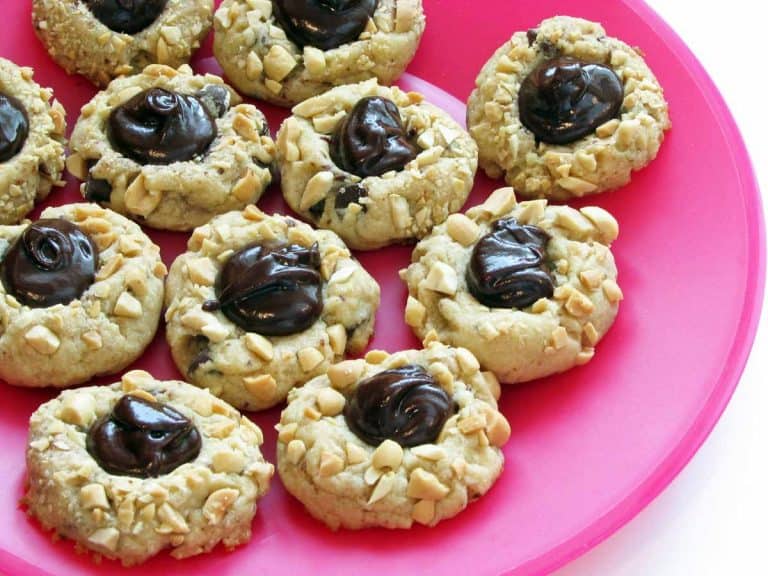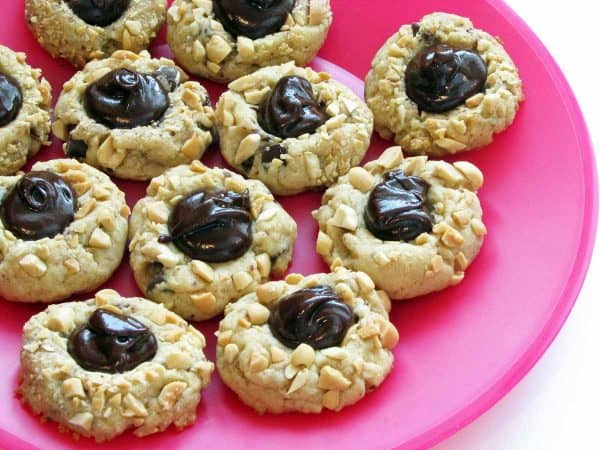 Chocolate has been flying around the blogosphere over the last week. If you haven't heard, (which I'm sure you have), Culinate is hosting a Death By Chocolate contest.
I received an email last week that said that someone had nominated me, and most of my favorite blogs have also received nominations. I have been reading through other blog entries, and I'm drooling from all of the wonderful chocolate concoctions that have been entered.
So I am bringing you a little bit of chocolate from over in my blog world. But here's the catch. I'm asking you NOT to vote for me! (In fact, I'm not even going to enter – but I will be voting!)
Let me explain… The grand prize is "a day of chocolate and wine tasting, demonstrations by pastry chefs, and other sessions with chocolate aficionados and experts." The thing is – I don't drink, and I would feel unappreciative to have to turn down part of the prize. Not that I would ever win with all of the other fantastic bloggers and entries that have been entered so far. But I'm mentioning this because I really want everyone to go and vote!
In fact, as of this morning, 5 of my favorite blogs are in the top 10. So support those bloggers you love, and support the love of chocolate!!
Speaking of chocolate, I can't leave you without a decent dose of it!! I have been going back to this recipe for a few weeks now, and I finally got around to making them this weekend. I really shouldn't have waited so long – these cookies are fabulous!!
If you are a fan of chocolate and peanut butter, you will love these!! And the saltiness that the peanuts on the outside of the cookie adds is just perfect if you are a lover of sweetness and saltiness like I am. And just enough chocolate to satisfy that chocolate craving!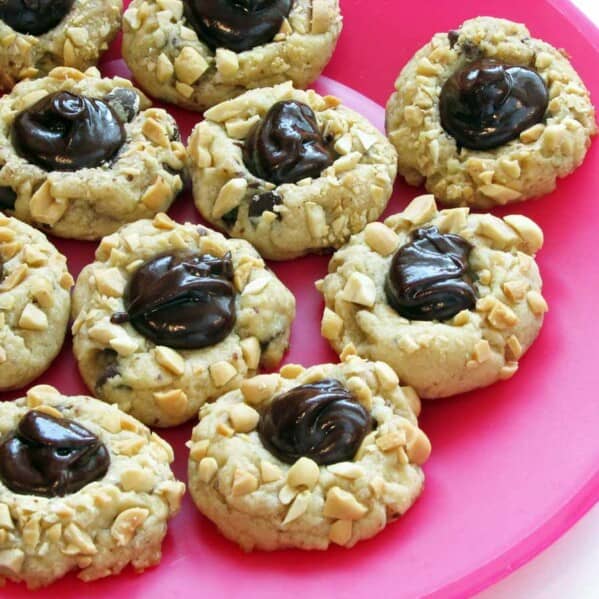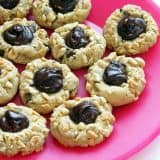 Chocolate Peanut Butter Thumbprint Cookies
---
Author:
Category: Dessert
Method: Baked
Description
A recipe for Chocolate Peanut Butter Thumbprint Cookies – peanut butter cookies are filled with a delicious chocolate ganache.
---
Scale
Ingredients
For the Cookies:
1/2 cup butter
1/2 cup brown sugar
1 teaspoon vanilla
1 1/2 cups flour
1/2 teaspoon salt
2 tablespoons milk
1/4 cup semi-sweet chocolate chips, chopped
1/4 cup chopped, skinless peanuts
For the Filling:
3/4 cup semi-sweet chocolate chips
2 tablespoons corn syrup
2 tablespoons peanut butter
1 tablespoon water
1 teaspoon vanilla
---
Instructions
Preheat oven to 375 degrees F.
In a mixer with a paddle attachment, cream the butter. Add the sugar and continue creaming, then add the vanilla and mix. Mix in the flour and salt. Add the milk and chopped chocolate and mix. Roll into 1 1/2-inch balls and dip the top of the ball in chopped peanuts. Place on a cookie sheet 1 1/2 inches apart and push your thumb in the middle to make a depression. Bake until light golden brown, about 10 to 12 minutes. Let cool while you make the filling.
To make the filling, over hot water melt the chocolate then stir in the remaining ingredients. Cool 5 minutes then fill the centers of the cookies. Allow to slightly set, approximately 10 minutes.
Recipe Notes: