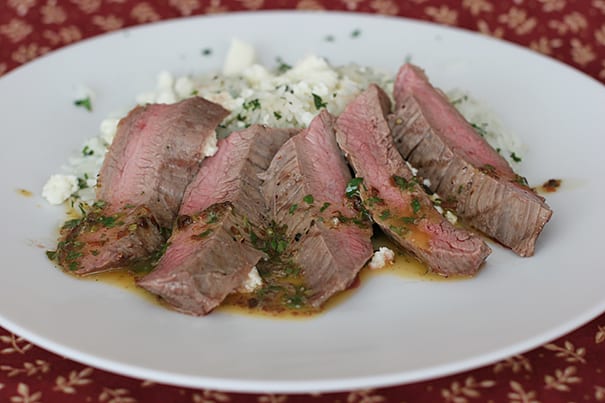 What I need is the energy of a 3 year old…
My sister and her husband are out of town, so I took a turn yesterday watching her kids. She has 3-year old twin boys that I picked up from school at 11:30, and had a few hours to spend with them alone until the other kids came home from school. Wow – I really admire my sister now. Those boys are so full of energy, I could barely keep up!
I came home that evening exhausted. I'm used to just taking care of one needy almost-3-month-old, but throwing in those 2 three year olds really put me to the test!
But even though I don't have that kind of energy, I still have the energy to throw together a meal like this – especially since all it takes is half an hour! This was delicious, healthy, and easy – what more can you ask for?
Chipotle-Herb Flank Steak with Cilantro Rice
from 29 Minutes to Dinner
Serves 4
Steak
1 lb. beef flank steak
1 tablespoon vegetable oil
salt and coarsely ground black pepper
Cilantro Rice
1 cup uncooked long grain white rice
1/4 cup chopped fresh cilantro
4 ounces queso fresco
Chipotle-Herb Butter
1 chipotle pepper in adobo sauce and 1 tablespoon adobo sauce
1 lime
1 tablespoon finely chopped fresh cilantro
1/4 cup butter, softened
Preheat oven to 350F.
Heat a grill pan over medium-high heat for 5 minutes. Brush both sides of the steak with the oil and season with salt and pepper. Place steak into pan. Cook steak for 4 minutes on each side, or until grill marks appear.
Place the pan in the oven. Roast for 5-7 minutes or until a thermometer registers 140F for medium-rare doneness. Remove the steak and let rest for 5 minutes.
As the steak cooks, start the rice. Cook rice according to package directions. Meanwhile, chop cilantro; set aside 1/4 cup for the rice.
To make the butter, remove the seeds from the chipotle pepper and finely chop the pepper. Juice the lime. Combine the chipotle pepper, adobo sauce, remaining 1 tablespoon cilantro, lime juice and butter in a bowl.
When rice is finished cooking, combine it with the cilantro and the queso fresco.
To serve, microwave the butter for 20 seconds or until melted. Transfer steak to a cutting board; carve diagonally against the grain. Transfer steak to serving plates, drizzle with butter and serve with the rice.