It's time to change up your lunch routine with this delicious meat-free recipe filled with a mashed chickpea and green chile filling. Perfect for lunch at home or at the office!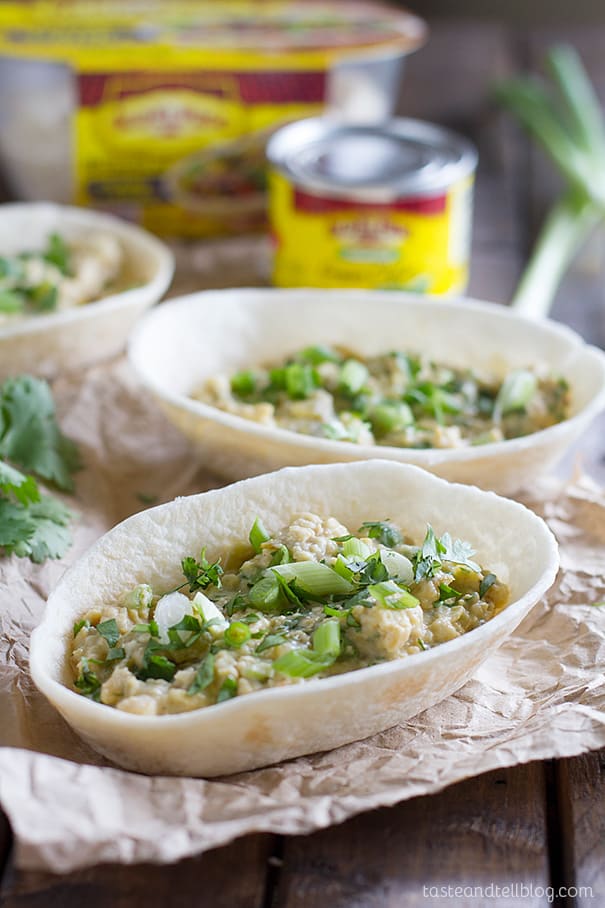 I may be crazy, but I feel like lunch is the hardest meal of the day. It's not like you have the time or energy to make a full out recipe, but the same old sandwiches or leftovers get boring after awhile.
I used to be really good about making a lunch for my husband to take to work with him. I'd pack him up some leftovers, and he could take them with him and put them in the fridge at work and then heat them up there as well. But then he moved to a different office. And access to a fridge and microwave are not as easy.
So I stopped making lunches, and he started eating out. It doesn't help that food trucks come to his office every day, making eating out easy. But let's face it. Eating out every day loses it's appeal after awhile, and it's definitely not cheap.

So I have been trying to come up with ideas for lunches that I can send with him that will be ok in an insulated lunch bag for a few hours, and that don't have to be warmed up. Something that is easy to pack up, and easy to eat when he only has a few moments.
Oh yeah, and something that I'd want to make extras of for myself at home. 🙂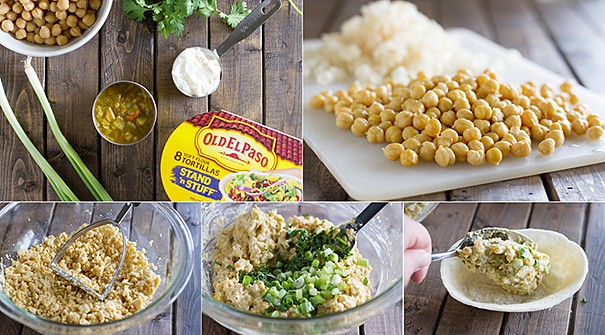 Enter the Mashed Chickpea and Green Chile Bowls.
I love these for so many different reasons. They are a great meatless meal, they pack a ton of flavor, and they are so fun to eat.
You start by mashing a can of chickpeas. I choose to remove the skins from the chickpeas. It does take a little bit of time, but I think it's totally worth it because the texture is so much better. I usually love that time when I can just stand at the counter and zone out for a bit while I remove the skins. This time when I made these, I timed how long it took me to take the skins off of a whole can of chickpeas. It took me right about 15 minutes. But considering it only takes about 5 minutes to put everything else together, I think a 20 minute lunch is totally doable!
I am using my favorite green chiles from Old El Paso again (I could seriously put those babies in just about everything I make). And these tortilla "bowls"? Genius!! I have seen these on the store shelves for quite some time, now, but this is the first time I have actually used them. And it won't be the last. Not only are they delicious, but they made this meal a lot more fun. You could always use this filling to make a sandwich or a wrap, but these Stand and Stuff Tortillas were a total hit with the whole family.
These Mashed Chickpea and Green Chile Bowls were the perfect solution for an easy lunch to take to work or a delicious lunch to stay home with!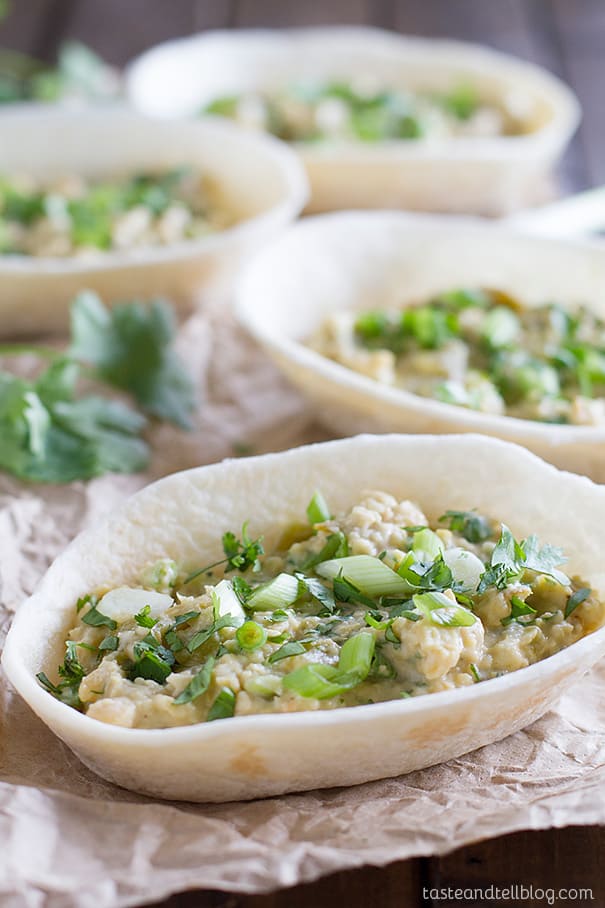 Like what you see here? Make sure you are following Taste and Tell for more great recipes and ideas!!

Facebook ** Pinterest ** Twitter ** Instagram ** Google+
or you can subscribe to my newsletter or Feedly or Bloglovin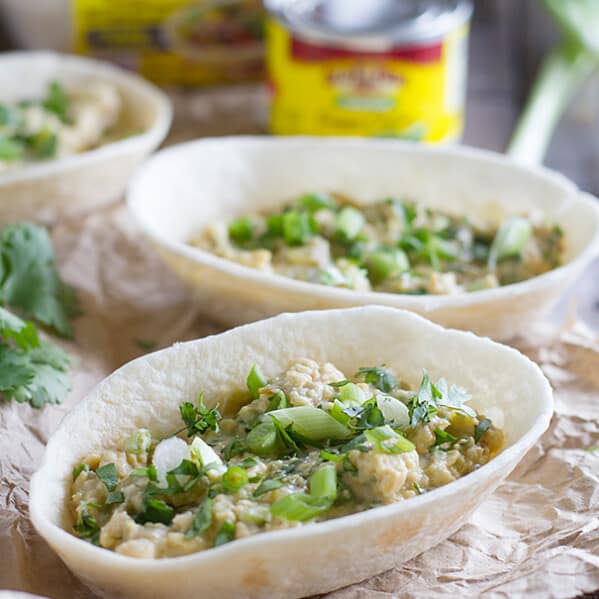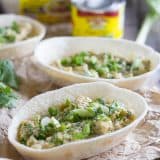 Mashed Chickpea and Green Chile Bowls
---
Prep Time: 20 minutes
Total Time: 20 minutes
Yield: 4 servings 1x
Description
It's time to change up your lunch routine with this delicious meat-free recipe filled with a mashed chickpea and green chile filling. Perfect for lunch at home or at the office!
---
Scale
Ingredients
1 can (15 oz) chickpeas, drained, rinsed and skins removed
1/4 cup mayonnaise
1 can (4.5 oz) Old El Paso™ diced green chiles
1/4 cup thinly sliced green onions
2 tablespoons chopped cilantro
salt and pepper
4 Old El Paso™ Stand and Stuff Flour Tortillas
---
Instructions
Drain the chickpeas and rinse them. Use your thumb and index finger to gently pinch each chickpea, removing the outer skin.
Place the peeled chickpeas in a bowl. Roughly mash using a potato masher. Stir in the mayonnaise. Add the green chiles, green onions and cilantro and stir to combine. Season to taste with salt and pepper.
Divide the mixture evenly between the 4 Stand and Stuff Tortillas.
I am in a working relationship with Old El Paso, and this post has been sponsored. I'm so glad to be able to work with companies and organizations that I truly believe in. Thank you for supporting them, too.