Scones aren't just for a sweet treat – these Chipotle Cheddar Scones are cheesy and slightly spicy and make a perfect side for dinner.
Post Updated September 2014
Originally posted January 15, 2008 – This is another recipe that got lost in the the depths of the archives that needed to shine again. These savory scones are the perfect side for a big bowl of soup or chili and are warm and comforting – perfect as we go into colder weather! These Chipotle Cheddar Scones are will the star of your meal!
If you've been reading my blog, you will know that I have a hard time with side dishes. I have been trying to be better lately, mostly so that I can get some extra vegetables into our meals, but the hardest thing for me is pairing sides with the main dish. I'm fine with coming up with a main dish to serve, and I'm fine with coming up with a side dish, but whether or not these always go together is a whole new question!! I actually received an email the other day with a question regarding sides. She said – "your bell peppers look delicious. I have been wanting to make stuffed bell peppers for a guy I have been recently dating. He is a great cook and loves to cook, but it is my turn and I want it to be great. Do you have any suggestions for side dishes for these peppers….and maybe dessert?"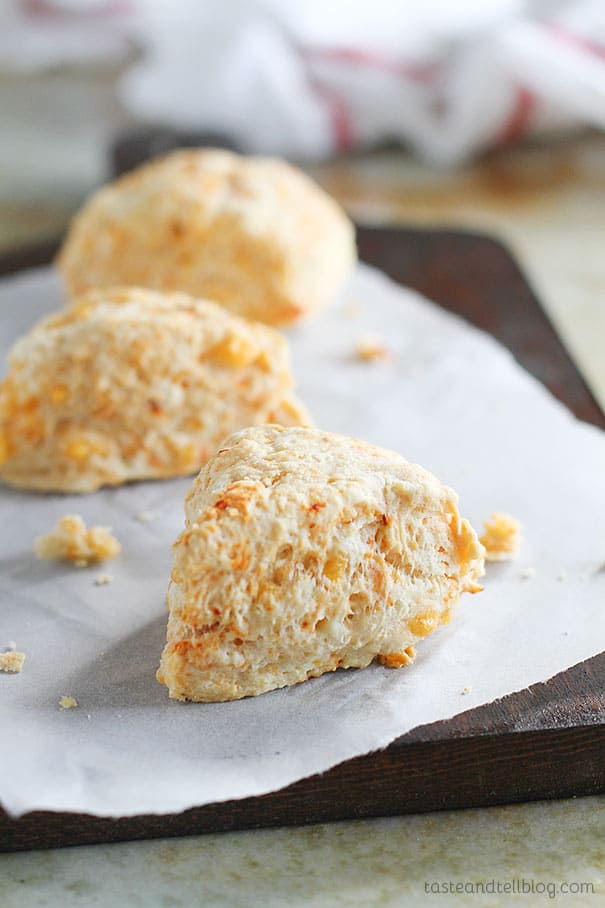 So I need your help!! She was referring to the Stuffed Bell Peppers I made a few months ago. I'm counting on you all to come up with a great meal plan including these peppers!!
I realized last night that I hadn't posted about these chipotle cheddar scones yet, which is a shame, because they really were very delicious!! I made them awhile back with the Cornflake Crusted Halibut. Once again, I don't really know if these "went" together, but I sure did enjoy both of them!! One thing I know these cheddar scones would go well with is a nice, hot bowl of chicken tortilla soup. I have really been wanting to whip up another batch of these scones, so maybe I will be making some soup soon!! I was afraid the chipotle would be quite hot, but I was actually surprised at how you just tasted a little bit of heat. I might even add a little extra next time I make these!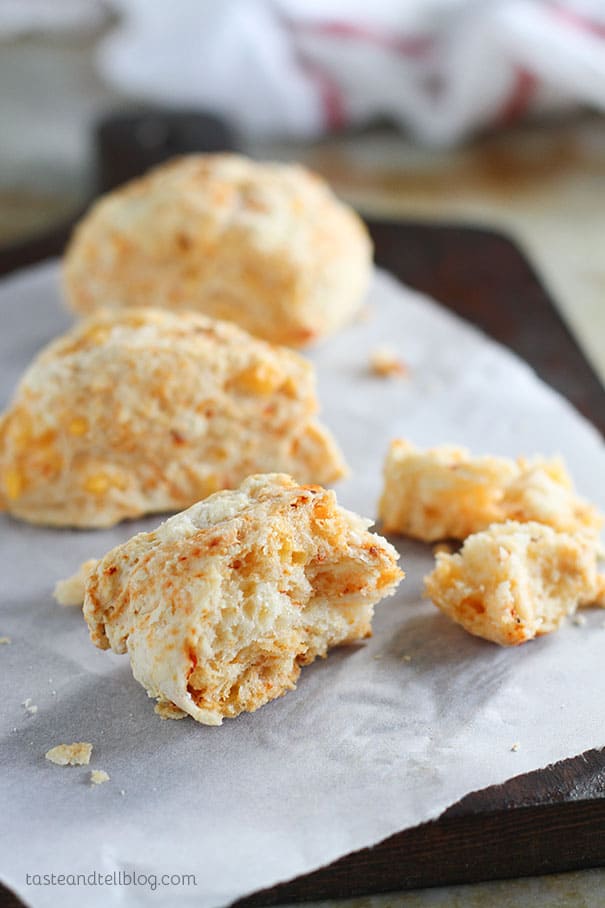 Like what you see here? Make sure you are following Taste and Tell for more great recipes and ideas!!

Facebook ** Pinterest ** Twitter ** Instagram ** Google+
or you can subscribe to my newsletter or Feedly or Bloglovin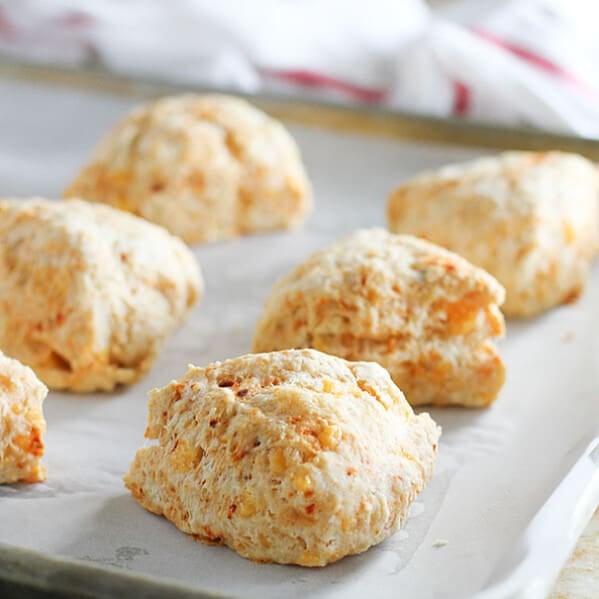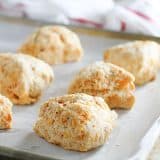 Chipotle Cheddar Scones
---
Prep Time: 15 mins
Cook Time: 20 mins
Total Time: 35 mins
Yield: 12 scones 1x
Description
Scones aren't just for a sweet treat – these Chipotle Cheddar Scones are cheesy and spicy and make a perfect side for dinner.
---
Scale
Ingredients
2 cups all-purpose flour
1 tablespoon baking powder
1/2 teaspoon salt
3 tablespoons cold butter, cut into small pieces
3/4 cup sour cream
1/2 cup (2 ounces) shredded sharp cheddar cheese
1 tablespoon water
1 tablespoon minced canned chipotle chile in adobo sauce
1 large egg, lightly beaten
---
Instructions
Preheat the oven to 350ºF. Spray a baking sheet with nonstick cooking spray.
In a medium bowl, combine the flour, baking powder and salt. Cut in the butter with a pastry blender or a fork until it resembles coarse meal. Add in the sour cream, cheese, water, chipotle in adobo adn egg. Stir just until moistened.
Lightly spoon flour into dry measuring cups; level with a knife. Combine flour, baking powder, and salt in a medium bowl, stirring with a whisk. Cut in butter with a pastry blender or 2 knives until mixture resembles coarse meal. Add sour cream, cheddar cheese, 1 tablespoon water, chipotle chile, and egg; stir just until moist. Knead in bowl with lightly floured hands just until dough forms.
Lightly flour a work surface and dump out the dough. Lightly knead just until it comes together. Divide the dough in half and shape each half into a 6-inch circle. Cut each circle into 6 wedges. Arrange the wedges on the baking sheet 1 inch apart.
Bake for 20 minutes, or until browned. Serve warm.