Chocolate and peanut butter are combined and topped with a chocolate ganache in this Marbled Chocolate Peanut Butter Cake.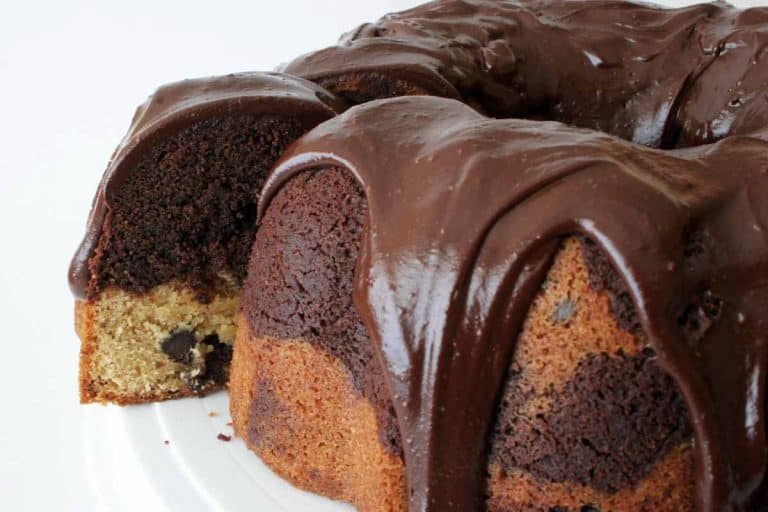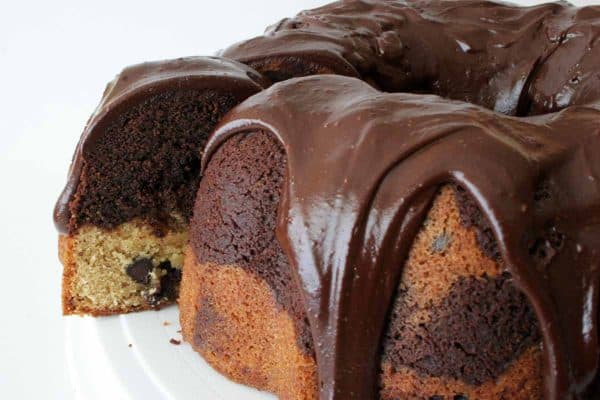 For birthdays at work lately, I've just been sticking with cupcakes. Easy to eat, and nothing to cut up. Plus, my co-workers seem to prefer cupcakes, especially mini ones. But since I'm the baker, I decided to switch it up this time around. I wanted to use one of my unused cookbooks, and this chocolate and peanut butter concoction caught my eye. There has been so much of the chocolate/peanut butter combo going around the blog world lately, and it's given me a serious craving!
This cake turned out beautiful, but I'm sad to say that it looked better than it tasted. And I'm pretty sure it's all my fault. We usually eat natural peanut butter at home. Both my husband and I are big peanut butter and jelly fans, so we always have a big jar of it. I usually have some of the "regular" peanut butter at home that I use for baking, because the natural peanut butter seems to act differently in baking than the other stuff. But I had run out since I haven't been doing quite as much baking. Well, at the grocery store, I forgot to get peanut butter. I got home, and I realized this. I debated whether or not to run back to the store, but my husband talked me into just staying home and using natural peanut butter for the cake.
That was my big mistake, and I should have known better. The resulting cake was pretty dry. Actually, very dry. This is the first birthday treat at work that I was actually embarrassed about. But I explained to them all that they are my guinea pigs, and that I had never made the recipe before. Many of them were actually surprised to learn that all of the treats I bring are usually the first time I've ever made them. I didn't get any complaints, and I'm sure I'm my biggest critic, but I have definitely learned my lesson to only use natural peanut butter when called for!!
I actually think this cake would be delicious if you use some regular Jif. It looks like a camouflage cake before the glaze is added, which I thought was really fun.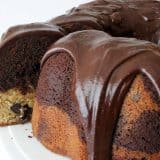 Marbled Chocolate Peanut Butter Cake
---
Description
Chocolate and peanut butter are combined and topped with a chocolate ganache in this Marbled Chocolate Peanut Butter Cake.
---
Scale
Ingredients
For the Cake
4 ounces unsweetened chocolate, chopped
2 sticks (1 cup) unsalted butter, softened
1 cup smooth or crunchy peanut butter
1 cup sugar
1 cup packed light brown sugar
5 eggs
2 1/2 cups all-purpose flour
2 teaspoons baking powder
1/2 teaspoon salt
1/2 cup milk
1/3 cup chocolate chips
For the Chocolate Peanut Butter Glaze
2 tablespoons unsalted butter, cut up
2 tablespoons smooth peanut butter
3 tablespoons golden or light corn syrup
1 teaspoon vanilla extract
6 ounces semisweet chocolate, broken into pieces
1 tablespoon water
---
Instructions
Preheat oven to 350F. Generously grease and flour a 10-inch ring mold. In the top of a double boiler over low heat, melt the chocolate.
Place the butter, peanut butter and sugars in a large bowl and mix with an electric mixer until light and creamy, about 3-5 minutes, scraping the sides of the bowl occasionally. Add the eggs one at a time, beating well after each addition.
In a medium bowl, stir together the flour, baking powder and salt. Add to the butter mixture alternately with the milk until just blended.
Pour half of the batter into another bowl. Stir the melted chocolate into one half of the batter until well blended. Stir the chocolate chips into the other half of the batter.
Using a large spoon, drop alternate spoonfuls of chocolate batter and peanut butter batter into the prepared pan. Using a knife, pull through the batters to create a swirled, marbled effect; do not let the knife touch the side or bottom of the pan and do not overmix. Bake the cake for 50-60 minutes, until the top springs back when lightly pressed. Cool in the pan on a wire rack for 10 minutes, then turn out onto the rack and allow to cool completely.
To prepare the glaze, combine all the ingredients in a small pan. Melt over low heat, stirring until well blended and smooth. Cool slightly. When slightly thickened, drizzle the glaze over the cake, allowing it to run down the sides.
Recipe Notes: