Light and lemony, these Lemon Cream Taco Boats have cinnamon-sugar coated tortilla boats filled with a creamy, luscious lemon cream. Top them off with diced strawberries for a perfect summer treat.

Yum


I hate to admit it, but I am easily distracted. Most of the time, this happens when I sit down at the computer to look something up, and then 20 minutes later, I'm still sitting there, looking at something completely different, and forgetting completely what I originally sat down to look up. It happens way more often than it should.
Lately, this distraction has come in the form of Pinterest. We all know it can turn into a time suck, but I have been obsessed with beautiful yards and gardens lately. Flowers, vegetables, trees, plants, grass. Little gnome statues and flowing fountains. And watch out if one of those lead me to a YouTube station full of videos on how to make the cutest fairy gardens ever. #trouble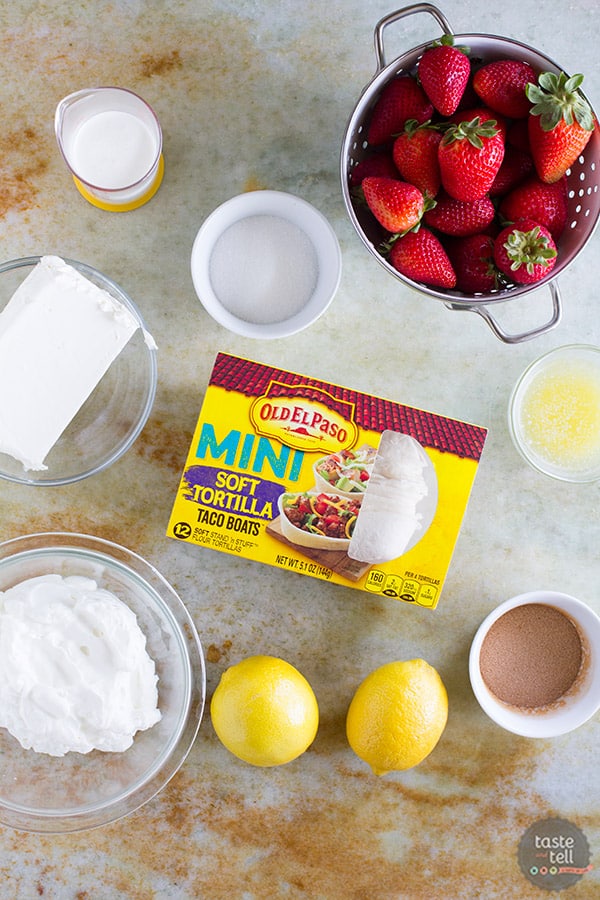 Living in Utah, there are some great things you can do in your yard, but one thing I long for that will never happen because of our lovely winters is having a lemon tree. (You had to see that coming, right?) It's been a whole month and a half since I've posted a lemon recipe, but just imagine if I had my own lemon tree! I would seriously be in heaven. When Abbi was just a baby, we took a trip to Oregon to visit some of my husband's family. His aunt had a meyer lemon tree, and I still dream about having a tree like that one in my yard one day.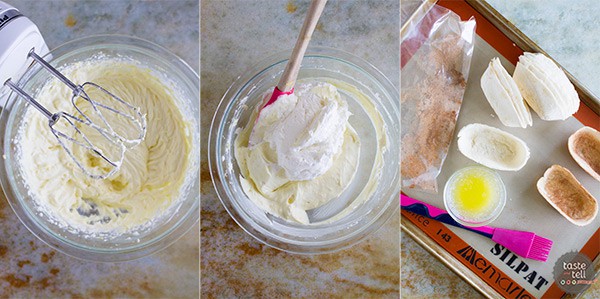 In the meantime, I'll just be buying my lemons by the dozen at the grocery store to make you all the lemon recipes. 🙂 Including these Lemon Cream Taco Boats.
Along with my lemon obsession, I also have a taco obsession. (Just search the archives and you'll see this!) So for your next Taco Tuesday, I dare you to do a full on, taco obsessed meal. A taco inspired appetizer like these Jalapeño Stuffed Taco Soft Pretzel Sticks, your choice of taco for the main dish (I've got 22 Taco Recipes here!), and finish off the night with these sweet dessert tacos, filled with a delicious lemon cream.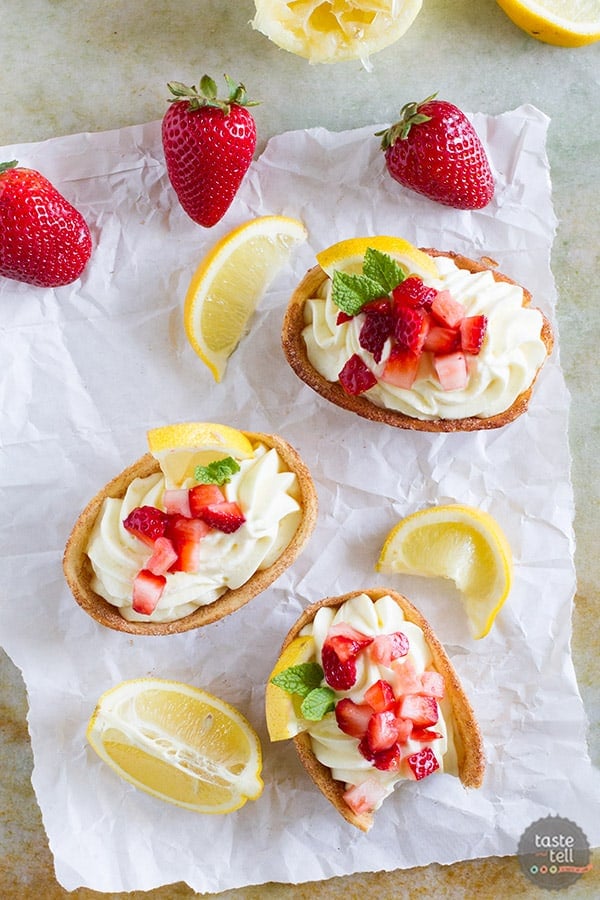 As if the lemon cream wasn't enough, you need a vessel for that cream, which is where the cinnamon sugar taco boats come in. I love these Mini Taco Boats from Old El Paso. Not only are they great for taco night when you have young kids, but they are perfect for appetizers or desserts like this one. I originally thought I was going to fry them and then coat them in cinnamon-sugar, but then I decided to keep it simple and cut the fried calories by baking them. I was afraid they wouldn't be as crisp as I was hoping, but they were perfect. Nice and crisp, and the perfect way to devour that amazing lemon cream. To add a little more freshness, I added some diced strawberries to the top, and since strawberries are a staple in our house lately, it only made sense.
These Lemon Cream Taco Boats need to be your go-to dessert this summer – everyone will love them!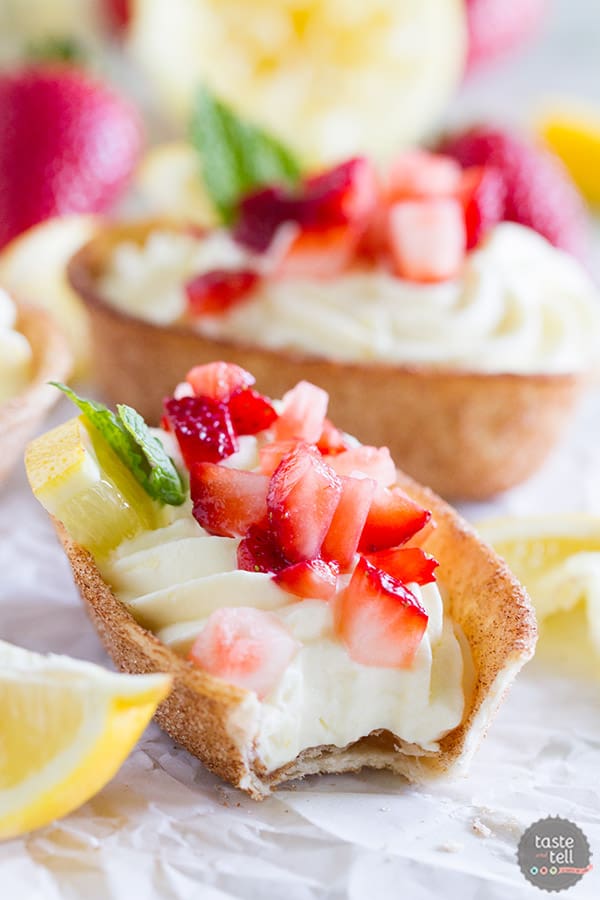 Like what you see here? Make sure you are following Taste and Tell for more recipes and ideas!
Facebook | Pinterest | Instagram | Twitter | Google+ | Weekly Newsletter | Feedly | Bloglovin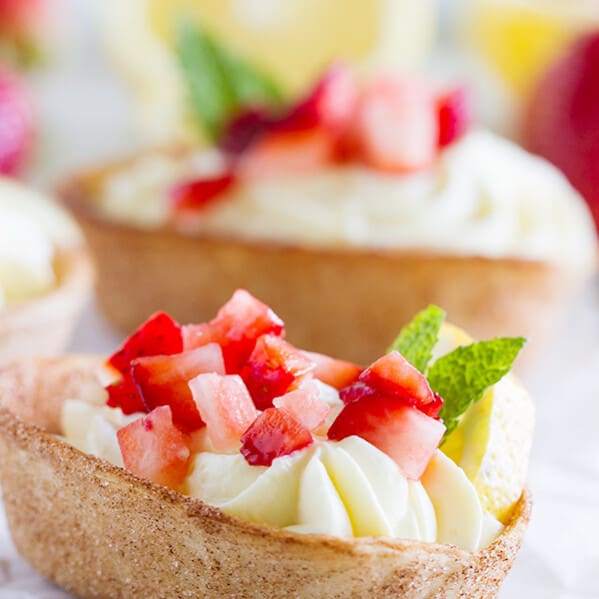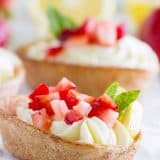 Lemon Cream Taco Boats
---
Author:
Prep Time: 20 mins
Cook Time: 7 mins
Total Time: 27 mins
Yield: 12 servings 1x
Description
Light and lemony, these Lemon Cream Taco Boats have cinnamon-sugar coated tortilla boats filled with a creamy, luscious lemon cream. Top them off with diced strawberries for a perfect summer treat.
---
Scale
Ingredients
Taco Boats:
1/4 cup granulated sugar
1 teaspoon ground cinnamon
2 tablespoons butter, melted
12 Old El Paso Mini Soft Tortilla Taco Boats
Lemon Cream Filling:
8 oz cream cheese, softened
1/4 cup sugar
1/3 cup heavy cream
2 tablespoons lemon zest
2 tablespoons fresh lemon juice
3/4 cup heavy cream, whipped to soft peaks
diced strawberries
---
Instructions
Preheat the oven to 350ºF.
Combine the 1/4 cup sugar and 1 teaspoon ground cinnamon in a large ziplock bag. Using a pastry brush, the butter on the insides and outside of each of the taco boats. Working with one or two at a time, place the boats in the ziplock bag and shake to cover with cinnamon sugar. Shake off excess, and place on a baking sheet.
Once all of the boats are ready, transfer the sheet to the oven and bake until golden brown and starting to get crisp, about 7 minutes. Remove from the oven and allow to cool completely.
In a bowl, beat the cream cheese until softened. Add the sugar and beat until it as dissolved, about a minute. Beat in the 1/3 cup heavy cream, lemon zest and lemon juice until combined. Add a few drops of yellow food coloring, if desired. Stir in about 1/4 of the whipped cream until combined (this will help to lighten up the mixture) then fold in the remaining cream. Transfer to a piping bag with a decorative tip or a ziptop bag with the corner cut off.
Pipe the mixture into the cooled cinnamon-sugar coated boats. Top with diced strawberries and serve immediately.
Recipe Notes:
You can make the cinnamon-sugar boats and the lemon cream ahead of time, but don't assemble them until ready to serve as they will get soggy.
Can't find the mini boats? You can also make your own cinnamon-sugar tortilla bowls like I did for this Fried Ice Cream recipe.
Don't miss a thing! Follow me on Pinterest to see what I'm pinning!
Visit Taste and Tell's profile on Pinterest.



I am in a working relationship with Old El Paso, and this post has been sponsored. I'm so glad to be able to work with companies and organizations that I truly believe in. Thank you for supporting them, too.