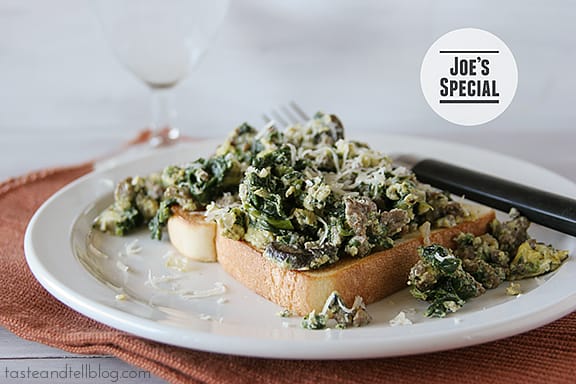 Photo Updated December 2012
I love food. And I like to picture in my dream world – traveling around the world and eating at 5 star restaurants. But the truth of the matter is that I am probably more comfortable in the corner diner than I am in an exclusive restaurant. And while I dream about one day being able to experience the tasting menu at Per Se, I know that really – I'll enjoy a hole in the wall restaurant as well. And really, I'm a comfort food kind of gal.
So it was no surprise that I was drawn to this recipe. Lots of random ingredients, thrown together and served over toast. This is really my kind of food. It may not look like much, but if you are looking for a little bit of comfort after a long day, a plate full of this goes a long way!!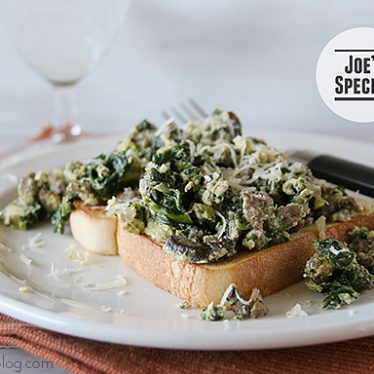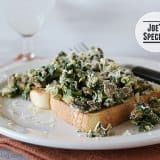 Joe's Special
---
Prep Time: 15 minutes
Cook Time: 15 minutes
Total Time: 30 minutes
Yield: 4 servings 1x
Description
Comfort on a plate, ground beef, spinach and eggs come together in a surprisingly delicious meal.
---
Scale
Ingredients
1/4 cup olive oil
1 to 2 medium sized garlic cloves, crushed
4 large (or 8 small) slices sourdough bread
1 tablespoon butter
1 tablespoon olive oil
2 shallots or 1/4 white onion, finely chopped
6 ounces fresh mushrooms, sliced
1 pound ground beef
1 clove garlic, crushed
12 ounces frozen spinach, thawed and squeezed dry
6 large eggs, slightly beaten
1/2 cup grated Parmesan cheese
salt and pepper
---
Instructions
Make the toast: In a small pan or in the microwave, warm up the olive oil. Put the garlic cloves in the olive oil and set aside to cool. Toast the bread slices in a toaster until golden brown. Brush the garlic infused oil generously over the toasted bread. Place the bread on a plate covered with aluminum foil to keep warm.
In a large, deep skillet, heat the butter and olive oil. Add the shallots and mushrooms and cook 1 minute. Add the beef and break it up; brown and cook until no pink remains. Add the garlic and cook for 1 more minute. Add the spinach and stir to evenly combine; cook until heated through, about 3 minutes.
Pour in the eggs and mix constantly until the eggs are set. Sprinkle in the Parmesan and season with salt and pepper. Pile the beef and egg mixture onto the toast and serve immediately.
—————
adapted from Not Your Mother's Weeknight Cooking