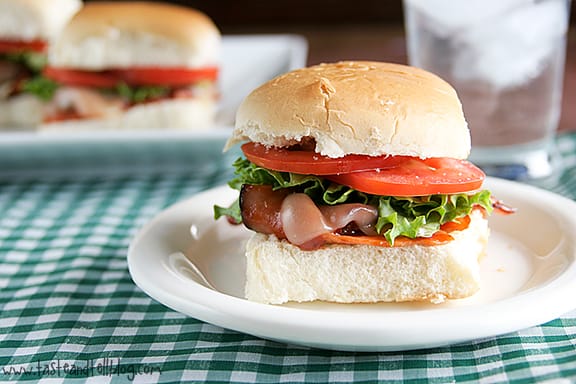 Is it ok if I do some spring cleaning today?  I don't normally beg for comments, but today I'm begging.  I'd love to hear your feedback so that I can make this a better – and easier – place for all of you!!
1 – How many of you use Ziplist?  I actually discovered it months ago, and started using it to make my grocery lists.  I love it because I can use an app on my phone, and if my husband thinks of something he wants or needs, he can add it to our list from his phone.  Then, when I'm at the grocery store, I can use my phone for the list and cross things off as I'm shopping.  After falling in love, I decided to add the Recipe Box feature to my blog.  It's been here for quite awhile (you can find the link up on the toolbar on the top of the blog) and it is what powers both the "Save Recipe" button and the print function on the recipes.  My question here is how many of you use this service?  (If you aren't, no big deal, but I highly recommend it!!)  I've been going back through old recipes adding the buttons to make it easier, but I just wanted to see how fast I need to be working.  I want to make accessing and saving recipes as easy as I can, so I'd love to know if you are using the feature!
2 – I am planning another website re-design.  It probably won't happen for a couple of months, but what kinds of features would you guys like to see?  What makes a blog easier to navigate for you?  I know my archives need some major work, (they are the main reason I am doing a re-design) and I will definitely have a visual index to make finding recipes even easier and better.  But what else would you guys like to see?
3 – This is just out of curiosity, but as I was checking my Facebook feed last night, another blogger had asked if people prefer just a picture of the finished dish, or if they prefered step by step pictures as well.  I'm just curious to see what you all think.  Personally, I've never been a fan of the step by step photos, because how many ways can you show adding a teaspoon of salt?  And I don't like going through 20 pictures to get to the recipe.  But – I was surprised to see how many people like the step by step photos.  I'm not saying I'm going to change to step by step, (mostly because I'm not very good at them and they are quite a pain), especially for a recipe like the one I have here today.  I really don't think anyone needs a pictorial guide to throw a few things in a pan and warm them up.  But, that being said, maybe I'll start doing some extra photos for recipes that are a little more complex.  If that's what you all want.  (Although so many of my recipes are so easy that I'm not sure step by step photos would even be necessary…)  Just curious!!
That's all the questions for today.  And really, if you could spare a minute or two to let me know what you think – I want to make this as user friendly and easy for all of you!!
And now onto these sliders.  Talk about an easy dinner.  This is one of those "I don't want to cook tonight" kind of dinners.  Or one of those "I have a crowd to feed tonight and I need something easy and delicious" dinners.  Who wants a plain ham sandwich when you can have one of these sliders?  I'll take one of these  any day.
Make these.  Enough said.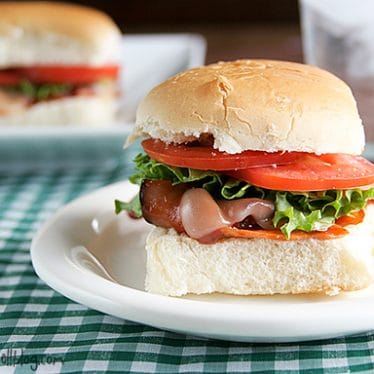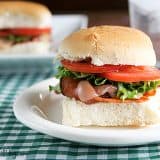 Hot Ham Sliders
---
Prep Time: 15 minutes
Total Time: 15 minutes
Yield: 4 servings (2 sliders each) 1x
Description
Perfect for sandwich night, these Hot Ham Sliders have barbecue ham and melted cheese, and come together in minutes!
---
Scale
Ingredients
3/4 cup barbecue sauce
1 teaspoon ground mustard
1 teaspoon garlic powder
1/2 pound thinly sliced, cooked ham
8 sliced smoked provolone
lettuce and sliced tomatoes
8 slider buns
---
Instructions
Preheat the broiler.
In a small saucepan, combine the barbecue sauce, ground mustard and garlic powder. Heat over medium heat. Add the ham and stir to coat. Cook until completely warmed through.
Top the bottom of each slider bun with some of the barbecue ham. Top with a slice of provolone. Place under the broiler for a minute or two, just until the cheese has melted. Top with lettuce and tomato, then the top bun and serve.

Try one of these hot sandwiches from other bloggers:
Louisville Hot Browns on a Dutch Crunch Roll from Barbara Bakes
Italian Heroines from Taste and Tell
Hot Ham and Cheese Sandwiches from Babble
Turkey and Cheese Sandwich from Pham Fatale
French Style Tuna Melts from Taste and Tell