Is anyone else kind of freaking out that September starts this week?  And that Labor Day is right around the corner?  Which means that fall is coming, and summer is leaving us.   Don't get me wrong – I love fall.  It's probably my favorite season.  But I feel like we should still have weeks of summer left.  And yeah, as I was cleaning out my son's closet last night, I found a huge bag full of clothes for my daughter that my sister in law had given me months ago.  All summer clothes.  All that she will be grown out of by next summer.  I have no idea how that bag ended up in my son's closet, but I'm hoping for a few more weeks of summer-like weather so that she can at least wear those clothes!!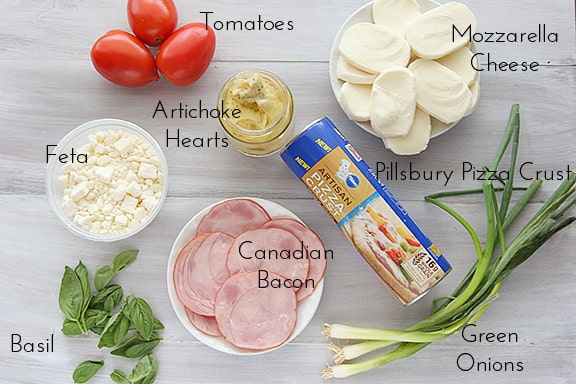 One thing that I think it is perfect weather for is grilling.  I know that typically, summer is "grill season".  And while I totally agree, I kind of like grilling the most when the weather cools down a little bit and you can spend some time outside, grilling while the kids play in the backyard.  And now, since the days are kind of cooling down, the evenings are mostly perfect grilling weather.
So how about a pizza showdown?  A grilling pizza showdown?  If you are a regular reader, you know that I've been trying to get more comfortable on the grill this year.  One thing I have been wanting to try is grilling pizza.  So when the folks at Pillsbury asked if I'd like to participate in a pizza grilling showdown using their new Artisan Pizza Crust, you can bet that I said yes!!  It was actually easier than I was expecting, although I still need a little bit of practice.  (Yes, my edges got a little bit overcooked, but that's what grilling is all about, right?? :))  I saw a pizza topping combination forever ago that I had been wanting to recreate at home, and I knew that this was the perfect opportunity.  Canadian bacon.  Artichoke hearts.  Fresh tomatoes.  And lots of cheese – both mozzarella and feta.  This was definitely a winning flavor combination in my book!!
If you want to see this pizza showdown – and to vote for my pizza!, make sure you check it out on the Pillsbury website!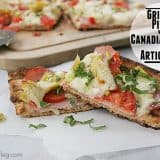 Grilled Pizza with Canadian Bacon and Artichokes
---
Prep Time: 15 minutes
Cook Time: 15 minutes
Total Time: 30 minutes
Yield: 6 servings 1x
Description
When it's too hot to cook indoors, fire up the grill for pizza night with this Grilled Pizza with Canadian Bacon and Artichokes.
---
Scale
Ingredients
1 can (13.8 oz) Pillsbury® refrigerated artisan pizza crust with whole grain
6 oz Canadian bacon
3 Roma tomatoes, sliced
1 (7.5 oz) jar marinated artichoke hearts, drained
3 green onions, sliced
8 oz fresh mozzarella cheese, cut into small pieces
4 oz crumbled feta cheese
Fresh basil, for garnish
---
Instructions
Heat gas or charcoal grill.
Cut a large piece of foil and spray with nonstick cooking spray. Unroll the dough on the foil and press out to a rectangle about 14×10 inches. Spray the top side of the dough with nonstick cooking spray.
Turn the dough over onto the grill and remove the foil. Cook on grill over medium-low heat 2 to 4 minutes or until the bottom is golden brown. Use a large spatula to turn the dough over. Top the dough with the Canadian bacon, tomato slices, artichoke hearts, green onion, mozzarella cheese and feta cheese. Cover the grill and cook an additional 3-5 minutes, or until the cheese is melted.
**This is a sponsored post, but all opinions are my own.**