Coconut Cream Flan – a recipe for flan made with coconut cream.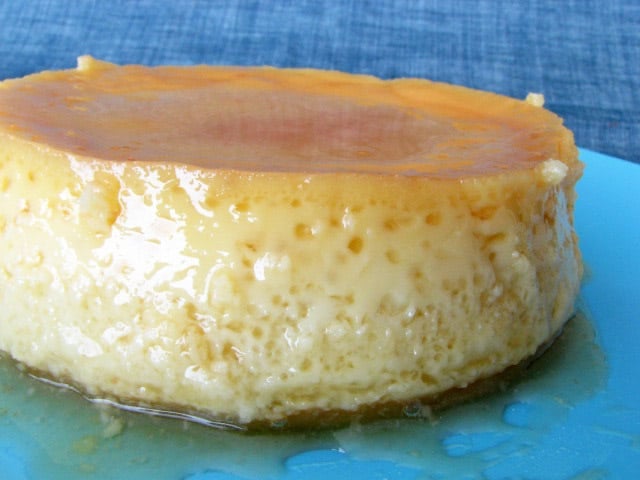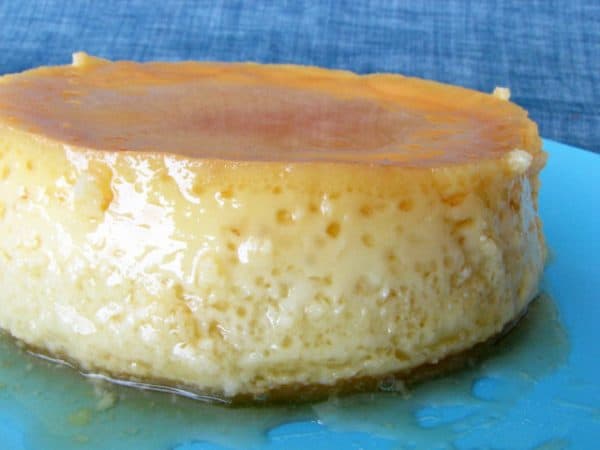 A couple of weeks ago, I was talking to one of my few female co-workers, and of course, the conversation turned to food. (I swear some people think that's all I have to talk about!) I can't remember exactly how the conversation went, but she asked me if I had a good recipe for flan because she wanted to make it for a dinner she was doing. I immediately got excited because I had bookmarked this recipe for Coconut Cream Flan from this month's cookbook of the month – The Pastry Queen. I told her I would get the recipe for her, and I was really excited so that we would be able to share our experiences about the flan.<
My husband was super excited for me to make this flan, as flan is one of his favorite desserts. I'm surprised it has taken me so long to make it!! But because of things going on this month, I didn't get around to making this until Wednesday night, and we ate it last night.
I had actually never made flan before this. But just to compare recipes, I took out my Baking From My Home to Yours to compare the flan recipe in there to this flan recipe. I remembered seeing some wonderful flans when the Tuesdays With Dorie group made her recipe. And to compare these recipes – they are very different! With this recipe, everything is just mixed together, poured into the baking dish, and baked. Dorie's is much more complex, making a custard before baking. While I can't compare the two, since I haven't had Dorie's, I can say that this recipe is much easier – especially if you are afraid of making custards. As for the taste, though, (again, I can't really compare since I haven't had both), I am guessing that Dorie's is probably creamier than this recipe. I really liked this recipe, but I do wish it was a bit creamier.
The biggest issue I had with this recipe was making the caramel. It is just melted sugar for this recipe. You are supposed to melt the sugar, then pour it into your dish and swirl it to coat the bottom and sides. This did not work for me. The first time, I know I overcooked the sugar and it immediately hardened once it hit the dish. The second attempt wasn't much better, even though I didn't cook the sugar as long. Still turned hard as soon as it hit the dish. I just went with it at that point. In the end, only a little of it was still stuck to the top of the ramekin, but I do think there are probably better methods for this. I thought I had troubles because I often have issues with melting sugar, but my co-worker said that she had problems with it too. In fact, it took her 3 tries until it mostly worked for her!
One word of advice for any of you that haven't worked with cream of coconut before – it separates in the can, so it's best if you dump it out of the can and whisk it all together. In fact, I wish I would have put it in the blender and really smoothed it out, but I didn't, and it still worked out. But it might give you a bit of trouble if you just dump the can into the whole mix and then try to smooth it out.
So, how did I like it? My husband absolutely loved it. I halved the recipe and made it into two large portions. He devoured his, plus half of mine. I really liked it, but it was a bit too sweet for me. I made it through half of mine, and then I was sweeted out. I really loved the coconut flavor – it really does have a starring role in this. I think this would make a great dessert for the upcoming Cinco de Mayo, but I would keep the portions on the smaller side if you don't like things overly sweet.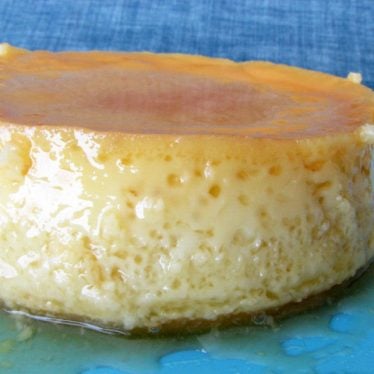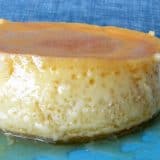 Coconut Cream Flan
---
Author:
Yield: 8 servings 1x
Category: Dessert
Method: Baked
Description
Coconut Cream Flan – a recipe for flan made with coconut cream.
---
Scale
Ingredients
1 cup sugar
6 large eggs
1 (14-ounce) can sweetened condensed milk
1 (15-ounce) can cream of coconut, such as Coco Lopez
1 cup half-and-half
1 teaspoon vanilla extract
1/4 cup dark rum
---
Instructions
Preheat oven to 325F.
Place the sugar in a small, uncoated skillet. Heat the sugar over medium-high heat until melted and golden brown. Pour it into a 1-quart baking dish or distribute evenly among eight 1-cup capacity ramekins. Tip and turn the dish or ramekins to coat the bottom and sides with the melted sugar.
Whisk the eggs in a large bowl until foamy. Stir in the condensed milk, cream of coconut, half-and-half, vanilla, and rum. Pour the mixture into the baking dish. Put the baking dish in a larger baking an and set it in the oven. Pour enough boiling water into the larger pan to reach halfway up the sides of the baking dish or ramekins.
Bake 1 hour for the 1-quart or 45 minutes for the ramekins, until the center is almost set. Remove the flan from the pan of water and cool on a rack. Invert onto a serving plate; cover and refrigerate at least 1 hour before serving*. The flan will keep for up to 3 days in the refrigerator.