Surprise your Valentine with these super simple chocolate truffles. A raspberry M&M in the center brings in a surprise flavor!
Happy birthday to my sister Janell!! I hope you have a great day today!
I thought I was done with the Valentine's sweets after Red Velvet week.  But here I am, bringing you one more treat!  This one is so simple that anyone could make it, and it would be a great gift for loved ones, friends or neighbors!
Have you seen these raspberry m&ms?  I ran across a bag of them over a month ago, and I couldn't not buy them.  I put them in my cart, thinking that I would use them for something fantastic.  I thought and thought, and couldn't decide what I wanted to make with them.  There's always cookies.  Or brownies.  But I never thought of something good enough to actually get me into the kitchen to actually make something using them.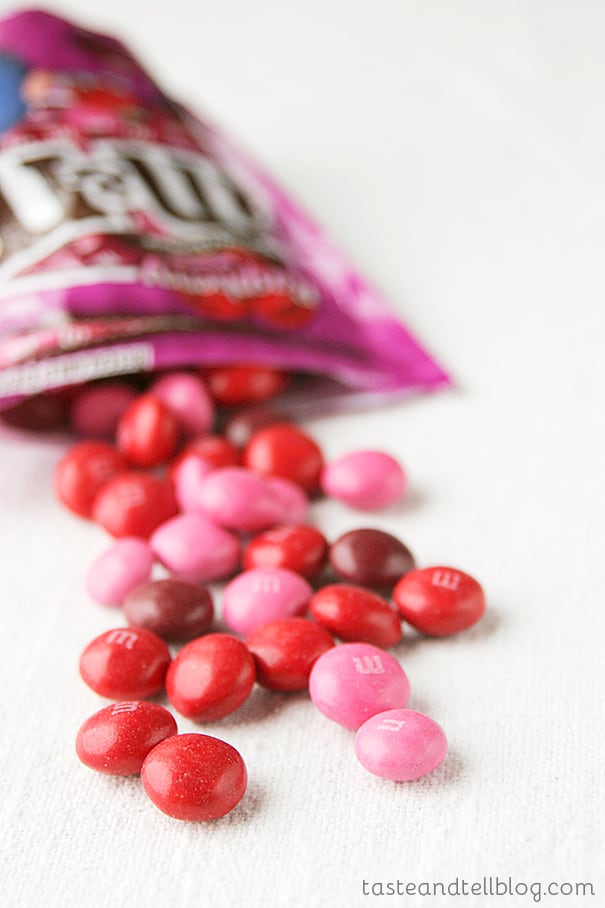 But then yesterday, I had an idea pop into my head.  What if I made truffles, and stuck an m&m in the center?  I thought it was worth a try!  If you haven't made truffles before, it doesn't get easier than this.  In fact, I had everything both ingredients on hand, so it was a no-brainer to try them and see how they would turn out.  At first I was afraid that the m&m would just get lost in the center, that the chocolate from the truffle would overpower the m&m and you wouldn't even be able to taste it – or know that it was there.  But I was pleasantly surprised when I bit into one and the m&m gave the truffle so much flavor!  I actually ended up really surprised at how much flavor it actually gave to the whole truffle.  And if you don't have or can't find the raspberry m&ms, I'm sure another flavor would work great – and the truffles are delicious without the filling, too!
I think that these are such a great Valentine's Day gift for so many reasons.  First, they are delicious.  Second, they look like you spent a ton of time making them, but in reality, they come together super fast.  You do have to wait for the chocolate to set up before rolling them into balls, but the actual hands on time is very minimal.  And third, a homemade gift is a bazillion times better than some generic store-bought box of chocolates.  And I can guarantee that these taste better – and cost less – than one of those boxes of chocolates!   These chocolate truffles are a great way to say "I Love You!"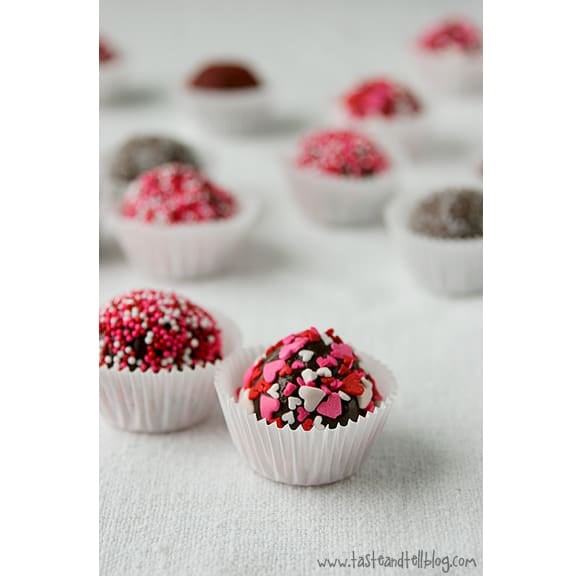 Raspberry Surprise Chocolate Truffles
---
Cook Time: 10 minutes
Total Time: 2 hours 30 minutes
Yield: 30-60 truffles, depending on size 1x
Description
Surprise your Valentine with these super simple chocolate truffles. A raspberry M&M in the center brings in a surprise flavor!
---
Scale
Ingredients
3 cups chocolate chips
1 (14-ounce) can sweetened condensed milk
30–60 Raspberry M&Ms
assorted sprinkles, colored sugar, powdered sugar, etc.
---
Instructions
In a saucepan over medium-low, combine the chocolate chips and the sweetened condensed milk. Stir together until the chocolate is melted and smooth. Place in a bowl and refrigerate for 2 hours.
Using a small cookie scoop or a spoon, take about a tablespoon of the chocolate mixture. Roll it into a ball, putting one m&m in the center of the ball. Roll in sprinkles, colored sugar, powdered sugar or chopped nuts.
Store in the refrigerator until ready to eat. (I like to bring mine to room temperature before eating.)