Jazz up your side dish with this Green Bean Recipe with Frizzled Prosciutto and Gouda. It is quick and delicious and a little different from the norm.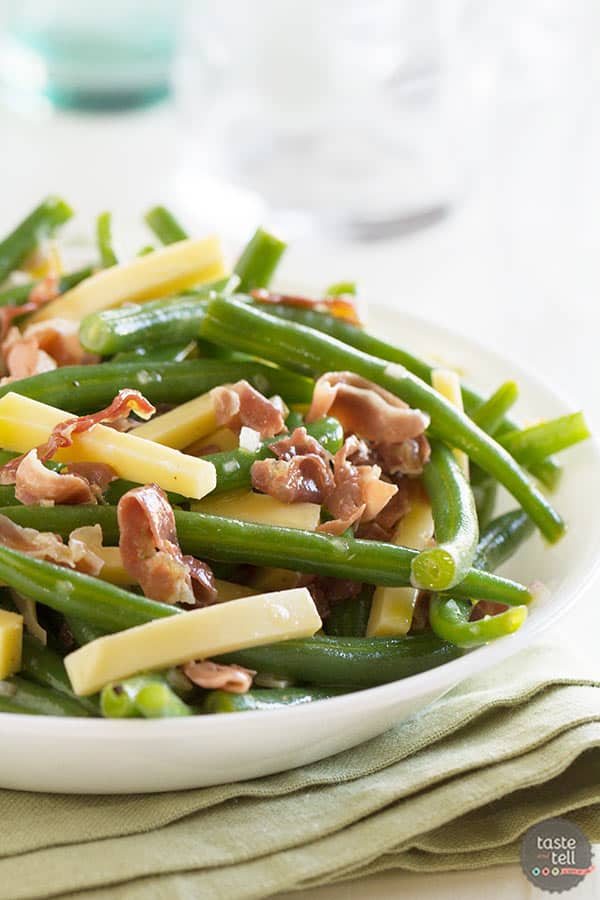 Photos Updated April 2015
Originally posted June 6, 2008 – Well, Thanksgiving is just 2 short days away, and since I'm not prepared, I'm thinking that some of you may still be fumbling with your menu as well. If you are still looking for a recipe or two, this green bean recipe is a great change up from the traditional green bean casserole. A little fresher and faster, it's a great holiday side dish! I'm re-sharing it here today for all the last minute planners!
The original post from 2008 follows:
When we bought our house 2 years ago, it was not much more than walls and a cement floor. The person we bought it from had bought it as an investment, planning to fix it up and re-sell it. He was young and inexperienced, and ran out of money and motivation, so we jumped on the deal, excited to buy our first home together as a married couple. We spent a couple months doing everything to the house, from installing the whole bathroom to putting in flooring. It was a lot of work, (and luckily I have a great husband so I didn't have to do a lot of the manual labor!) But it was a project. A HUGE project. After a couple of months, the house was livable, so we moved from my in-laws basement into our first home.
Since moving in, we have slowed down a lot. It takes a lot of money to completely remodel a house, so right now, we are just working on it one project at a time. So why do I bring all of this up, when this is a food blog? Well, the current project is in the kitchen. I'll write more about it and show pictures once it is complete, but my kitchen has been almost inoperable for the past week. I almost thought that I wasn't going to get my recipe done for this week's installment of the Cookbook of the Month. But luckily, one of my best friends in the world came over to visit last night, so we pulled the kitchen together so I could make dinner for her.
I was looking for simplicity. And really, looking through this cookbook, so many of the dishes are simple, but very delicious sounding! I came across this green bean recipe and I remembered seeing fresh green beans at the grocery store earlier this week. So the menu was chosen and a grocery list was made. But somehow I got things just a little bit mixed up. The original recipe calls for Gruyere, not Gouda. But somehow, Gouda ended up in my shopping basket. But all was not lost because the Gouda worked just fine in this green bean recipe, and was actually quite good!!
If this green bean recipe is an indicator of how good the other recipes in this book are going to be, then I can't wait to work my way into it!!
Like what you see here? Make sure you are following Taste and Tell for more recipes and ideas!
Facebook | Pinterest | Instagram | Twitter | Google+ | Weekly Newsletter | Feedly | Bloglovin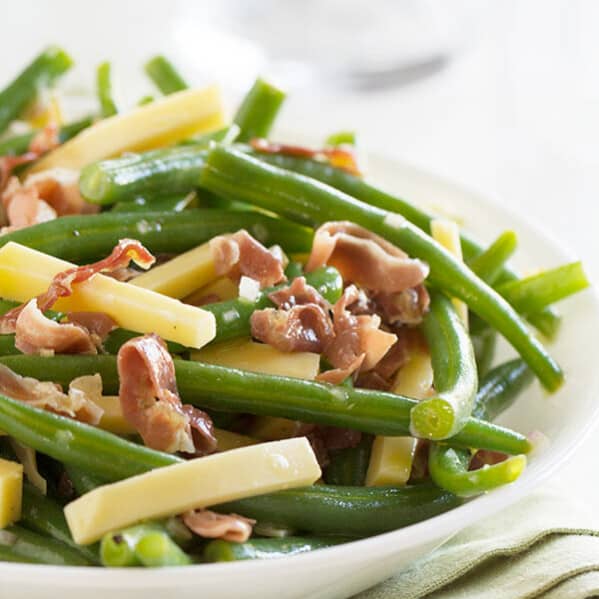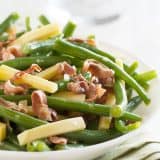 Green Beans with Frizzled Prosciutto and Gouda
---
Author:
Prep Time: 10 mins
Cook Time: 5 mins
Total Time: 15 mins
Yield: 8 servings 1x
Description
Fresh green beans are dressed up with prosciutto and gouda for a delicious side dish.
---
Scale
Ingredients
3 tablespoons lemon juice
1 tablespoon white wine vinegar
2 tablespoons minced shallot
salt and pepper as needed
7 tablespoons extra-virgin olive oil, divided
1 lb. green beans, ends trimmed
1/4 lb. prosciutto, thinly sliced
1/4 lb. Gouda cheese, cut into sticks
---
Instructions
In a large bowl, combine the lemon juice, white wine vinegar and shallot. Season with salt and pepper. Gradually whisk in 6 tablespoons of the olive oil. Set aside.
Prepare an ice bath in a large bowl.
Bring a large pot of salted water to a boil. Add the green beans and cook until they are bright green and just tender, about 3 minutes. Drain the green beans and add to the ice bath to stop the cooking. Drain well.
Add the green beans to the bowl with the dressing and toss to coat. Let the green beans marinate for 10 minutes.
Heat the remaining 1 tablespoon of oil in a sauté pan. Add the prosciutto and cook until it frizzles, about 2 minutes.
Add the prosciutto and the gouda to the green beans and toss to combine them all. Season with more salt and pepper, if necessary.
Serve at room temperature.
Don't miss a thing! Follow me on Pinterest to see what I'm pinning!
Visit Taste and Tell's profile on Pinterest.