Slow Cooker Chicken Adobo – chicken pieces are cooked in a mixture of soy sauce, garlic, vinegar, ginger and spices for a flavor-packed slow cooker dinner.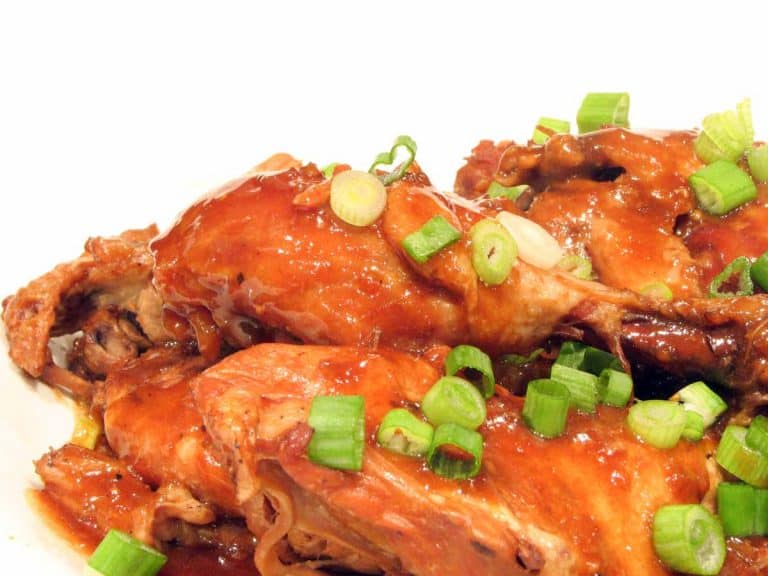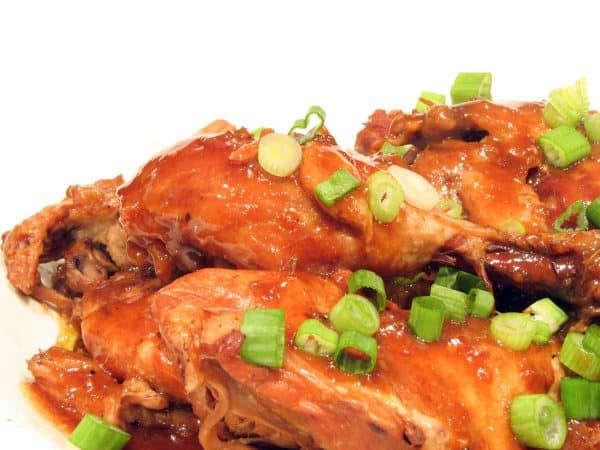 I'm going to keep this short today because I took the day off of work so that I could clean my house (I know, I'm kind of a dork) and I want to spend as much time as I can doing that. Plus, I am working on some doughnuts in the kitchen right now! This is why it would be bad if I didn't have to go to work every day – I would end up baking and cooking all day long and gaining 200 pounds!
For the first recipe from this book, I chose the Chicken Adobo. I'll admit that I chose it mainly for the picture, because it looks really tasty in the picture in the book. And I struggle with making my food photos look good anyway, and slow cooker recipes are especially hard in my opinion. So, since the photo in the book looked so good, it gave me hope! Well, I had to cheat a little on the recipe to try to make it look somewhat appetizing, but the change I did made an impact on the final dish, and it was a good impact!!
A whole chicken, cut up, is cooked all day in a mixture of soy sauce, garlic, ginger, brown sugar, apple cider vinegar, and a few other ingredients. The photo in the book shows the chicken with a nice brown glaze on the final chicken, but when my chicken was finished cooking, it did not have that shiny glaze on it. It just looked like chicken that had been cooking all day. I was tempted to just eat it and not take a photo, but then an idea came to me. I took the chicken out, put it on a plate, and set it in the oven on the lowest heat to keep the chicken warm. I took all of the liquid out of the slow cooker (which was a lot) and put it in a saucepan and set it on the stove over medium heat. I left it to reduce down, which took quite some time, but then I had a nice sauce to pour down over the chicken. My final dish still did not look much like the photo in the book, but it was much better. And the extra flavor that the concentrated sauce gave the chicken was amazing!! I don't think it would have had as much "zing" to it if I wouldn't have reduced the sauce.
The final verdict? I loved this chicken. It was full of flavor, and extremely tender. It fell right off the bones. The one thing I am learning about cooking in a slow cooker is that you have to get to know your particular slow cooker. I just received this larger one for Christmas, and it cooks a bit hotter than my last one. This recipe said to cook for 6 to 8 hours, but mine was perfect at about 5 1/2 hours. But this recipe is marked to be made again – especially for when I need to just throw something together in the morning!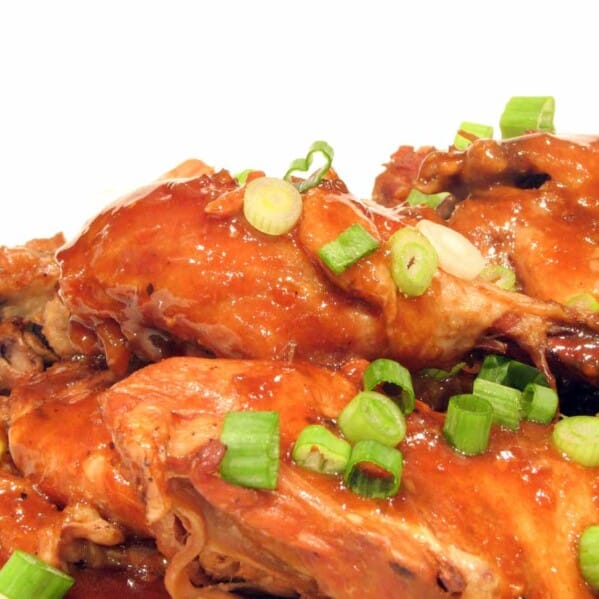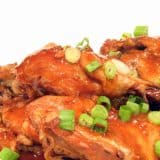 Slow Cooker Chicken Adobo
---
Author:
Category: Main Dish
Method: Slow Cooker
Description
Slow Cooker Chicken Adobo – chicken pieces are cooked in a mixture of soy sauce, garlic, vinegar, ginger and spices for a flavor-packed slow cooker dinner.
---
Scale
Ingredients
1 (3-lb) frying chicken, skinned and cut into serving pieces
5 cloves garlic, crushed
2 bay leaves
3/4 cup soy sauce
1/4 cup apple cider vinegar
1 tablespoon finely grated fresh peeled ginger
1/4 teaspoon crushed black peppercorns
1 tablespoon brown sugar
1 tablespoon cornstarch
1/4 cup chicken stock
Green onions, sliced, for garnish
---
Instructions
Place the chicken pieces in the slow cooker. Add the garlic, bay leaves, soy sauce, apple cider vinegar, ginger, peppercorns and brown sugar and toss all to coat. In a small bowl, mix the cornstarch and chicken stock together. Pour over chicken and mix gently.
Cover and cook on low for 5 – 7 hours (or until chicken is cooked through). Remove the chicken from the slow cooker and keep warm.
Take the remaining liquid and put it in a saucepan over medium heat. Cook until reduced to half. Pour over reserved chicken. Garnish with green onions and serve at once.