Salmon Sandwiches – salmon filets are sandwiched in a roll with a delicious dill sauce.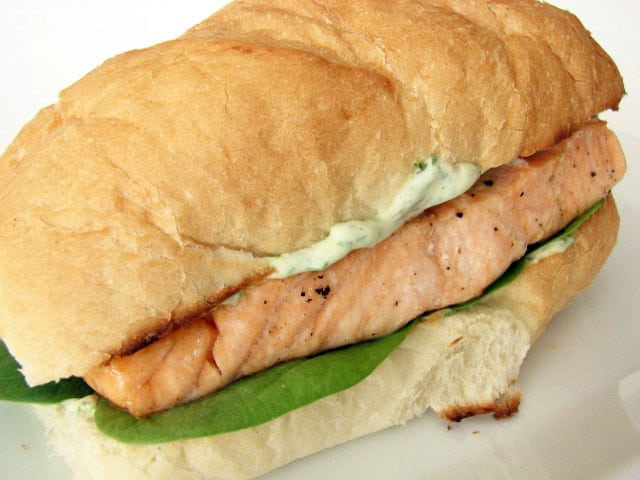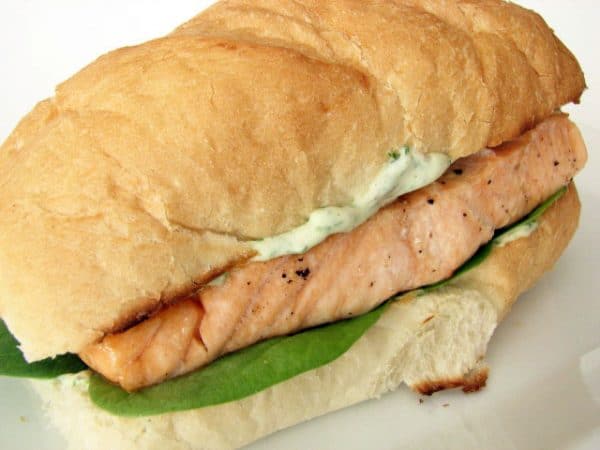 If this is working correctly, you my post should be published even though I am in a plane, on my way to NYC!!! I didn't want to miss out on this week's Cookbook of the Month recipe, so thank goodness blogger now has a way to publish posts when I'm not here.
I'm making this short because I have a ton to do and so little time. Although I followed this recipe for the most part, there are a few things I changed up. In the original recipe, the salmon is grilled over charcoal. I took the lazy way out and broiled my salmon.
And Ina suggests serving it on a white or brioche roll, but I used deli rolls.
I LOVED these!! I am a huge fan of dill anyway, but this sauce is so delicious, and goes well with the salmon. The only problem that I had with them is that they are quite messy. Since the salmon flakes apart, it's a bit hard to hold it in the bread, but I didn't care because I just licked my fingers!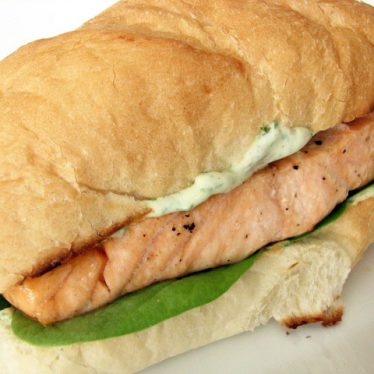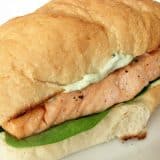 Salmon Sandwiches
---
Author:
Yield: 2 servings 1x
Description
Salmon Sandwiches – salmon filets are sandwiched in a roll with a delicious dill sauce.
---
Scale
Ingredients
For the Fish:
olive oil
2 salmon fillets
kosher salt to taste
freshly ground pepper to taste
For the Sauce:
1/2 cup good mayonnaise
1/8 cup sour cream
1/2 teaspoon white wine vinegar
6 fresh basil leaves
1/2 cup chopped dill
3/4 tablespoon chopped scallions, white and green parts
1/8 teaspoon kosher salt
1/8 teaspoon black pepper
1 1/2 capers, drained
For the Sandwiches:
2 deli rolls
spinach leaves
---
Instructions
To prepare the salmon: Preheat the broiler. Rub both sides of the salmon with olive oil, salt and pepper. Broil the fish for 5 minutes on each side, or until almost cooked through. (The fish will continue to cook after you take the salmon out.) Remove and allow to rest for 15 minutes.
To prepare the sauce: Place the mayonnaise, sour cream, vinegar, basil, dill, scallions, salt and pepper in the bowl of a food processor fitted with a steel blade. Process until combined. Add the capers, pulse two or three times.
To assemble: Slice the buns in half and toast. Spread 1-2 tablespoons of the sauce on each cut side. Place some spinach on the bottom half, top with a piece of salmon. Place the top of the bun on the salmon.