Perfect for a special holiday breakfast, these Crispy Onion Potato Pancakes are crispy on the outside with soft and creamy centers.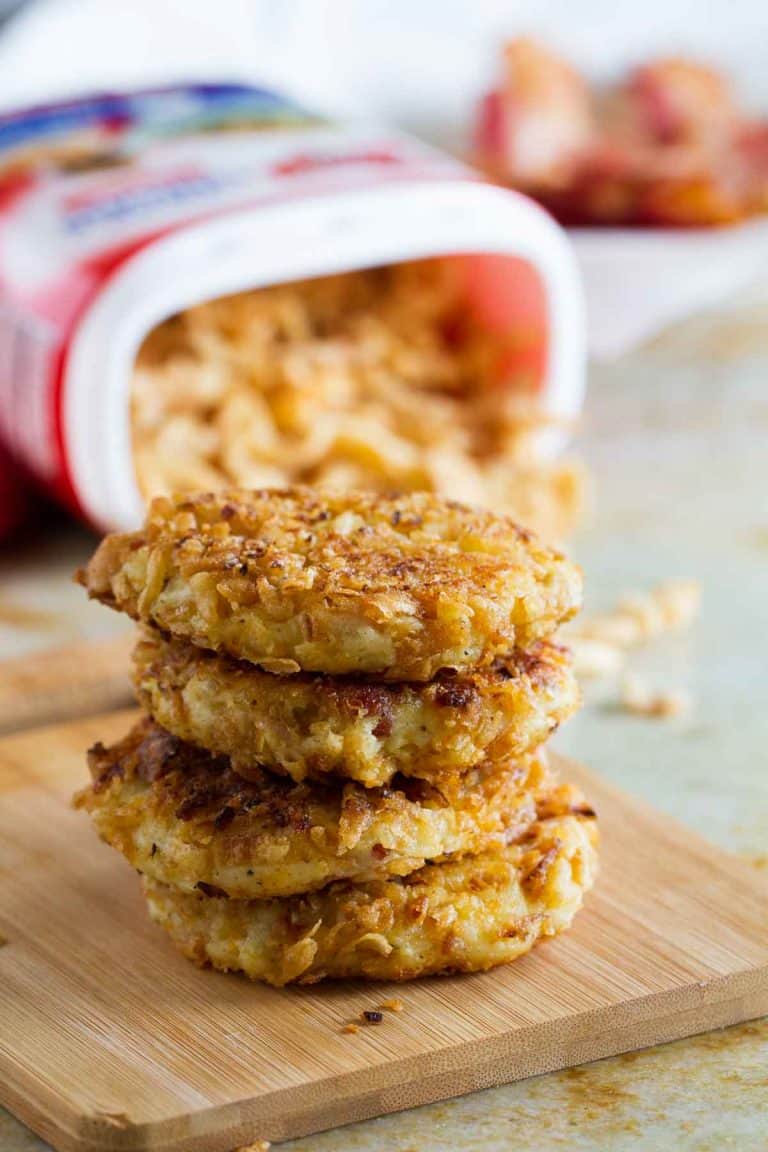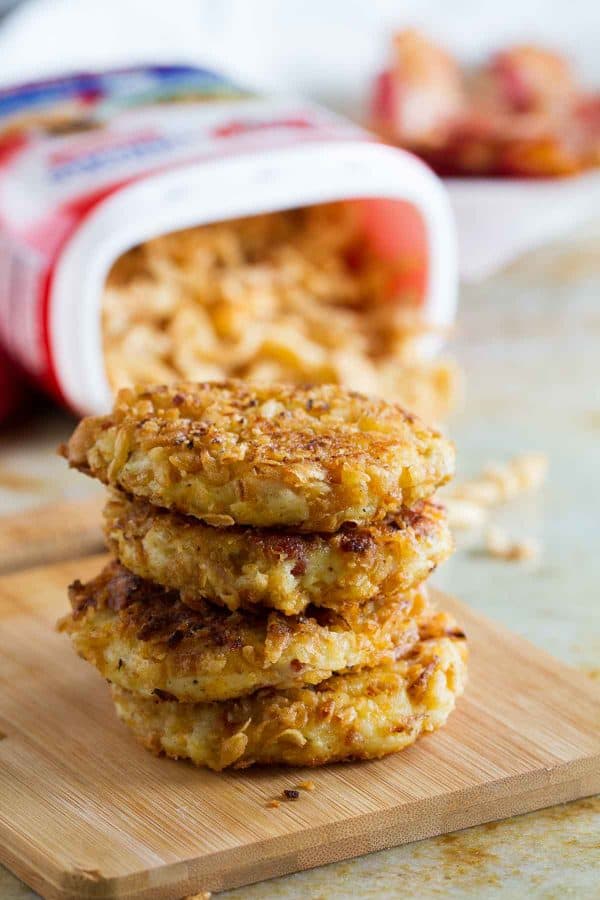 This post has been sponsored by French's #HolidayWithFrenchs. All opinions are my own.
Oh, how I love the holiday season. It's just so magical. And even more so now that I have kids and can witness it all through their eyes. Just the other night, my youngest came up to me, wide eyed, amazed after looking out the window and seeing the neighbor's lights and tree. Pure magic.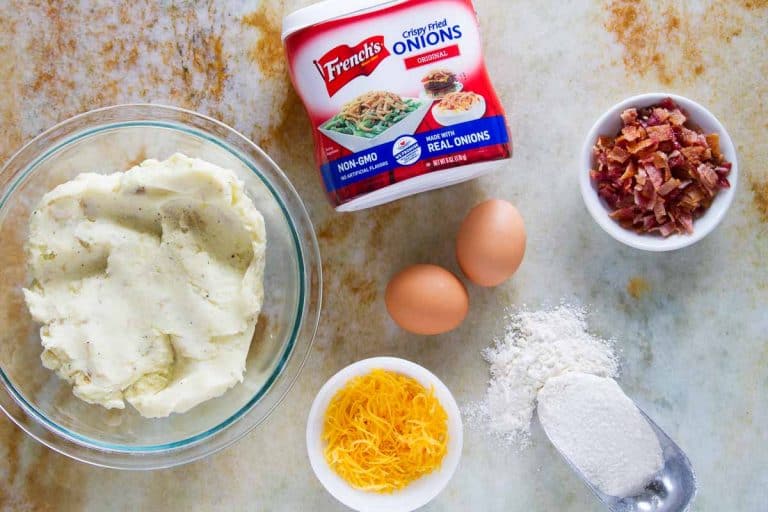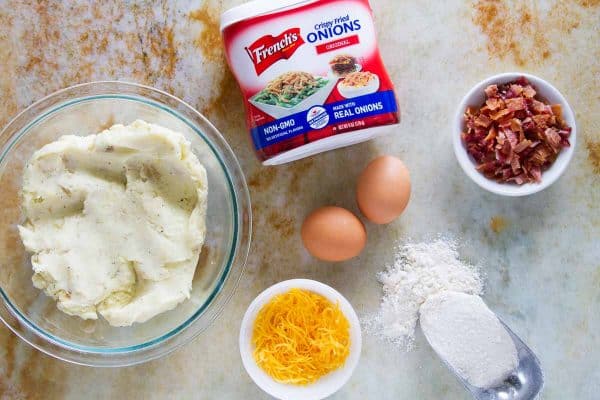 Now that the kids are a little older, and can give some input on what they want to do for the Christmas season, we have planned to sit down and make a list of all of the local activities that we want to attend, a list of all of the treats we want to bake, and a list of all of the service that we want to do. And I'm also adding a list of new traditions we want to start.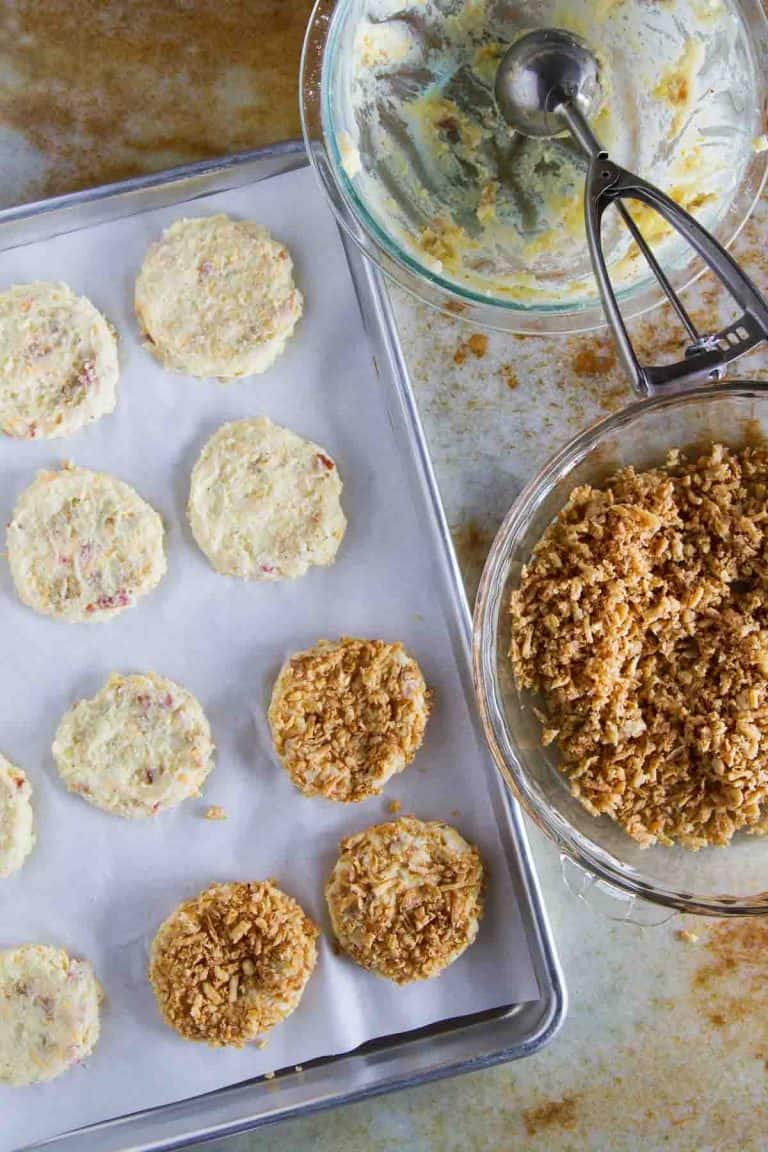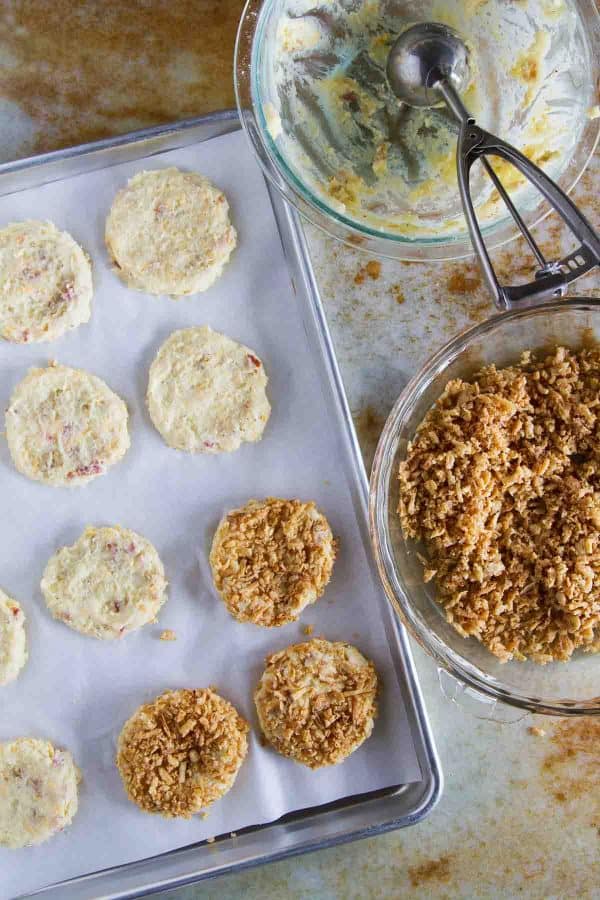 We already have a few traditions that we have been doing since the kids were born. German scones on Christmas morning, the lights at Temple Square, and a visit to sit on Santa's lap. But as I was thinking about traditions the other day, I came up with a new tradition that I would like to start this year. And it's all about breakfast.
We are a breakfast loving family, but most days, we don't have time to go all out. And while I love the idea of a big breakfast on Christmas morning, it's usually late by the time we actually get around to breakfast, and the kids are full from all of the candy from their stockings. Plus, I'm not about to give up our scone tradition. So I thought it would be fun to plan a big holiday breakfast, but on another day during the Christmas season. A morning where everyone can choose one item to have on the table, and where we can sit down together, and feast as a family.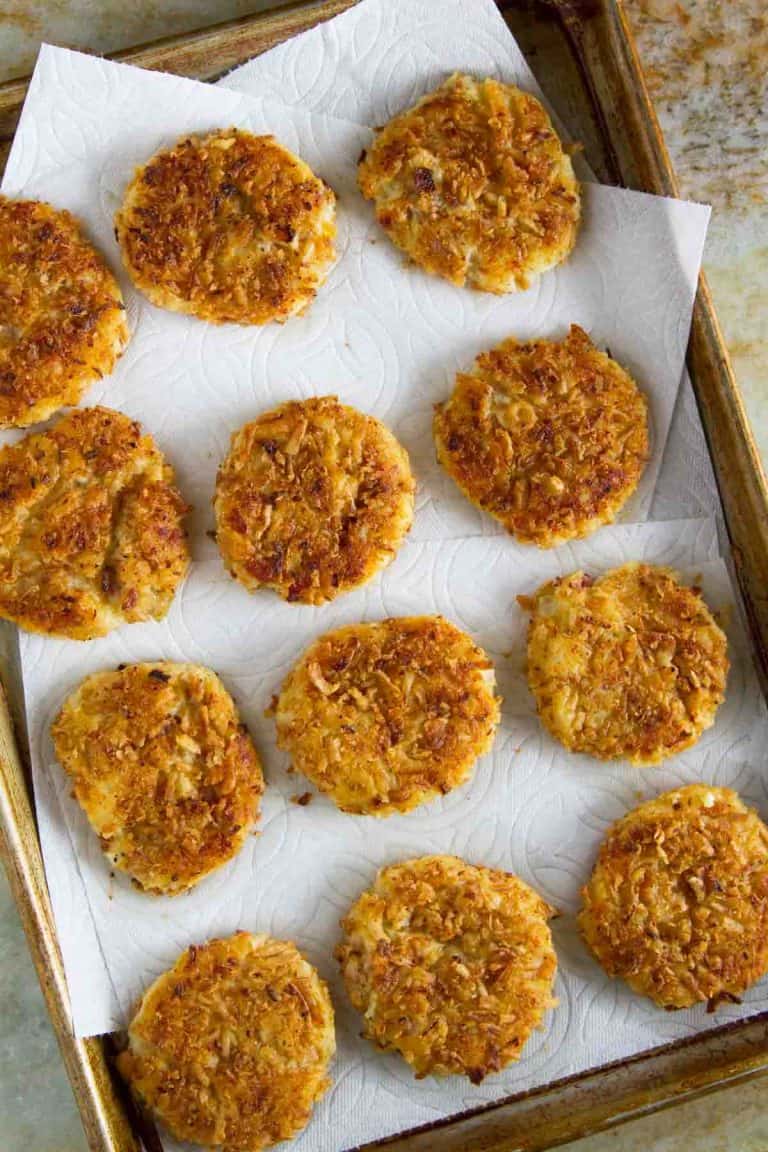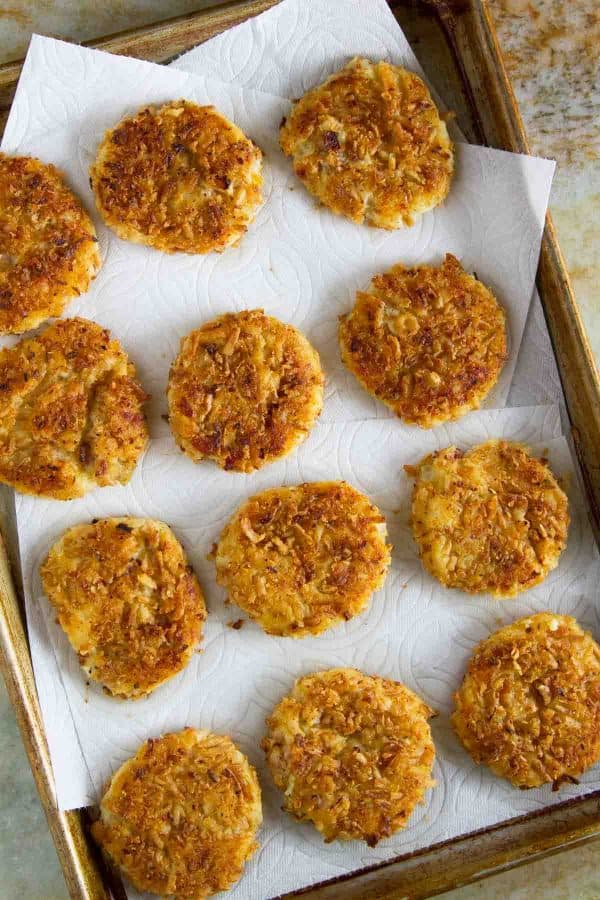 I already know there will be choices for cinnamon rolls, pancakes and eggs over easy, but I'll be choosing these Crispy Onion Potato Pancakes. Kind of like the creamier, loaded version of hash browns, these Crispy Onion Potato Pancakes prove that French's Crispy Onions are not just for your holiday green bean casserole. I combined mashed potatoes with cheese and bacon (load 'em up!) and then coated them with crushed French's Crispy Onions. (And as a side note, I think I'll be saying goodbye to breadcrumbs from now on and just go with the onions. You get SO much flavor!!)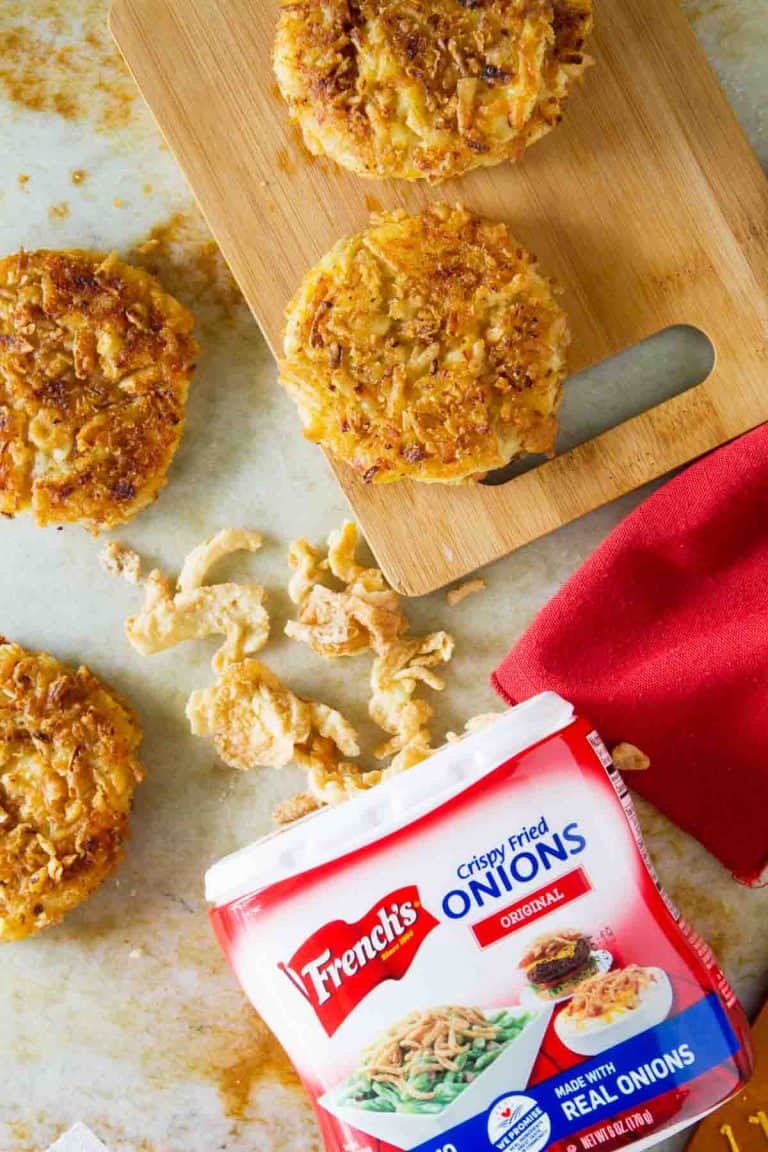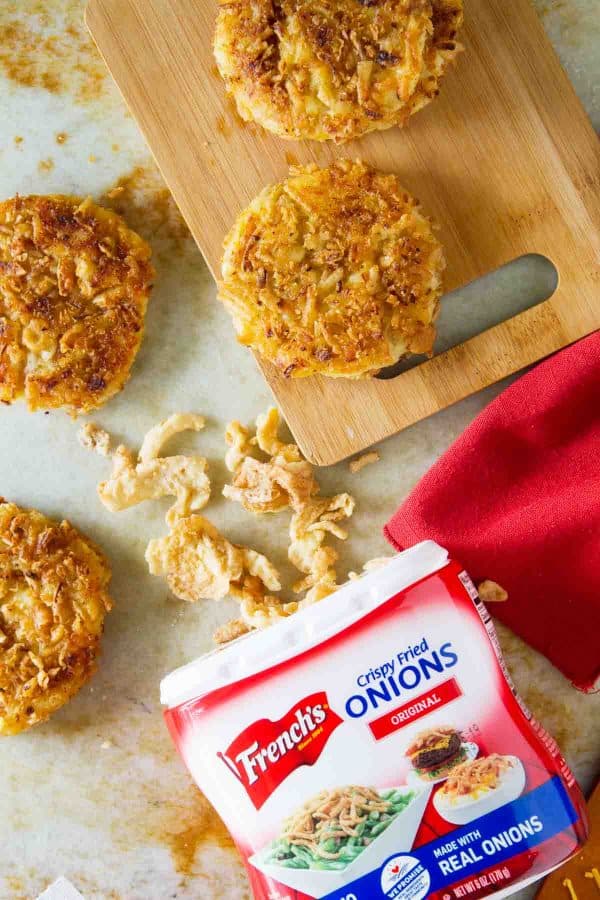 While I am making these as a part of a special holiday breakfast, these would be a perfect way to use up leftover mashed potatoes from another holiday meal. But there's no reason to wait for leftovers – you'll want to make these now!
These Crispy Onion Pancakes are addictively delicious. You'll never want to have regular hashbrowns again! I can't think of a better way to celebrate the holidays than with family and good food.
To learn more about French's Crispy Onions, or for even more recipe ideas, you can visit them online or on social media on Pinterest, Facebook or YouTube.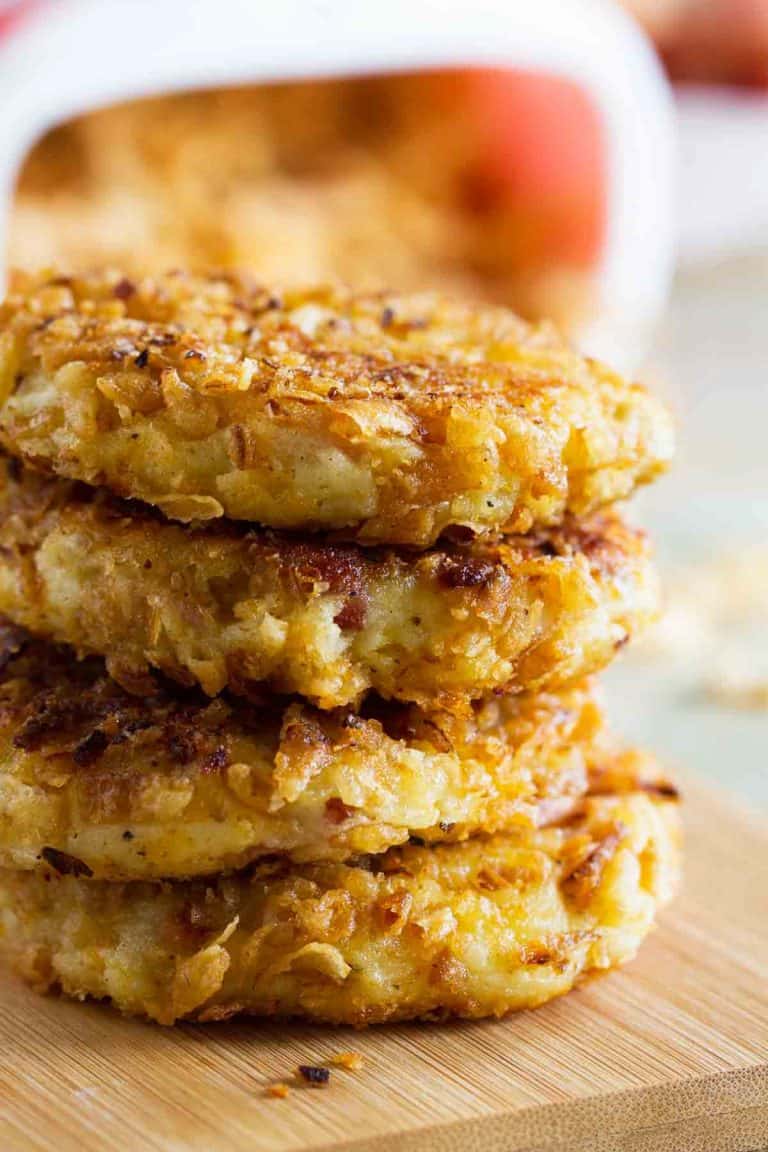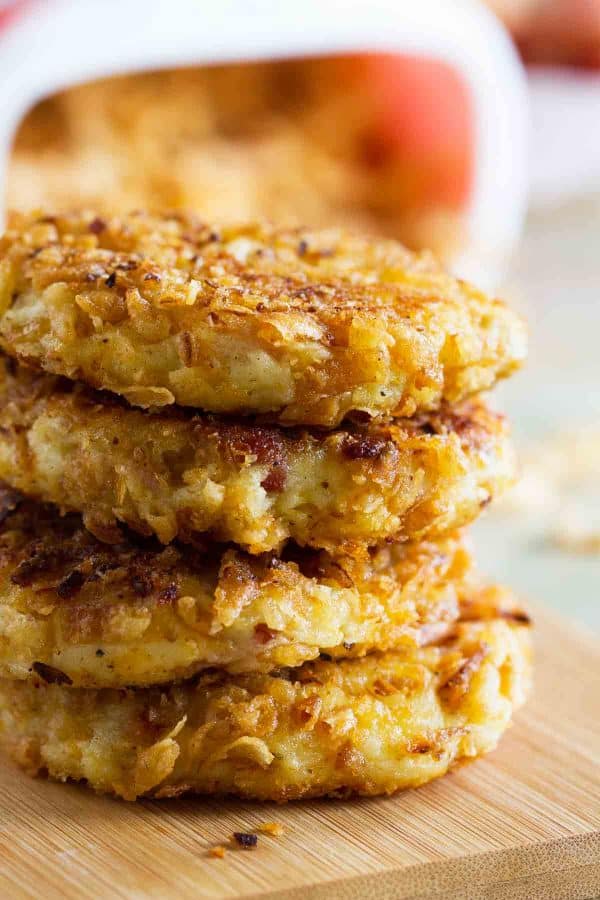 Like what you see here? Make sure you are following Taste and Tell for more recipes and ideas!
Facebook | Pinterest | Instagram | Twitter | Google+ | Weekly Newsletter | Feedly | Bloglovin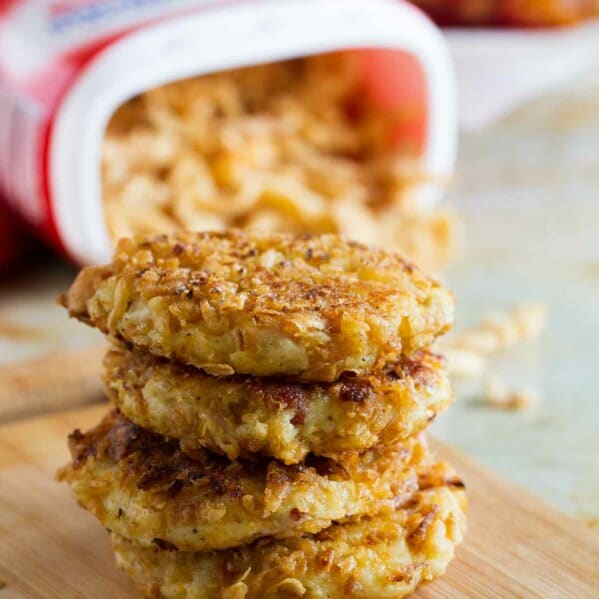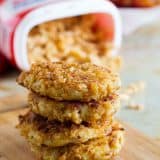 Crispy Onion Potato Pancakes
---
Author:
Prep Time: 15 minutes
Cook Time: 30 minutes
Total Time: 75 minutes
Yield: 12 pancakes 1x
Category: Breakfast
Description
Perfect for a special holiday breakfast, these Crispy Onion Potato Pancakes are crispy on the outside with soft and creamy centers.
---
Scale
Ingredients
1 lb Yukon gold potatoes (scrubbed clean)
1 tablespoon butter
2–3 tablespoons cream, half and half or milk
3 slices bacon (cooked and chopped)
1/2 cup shredded Sharp Cheddar cheese
1/4 cup all-purpose flour
1 egg
1 6 oz container French's Crispy Onions
vegetable oil (for frying)
---
Instructions
Cut the potatoes into 1-inch chunks. Place in a pot and cover with water. Place over high heat and bring to a boil. Boil until the potatoes are fork tender, about 10 minutes. Drain and return to the pot. Add the butter and mash the potatoes with a potato masher. Start adding the cream, 1 tablespoon at a time, until the potatoes are smooth and creamy. Season to taste with salt and pepper. Transfer the potatoes to a bowl, cover and refrigerate until completely cold.
When the potatoes are cold, add the bacon, cheese, flour and egg and stir to combine. If the mixture is really loose, you can add a bit more flour. Use a medium scoop and scoop the potatoes to a parchment lined baking sheet. With wet hands, lightly flatten the balls. Refrigerate for 30 minutes.
Lightly crush or chop the French's Crispy Onions and place in a shallow bowl.
Place a large skillet over medium heat and add enough oil to coat the bottom of the skillet.
Carefully take one of the potato pancakes and coat with the onions. You may need to use a spatula or wet hands, as the dough may be sticky.
Working in batches, fry the dough until crispy, about 2-3 minutes per side. Transfer to a paper towel lined plate and allow to drain and cool slightly.
Serve warm.
Recipe Notes:
Leftover mashed potatoes may be subbed for the freshly made potatoes. You may need to alter the amount of flour or eggs you use if leftover mashed potatoes are used.
Don't miss a thing! Follow me on Pinterest to see what I'm pinning!
Visit Taste and Tell's profile on Pinterest.