This Cashew Coconut Hot Chocolate Recipe is thick and creamy and decadent – a delicious and flavorful way to warm up when it's cold outside!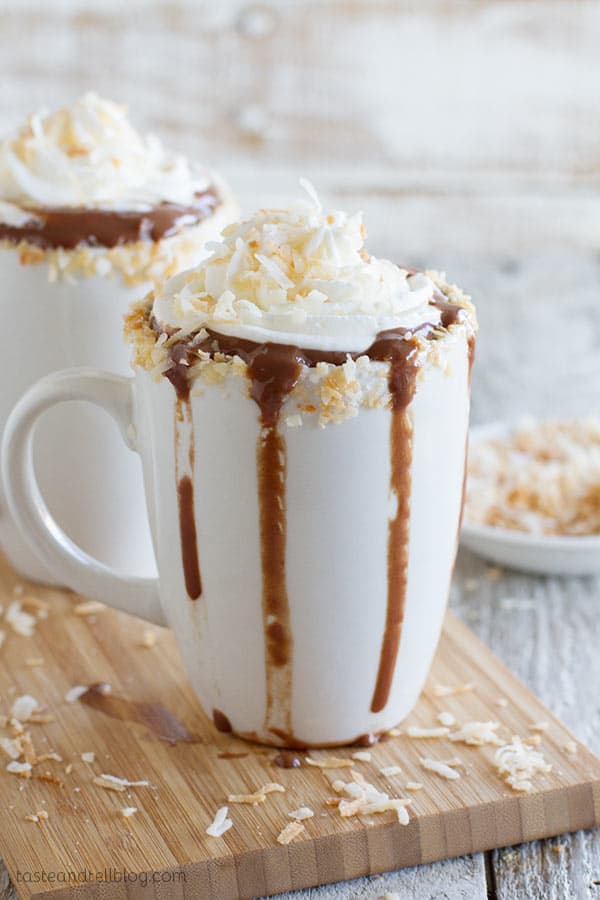 Many times, while I am cooking or photographing recipes for the blog, I'll be composing blog posts in my head at the same time. Thinking about stories to tie in, things that are going on that I'd want to talk about, or simply tips and tricks that have to do with the recipe.
Well, while I was making this hot chocolate recipe, I was kind of stuck. I wanted to think about how wonderful and comforting it is for a cold day or night, but when I looked out the window, or better yet – when I stepped out onto my porch, it didn't make as much sense.
Because it doesn't even feel like winter here yet!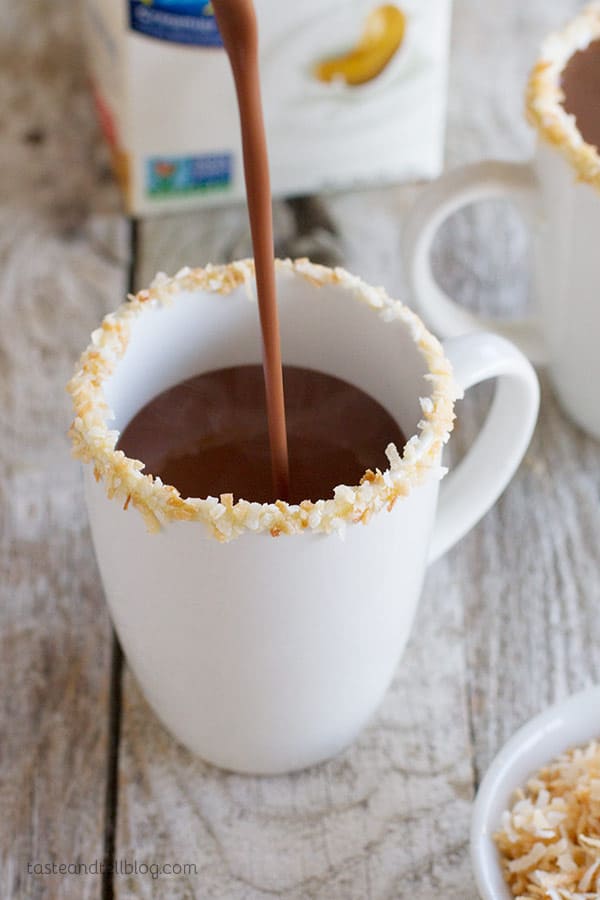 Ok, well technically, it's not winter. But it definitely doesn't feel like December. I went and met a friend at a food truck for lunch a couple of days ago (outside) and didn't even take a coat with me. I was wearing a light cardigan, and I was totally fine. In December. In Utah.
I'm not complaining. We all know that I prefer the warm to the cold. But I do have to admit that it's been a bit harder to get into the Christmas spirit when it feels more like Halloween weather outside.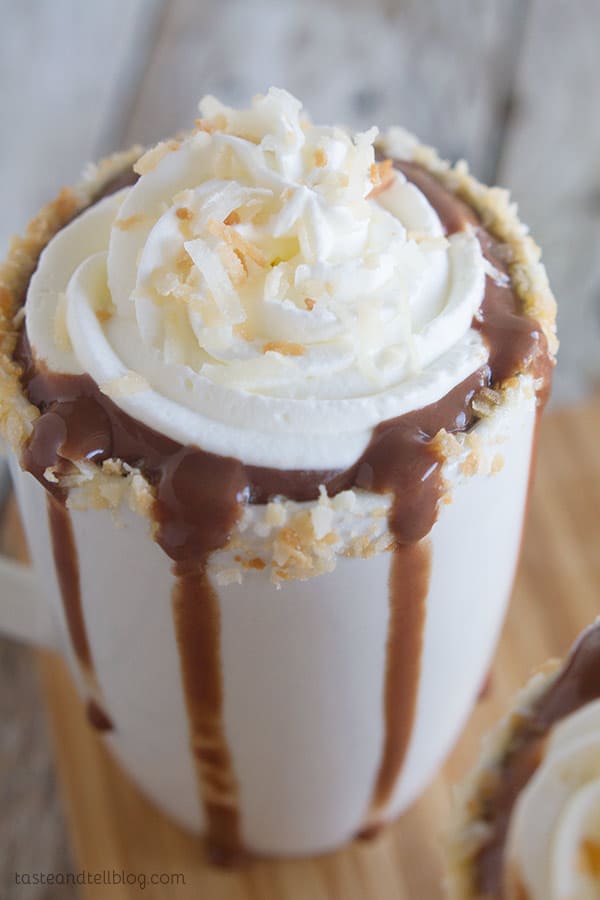 But honestly, it's a good thing that this hot chocolate recipe can be made and consumed no matter if it's 50 degrees outside or 15 degrees. Because duh – chocolate.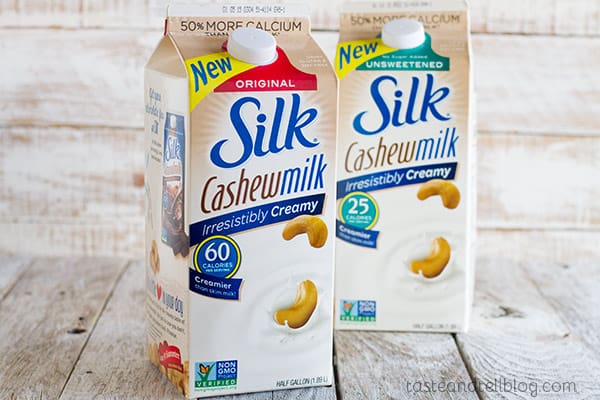 My friends at Silk recently sent me some of their new Cashewmilk to try out, and before I had even tried it, my mind automatically went to making some sort of a hot chocolate recipe. I love, love, love hot chocolate, and would probably drink some every day, but for some reason, while milk doesn't normally bother me, my tummy just doesn't like milk when it's warm. And it's practically against the law to make hot chocolate with water in my book. So I was super excited to try out a hot chocolate recipe that is still rich and creamy without the milk!
I adore coconut in all forms, and this all just kind of came together. The Silk Cashewmilk combined with some coconut milk and chocolate. A little bit of sugar to sweeten things up. And then a delicious coconut whipped cream to top it all off.
This totally tastes completely decadent without being all that decadent. If that makes sense. 🙂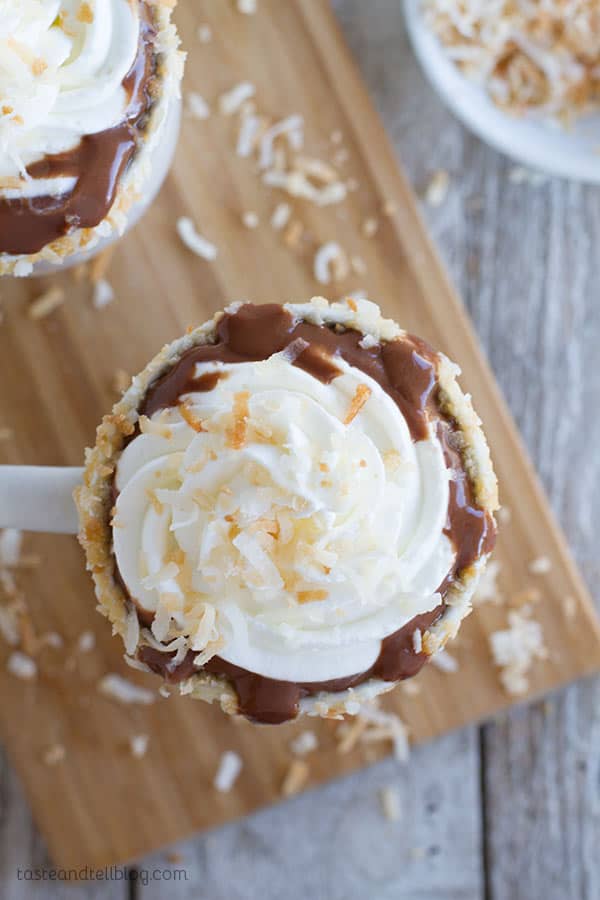 But seriously, the Silk Cashewmilk is the perfect substitution for milk here. I didn't get a tummy ache, and the cashewmilk is nice and thick and rich, all while being lower in calories than skim milk!* (Never mind that I added in chocolate, and heavy cream…)
And bonus – my milk loving middle child absolutely loved the Cashewmilk just plain as well and drank a big glass right off the bat. I'm thinking it will be great for pouring over cereal and in smoothies, as well!
And maybe one of these days it will actually get cold here so I'll have yet another excuse to make up a big glass of this Cashew Coconut Hot Chocolate!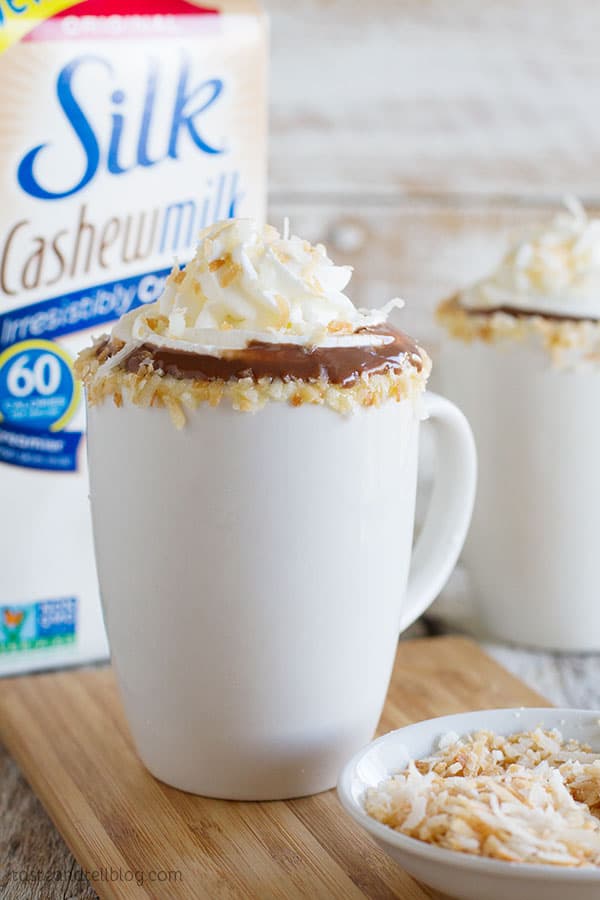 Want to try new Silk Cashewmilk for yourself? Sign up for the Silk eNewsletter and get a free coupon just for signing up! You can also give your feedback on the Silk Facebook page. And get inspired on the Silk Cashewmilk Pinterest Board!
Like what you see here? Make sure you are following Taste and Tell for more great recipes and ideas!!

Facebook ** Pinterest ** Twitter ** Instagram ** Google+
or you can subscribe to my newsletter or Feedly or Bloglovin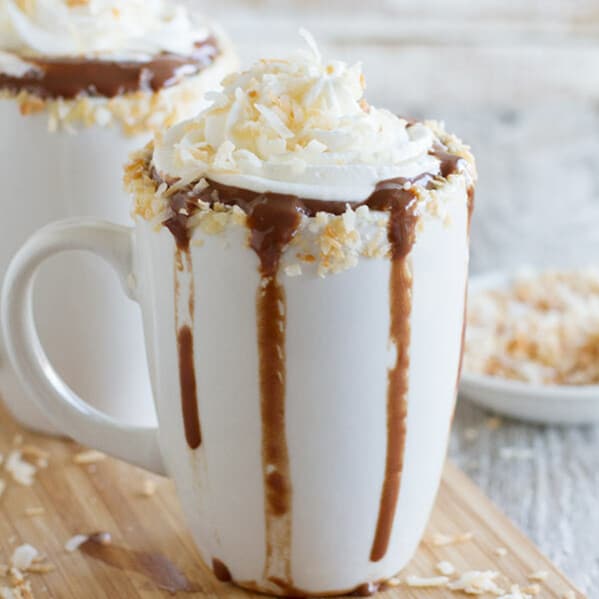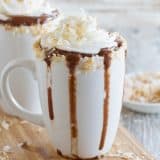 Cashew Coconut Hot Chocolate Recipe
---
Prep Time: 10 mins
Cook Time: 10 mins
Total Time: 20 mins
Yield: 4 servings 1x
Description
This Cashew Coconut Hot Chocolate Recipe is thick and creamy and decadent – a delicious and flavorful way to warm up when it's cold outside!
---
Scale
Ingredients
Hot Chocolate
Whipped Cream
1/2 cup heavy whipping cream
1–2 tablespoons powdered sugar
1/8 teaspoon coconut extract
toasted coconut, for garnish
---
Instructions
For the hot chocolate
In a medium saucepan over medium heat, combine the Cashewmilk and the coconut milk. Once warm, add the chocolate and sugar. Whisk continuously until the chocolate is melted and the mixture is smooth. Serve warm.
For the whipped cream
In a medium bowl, beat the cream until soft peaks start to form. Gradually beat in the powdered sugar. Beat in the coconut extract, and continue to beat until stiff peaks form. Serve the whipped cream on top of the hot chocolate, garnished with toasted coconut.
Recipe Notes:
I used semi sweet chocolate chips and it worked just fine. But the higher quality of chocolate you use, the better it will taste!

This conversation is sponsored by Silk. The opinions and text are all mine.
*Silk Original Cashewmilk: 60 cal/serv; skim dairy milk: 80 cal/serv. USDA National Nutrient Database for Standard Reference, Release 26. Data consistent with typical skim dairy milk.