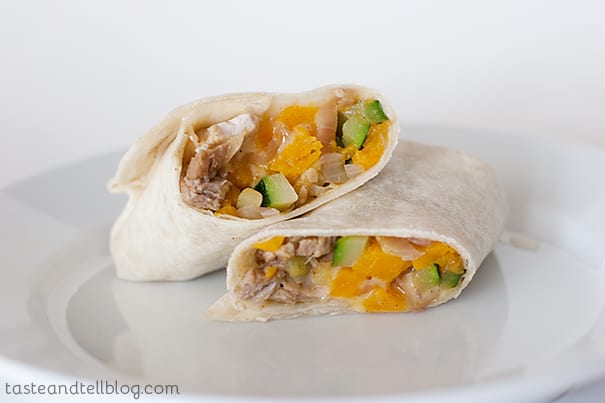 I love it when a month has 5 Fridays in it – so that I get to do an extra recipe from my Cookbook of the Month!! This month's cookbook – Family Circle All-Time Favorite Recipes – is so full of recipes that I want to try, so I didn't struggle to find a fifth recipe.
These are quite delicious – and squash is in season right now, so these are a perfect dinner idea. But do you want to know what I like the best about them? They freeze wonderfully! I only had soft taco sized tortillas on hand, so my burritos ended up a bit smaller – and the recipe ended up making a ton. More than we could eat in a few days. So I wrapped each of the leftovers individually, first in plastic wrap, then in foil. Then I popped them all in a freezer bag, and into the freezer they went. Last night I was feeling lazy, so I popped a few of these into the microwave (minus the foil, of course!) and they came out wonderful and delicious! In fact, I think I even enjoyed them more the second time around than I did the first!
Recipe Rating: 4.4 out of 5
Pork & Squash Burritos
adapted from Family Circle All-Time Favorite Recipes
Makes 6 servings
1/2 medium butternut squash, peeled and cut into 2×1/2 inch x 1/2 inch sticks
1 tablespoon olive oil
1 red onion, halved lengthwise, then sliced crosswise
1 pork loin (1 pound), trimmed and cut into matchstick strips
1 medium zucchini, cut into 2×1/2 inch x 1/2 inch sticks
1 teaspoon chili powder
1 teaspoon ground cumin
1 teaspoon salt
1/8 teaspoon ground cinnamon
1/4 cup fresh orange juice
6 flour tortillas (10-inch)
1 cup shredded monterey-jack cheese
Bring 1/2 inch water to boiling in a large skillet. Add squash; cook 3 to 5 minutes, or until tender. Drain.
Heat oil in skillet over medium heat. Add onion; cook 6 minutes or until softened. Increase heat to medium-high. Add the pork, zucchini, chili powder, cumin, salt and cinnamon. Cook, stirring frequently, 6 to 8 minutes or until pork is cooked through and vegetables are tender.
Stir in orange juice and reserved squash; cook 2 minutes or until heated through.
Meanwhile, wrap tortillas in damp paper toweling. Microwave on high for 1 to 2 minutes or until steaming and very pliable.
Spoon squash filling over warmed tortillas, dividing equally. Sprinkle with cheese. Fold up each tortilla, envelope style.