Yellow buttermilk cupcakes are topped with a Swiss meringue buttercream that is piped to look like grass and marzipan ladybugs.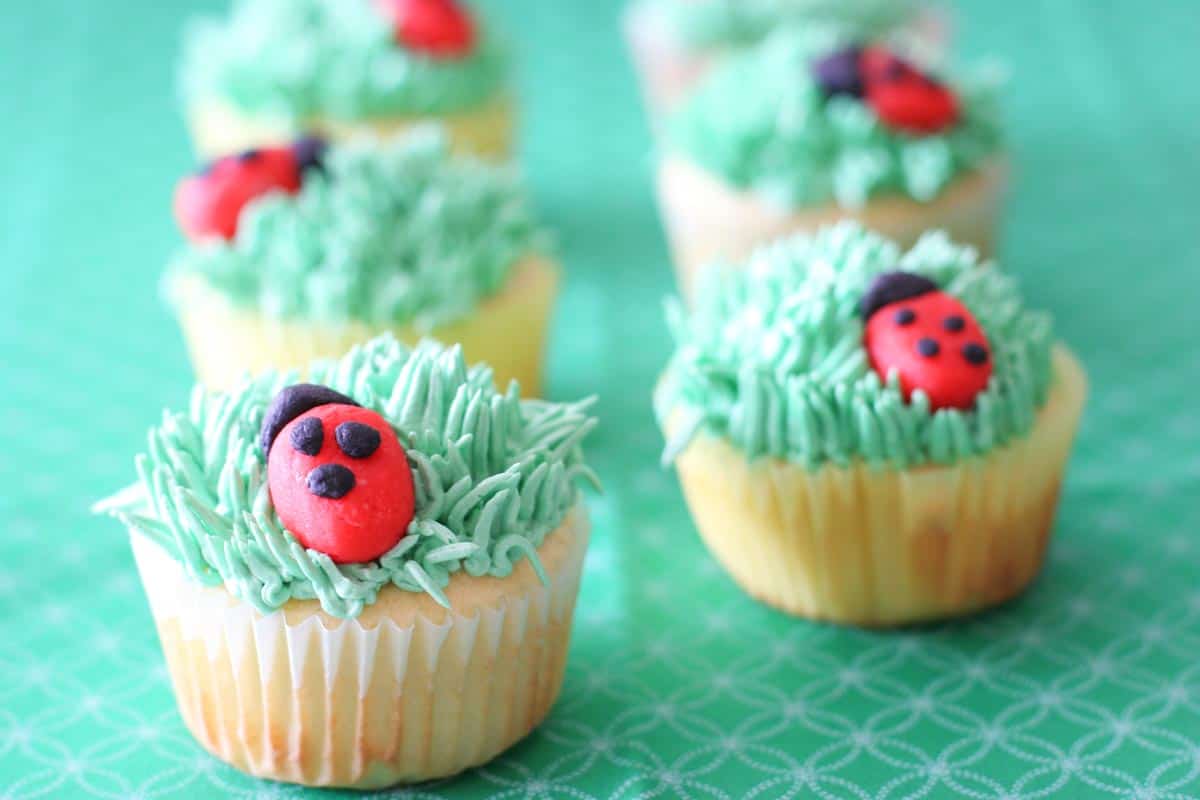 I think my daughter is teething. I don't know why I am surprised every time she does something a little early. At 4 1/2 months, she's already surprised me plenty. Smiling from basically day 1, being able to hold her head up in the first month, rolling over both ways just before the 3 month mark, and she's getting her knees up underneath her and I know I'm going to turn around one day soon and she'll be crawling already. I have a theory that she just doesn't have any desire to be a baby and she just wants to grow up. (But she's growing up way too fast for me – I wish she would slow down!) But the teething thing – it definitely threw a wrench in my day!
I had planned on making these Ladybug Cupcakes for the Cookbook of the Month recipe for this week. And when I do finally make a decision, I have my mind set and I don't want to change plans. I had promised cupcakes for my church girls, so I set out to make these during the day on Wednesday. But Abbi wasn't really having it. She wasn't wanting to take her naps, and when she did, they would be for a very short time and then the crying would start. And then she wanted me to hold her non-stop all day, and she hasn't been like that for a couple of months now. And of course I choose a labor intensive cupcake for the week!
To top it all off, I couldn't find marzipan to make the ladybugs with, even after going to 3 stores. So I decided to make my own. Just one more step! But I finally got them done, and I was so happy with how they turned out! I think they are so cute!
A couple of notes about the recipes:
I was so excited when I took these cupcakes out of the oven because they were the most perfect from scratch cupcakes that I had ever made. But unfortunately, I wasn't blown away by the flavor. They really don't have a ton of flavor, but the frosting added quite a bit.
When I saw that the frosting for these was a Swiss meringue buttercream, I wondered how they got the grass so green in the picture in the book. And I'm still wondering. I added way more green food coloring than I wanted to, but I couldn't get the grass any greener than I did.
The frosting is much the same as the strawberry frosting I made last week, minus the strawberries.
I think I made my ladybugs bigger than Martha's, because they didn't look right with more than 1 ladybug per cupcake. And I just didn't have the patience to do a ton of spots, but I still think mine turned out cute.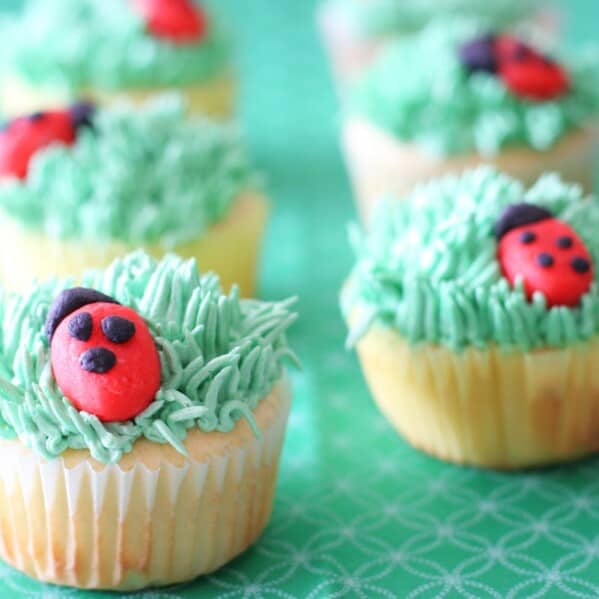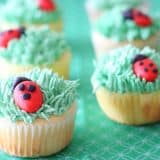 Ladybug Cupcakes
---
Author:
Yield: 36 1x
Category: Dessert
Method: Baked
Cuisine: American
Description
Yellow buttermilk cupcakes are topped with a Swiss meringue buttercream that is piped to look like grass and marzipan ladybugs.
---
Scale
Ingredients
Yellow Buttermilk Cupcakes
3 cups cake flour (not self-rising)
1 1/2 cups all-purpose flour
3/4 teaspoon baking soda
2 1/4 teaspoons baking powder
1 1/2 teaspoons coarse salt
1 cup plus 2 tablespoons unsalted butter, at room temperature
2 1/4 cups sugar
5 large whole eggs plus 3 egg yolks, at room temperature
2 cups buttermilk, at room temperature
2 teaspoons pure vanilla extract
Swiss Meringue Buttercream
5 large egg whites
1 cup plus 2 tablespoons sugar
pinch of salt
1 pound (4 sticks) unsalted butter, cut into tablespoons, at room temperature
1 1/2 teaspoons pure vanilla extract
To assemble
Red, green and black gel-paste food coloring
7 ounces marzipan
Cornstarch, for work surface
---
Instructions
For the cupcakes:
Preheat oven to 350F. Line standard muffin tins with paper liners. Sift together both flours, baking soda, baking powder and salt.
With an electric mixer on medium-high speed, cream butter and sugar until pale and fluffy. Reduce speed to medium. Add whole eggs, one at a time, beating until each is incorporated, scraping down sides of bowl as needed. Add yolks, and beat until thoroughly combined. Reduce speed to low. Add flour mixture in three batches, alternating with two additions of buttermilk, and beating until combined after each. Beat in vanilla.
Divide batter evenly among lined cups, filling each three-quarters full. Bake, rotating tins halfway through, until cupcakes spring back when lightly touched and a cake tester inserted in centers comes out clean, about 20 minutes. Transfer tins to wire racks to cool 10 minutes; turn out cupcakes onto racks and let cool completely. Cupcakes can be stored overnight at room temperature, or frozen up to 2 months, in airtight containers.
For the buttercream:
Combine egg whites, sugar, and salt in the heatproof bowl of a standing mixer set over a pan of simmering water. Whisk constantly by hand until mixture is warm to the touch and sugar has dissolved (the mixture should feel completely smooth when rubbed between your fingertips).
Attach the bowl to the mixer fitted with the whisk attachment. Starting on low and gradually increasing to medium-high speed, whisk until stiff (but not dry) peaks form. Continue mixing until the mixture is fluffy and glossy, and completely cool (test by touching the bottom of the bowl), about 10 minutes.
With mixer on medium-low speed, add the butter a few tablespoons at a time, mixing well after each addition. Once all butter has been added, whisk in vanilla. Switch to the paddle attachment, and continue beating on low speed until all air bubbles are eliminated, about 2 minutes. Scrape down sides of bowl with a flexible spatula, and continue beating until the frosting is completely smooth. Keep buttercream at room temperature if using the same day, or transfer to an airtight container and refrigerate up to 3 days or freeze up to 1 month. Before using, bring to room temperature and beat with paddle attachment on low speed until smooth again, about 5 minutes.
To assemble:
Tint buttercream green with gel-paste food color. Transfer to a pastry bag fitted with a small multi-opening tip (#233). Starting at the center and moving outward, pipe rows of grass on top of cupcakes: With tip on surface of cupcake, squeeze bag, then release while quickly pulling up to form 1/4-inch-long blades, making some slightly longer than others.
Form ladybugs: Divide marzipan in half. Working on a surface lightly dusted with cornstarch, tint one portion red and the other black with gel-paste food colors. Form a 1/2-inch ball of red marzipan for each ladybug body, and a 1/4-inch ball of black marzipan for each head. Flatten the red ball slightly into an oval shape, and press the head onto the body. Pinch off black marzipan to make tiny balls for the spots, and press onto the body. Repeat to make additional ladybugs with remaining marzipan. Place one or two ladybugs on top of each frosted cupcake, gently pressing them into the buttercream grass. Refrigerate 30 minutes to allow frosting to set. Cupcakes are best served the same day they are decorated; keep at room temperature.
Recipe Notes: