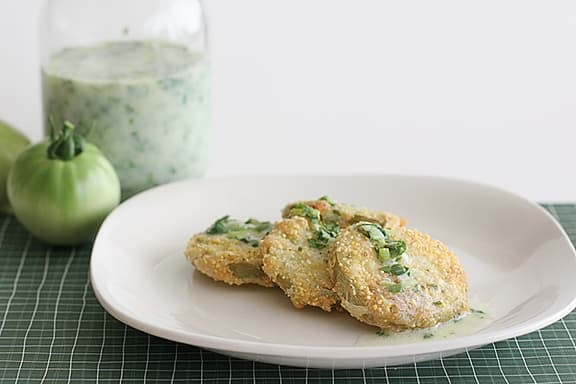 I think that sometimes, people think that since you have a food blog, you know a lot about food. I'm just here to tell you – I have been writing this blog for over 3 years now, and I am no where close to a food expert!! Just to prove it – up until a couple of years ago, I thought that green tomatoes were actually a kind of a tomato. I didn't know that they are actually just unripe tomatoes. I had always wanted to try fried green tomatoes, but I had never seen green tomatoes at my grocery store. Boy, did I feel stupid when I learned that fried green tomatoes are just made from unripe tomatoes!!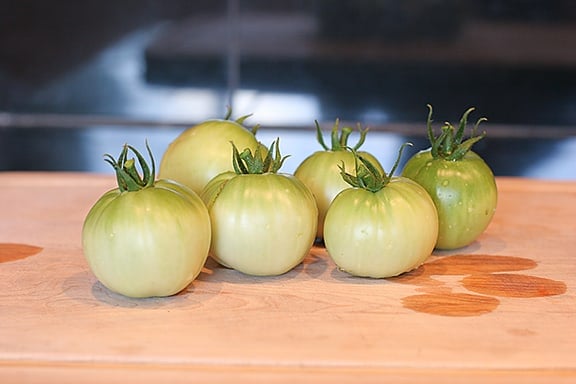 I actually almost waited until August to do this cookbook, because the one recipe I really wanted to make was fried green tomatoes. I've never had them before, and ever since seeing the movie Fried Green Tomatoes, I've always wanted to try one. We don't get tomatoes until August, so I didn't know if I'd be able to make this recipe this month or not. Lucky me – I went out to the garden the other day and was able to pull a few green tomatoes. They weren't very big, but they would work! I do have to admit, though, that it kind of made me sad, picking those green tomatoes. Just because I knew that those would be my first ripe tomatoes, and now I'll have to wait a little bit longer!
But the wait will be worth it, because these were good. And I didn't have my hopes up, because I tasted a raw green tomato and had to spit it out. But once they are coated and fried – pure heaven!!
Recipe Notes:
I loved this dressing, but I wish I would have had a little sour cream to add to it. It was really thin, and I think that some creaminess would have been wonderful.
I loved these when they were hot, but I think I actually liked them best when they were almost room temperature. Which is a good thing, because it means they would be a good appetizer you could make earlier in the day to serve to company!
In the recipe, it mentions that if you can't find green tomatoes, you can use store tomatoes that are out of season and just salt them and squirt them with lemon juice before dredging. I'd actually like to try this sometime!
Recipe Rating: 4.5 out of 5
Fried Green Tomatoes
from The Lee Bros. Southern Cookbook


serves 6
total time: 30 minutes
3 pounds green tomatoes (about 6-8 medium tomatoes)
3 large eggs, beaten
3/4 cup whole milk
3 cups peanut oil
3 batches Lee Bros. All-Purpose Fry Dredge (recipe follows)
kosher salt, if needed
lemon juice, if needed
Cut out the stem ends from the tomatoes and slice them 1/4-inch thick with a serrated tomato or bread knife; reserve. Whisk the eggs and milk together in a broad, shallow bowl.
Pour the oil into a 12-inch skillet and heat over medium-high heat until the temperature on a candy thermometer reads 365 degrees. (If using a different size skillet or pan, fill with oil to a depth of 1/3 inch.)
Heat the oven to 225 degrees. Set a cooling rack on a cookie sheet and place on the top rack of the oven.
Spread the dredge on a large plate or pie pan or in a small, shallow baking pan. Taste the tomatoes. They should have a bright tartness like citrus fruit. If they don't, sprinkle the slices with salt and lemon juice. Then press 1 tomato slice into the dredge, once on each side, shaking any excess loose. Dunk in the egg mixture, then dredge the slice on both sides again. Shake off any excess and place the slice on a clean plate. Repeat with more slices until you've dredged enough for a batch (3 or 4 slices). With a spatula, transfer the first batch of slices to the oil.
As the first batch cooks, dredge the second batch of tomatoes, but keep a watchful eye on the first. Once the slices have fried to a rich golden brown on one side, about 2 minutes, flip them carefully and fry for 2 minutes more, or until golden brown. Transfer the fried tomatoes to a plate lined with a double thickness of paper towels and leave them to drain for 1 minute.
Transfer the slices to the cooling rack in the oven, arranging them in a single layer, so they remain warm and crisp. Repeat with the remaining slices until all the green tomatoes have been fried. Serve right away with Buttermilk-Lime Dressing (recipe follows).
Lee Bros. All-Purpose Fry Dredge
1/2 cup all purpose flour
3 tablespoons stone-ground cornmeal
2 teaspoons salt
1 1/2 teaspoons freshly ground pepper
In a medium bowl, sift the flour, cornmeal, salt and pepper together twice.
Buttermilk-Lime Dressing
makes 1 1/4 cups
3/4 cup whole or lowfat buttermilk
5 tablespoons freshly squeezed lime juice
2 tablespoons extra-virgin olive oil
1 tablespoon honey
1/4 cup finely minced basil
1/4 cup finely minced green onions
1/4 cup finely minced flat-leaf parsley
1/2 teaspoon salt, plus more to taste
In a small bowl, whisk the ingredients together until thoroughly combined. Cover tightly and store in the refrigerator not more than 2 days.