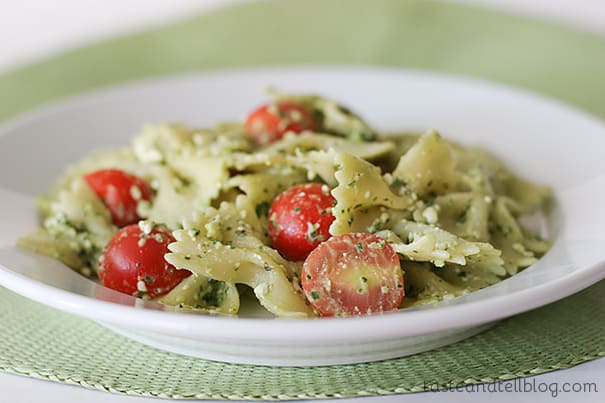 A couple of weeks ago, I was out weeding my garden. Not my favorite chore. It was super hot outside already, even though it was still early in the day. As I was sitting there, baking in the sun, I started wondering if having a garden is really worth it.
But as I sat down to dinner with a plate of this pasta in front of me, I realized it is definitely worth it. The tomatoes and the basil for the pesto came straight from the garden – picked right before eating them. It made me remember that the payout is much bigger than the work you have to put into it. There is nothing like fresh food straight from the backyard!
Since there are 5 Fridays this month, you get this bonus 5th Cookbook of the Month recipe. Plus the review below! This recipe was really quite good. We ate it at room temperature, but I'm sure it's going to be good cold out of the refrigerator as well. And it was super cheap to make – especially with part of the ingredients coming from my backyard!
Pasta with Pesto, Feta & Cherry Tomatoes
from Food Network Favorites
Makes 4 to 6 servings
1 pound bow tie pasta (farfalle)
3/4 cup Pesto, recipe follows
1/2 pint cherry tomatoes, halved
1 cup crumbled feta cheese
salt and pepper
olive oil, as needed
Bring a large pot of salted water to boil. Stir in the bow ties and cook, stirring occasionally, until al dente, about 10 minutes. Drain the pasta and run it under cold water just until it stops steaming. Bounce the pasta around to get rid of as much water as you can.
Dump the pasta into a large serving bowl. Stir in the pesto until the pasta is coated. Toss in the cherry tomatoes and the crumbled feta. Taste the salad and season it as you like with salt and pepper. You can make the salad up to about 1 hour before you serve it. Check out the salt and pepper just before you serve the salad. If it's looking a little dry, add some olive oil and stir it around.
Pesto:
5 big handfuls basil leaves (about 2 hefty bunches)
1/2 cup pine nuts or 3/4 cup walnuts
1/2 cup fresh grated Parmesan or Pecorino cheese
Juice of 1 small lemon
2 cloves garlic, peeled
Kosher salt
About 20 grinds freshly ground black pepper
3/4 cup extra-virgin olive oil
Place all ingredients with 1/2 cup of the oil in a blender and blend. Gradually drizzle in the remaining 1/4 cup of oil until pesto is thick and smooth.
Yield: about 1 1/2 cups
Recipe Rating: 4.25 out of 5
And since it is the last day of the month, it's time to review this month's cookbook and move onto another.
Did I like this cookbook? Yes I did. Do I think it's one that everyone must own? Not necessarily. I think that the recipes are quality recipes, and there is a wide variety of recipes featured. It is a few years old, and a few of the chefs aren't even on Food Network anymore, but it's still great to have those recipes. The biggest complaint I can see people having about this book is that all of the recipes – at least the ones I've looked up – are on the Food Network website and have been featured on the network before. Nothing new here. But if you are like me and you like to have the recipes in a book, this is not a bad thing at all. In fact, I think most of the Food Network personalities that have cookbooks all have their recipes online as well. So if you would rather just look them up online, this cookbook isn't for you. But if you are a cookbook addict like me, you'll find plenty in this book to enjoy!
Overall rating: 4.10 out of 5
Buffalo Popcorn Chicken Bites
3.75 out of 5
Corn Dogs
3.5 out of 5
Nonna's Lemon Ricotta Biscuits
4.5 out of 5
Fresh Fruit Batidos
4.5 out of 5

Pasta with Pesto, Feta & Cherry Tomatoes
4.25 out of 5
Onto August!! I'm digging into my collection again this month – nothing new. But – and I know I've already said it a million times – I'm melting this year with an air conditioner that isn't working properly. (Hopefully we'll be able to get a new one by next summer!) So needless to say, I haven't felt like cooking much. But I do need to cool off. And what better way to cool off than with ice cream?? So I'm turning to one of the best ice cream books out there – The Perfect Scoop. I'm sure every recipe from this book has been made by one or more food bloggers, but now it's time for me to make some that I've been eyeing lately! I've made a few in the past and I love what I've made, so I anticipate this next month to be a great one!