Coconut Banana Caramel Custard – A coconut and banana custard is cooked in a caramel sauce, and then turned out for an impressive and delicious dessert.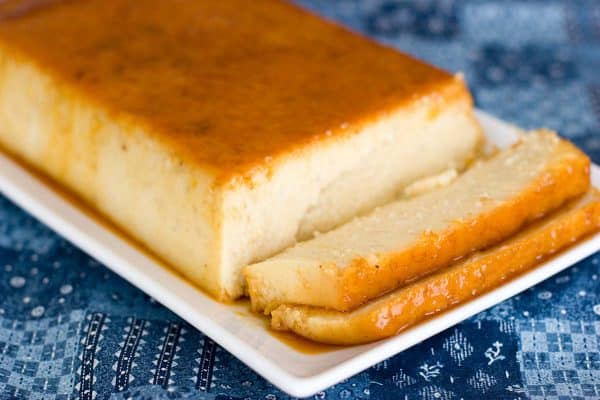 I've been doing this blogging thing for so long now, that it is almost a part of me. Yesterday, you may have noticed that I didn't post at all. I just about always post on Thursdays. But I had been up late the night before editing a photo session, and I woke up still tired. I went to sit at the computer to type up a post, but it was like my brain was on vacation. So I decided to take a vacation from blogging for a day. But guess what? It's strange, because I almost felt guilty, like I was sluffing from work or something! I'd say that's a sure sign of a blogging addict!
While I may have skipped a Thursday, I knew that I couldn't skip Friday, because it's Cookbook of the Month day! And this is the last Friday of the month, so it's the last recipe from this month's cookbook – Indian Home Cooking. Whenever a cookbook has a dessert section, I know I have to take advantage of it, so I chose this custard for this week's recipe.
I would have never thought of this as an Indian dessert, but then again, I have no idea what a typical dessert is in India. But I'm glad I went with this one, and my husband is very glad I went with this one. He is a lover of all custards, flans, baked puddings, etc, so this one was right up his alley. I love that not one flavor overpowers this – you get the coconut, banana and caramel all mixed together perfectly. Honestly, I was all prepared for this not to work – for it it stick in the pan, or for it to be a runny mess, but it couldn't have worked out more perfectly. Definitely a delicious dessert!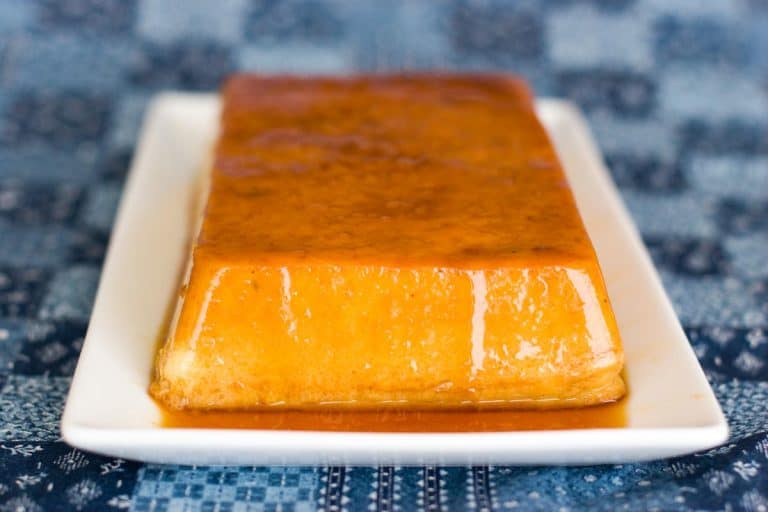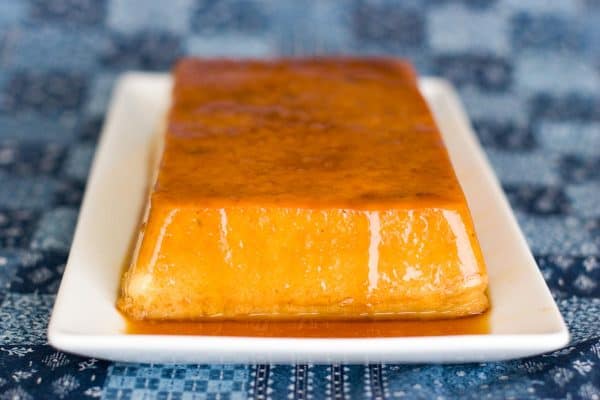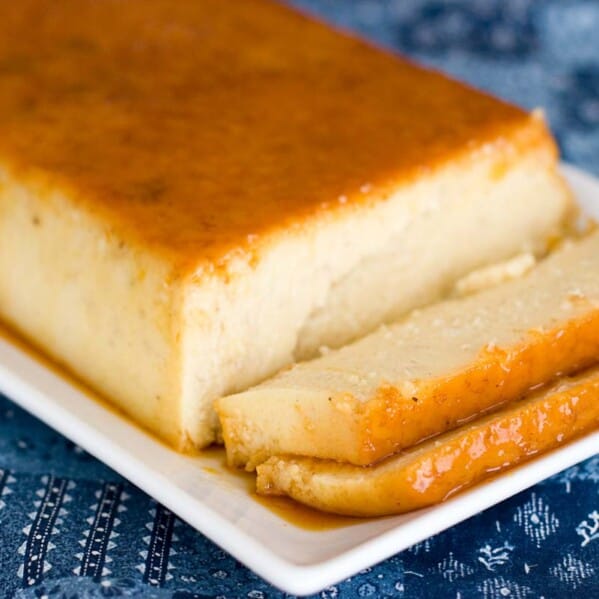 Coconut Banana Caramel Custard
---
Author:
Prep Time: 20 minutes
Cook Time: 1 hour 15 minutes
Total Time: 6 hours 35 minutes
Yield: 6-8 Servings 1x
Category: Dessert
Method: Baked
Cuisine: Indian
Description
Coconut Banana Caramel Custard – A coconut and banana custard is cooked in a caramel sauce, and then turned out for an impressive and delicious dessert.
---
Scale
Ingredients
1 1/2 cups sugar (1 1/4 cups if using sweetened coconut)
1 large overripe banana
1/2 cup shredded unsweetened coconut or shredded sweetened dried coconut
1/2 teaspoon freshly grated nutmeg
1/8 teaspoon salt
6 large eggs
1 cup coconut milk
1 (12-ounce) can evaporated milk
1 teaspoon pure vanilla extract
---
Instructions
Preheat the oven to 325F. Line a 9x13x2-inch baking dish with a doubled dish towel.
Heat 3/4 cup of the sugar in a small, heavy-bottomed saucepan over low heat, stirring often, until the sugar has melted and caramelized to golden brown, about 5 minutes. Pour the caramel into a 9×5-inch loaf pan. Tilt the pan to cover the bottom and part of the sides with the caramel. Set aside.
Combine the banana, the remaining 3/4 cup sugar (1/2 cup if using sweetened coconut), the shredded coconut, nutmeg and salt in a bowl of an electric mixer and beat until smooth. Beat in the eggs until well mixed. Gradually beat in the coconut milk and then the evaporated milk. Beat in the vanilla and beat until the custard is well mixed.
Pour the custard into the prepared loaf pan. Set the pan in the baking dish and then put the dish into the preheated oven. Use a cup to add hot tap water to almost fill the baking dish. Bake until a toothpick inserted in the center comes out clean and the top is a light brown color, about 1 hour 15 minutes.
Remove the loaf pan from baking dish and set it on a wire rack to cool. (Let the water in the baking dish cool before removing it from the oven.) Refrigerate the custard for at least 5 hours.
To serve, set the loaf pan over direct heat until the bottom gets hot, about 1 minute. (This is to melt the caramel so the flan will unmold.) Run a knife around the edges to loosen the flan. Invert a serving dish on top of the loaf pan and then turn the mold upside down onto the plate. Remove the pan. Cut into slices and serve.