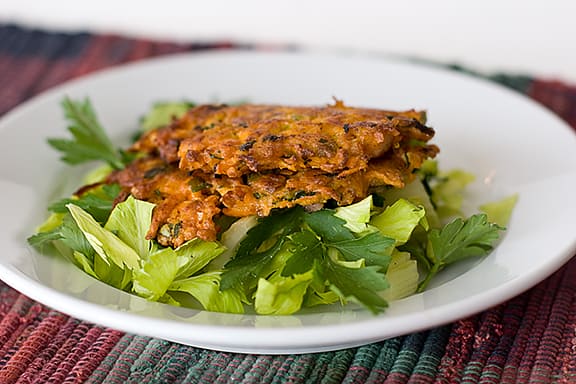 I apologize for any of you that were prepared with you Rachael Ray recipes last week. But hopefully today we'll have twice as many people contribute!!
I am so glad that I am being "forced" to cook a RR recipe every week now. I have seriously lists and lists of them that I want to try, so this is making me cut into that list. But sometimes, it's funny, because I'll look over that huge list but nothing stands out to me. That is when I love having all the Every Day magazines on my bookshelf. I go and randomly pick one out, and guaranteed – there will be at least 1 recipe that sounds good. This time around, it was these fritters. I know last time I did a RR recipe, it was with sweet potatoes, too. Ms. Ray and I must both have a love affair with sweet potatoes!
I usually half recipes when I make them, since there is only the two of us and the toddler to eat. But my husband complained of being extra hungry this night, so I decided to make the full recipe. I sure am glad I did!! First of all, it took me quite some time to get the hang of making these so that they didn't just fall apart when I went to flip them. I ended up adding extra egg and extra flour to the batter. (The recipe below reflects my changes.) And honestly, I was quite frustrated. But all of my frustrations melted away when I took my first bite. YUM!
I may or may not have eaten the first 4 or so that came out of the pan not whole. I may or may not have been full before we even sat down to eat. But I couldn't help myself – these were just that good!! 🙂
Sweet Potato and Ham Fritters
adapted from Everyday with Rachael Ray March 2009
serves 4
Prep: 30 min
Cook: 25 min
1 1/4 pounds sweet potatoes, peeled and grated
1/2 pound ham, chopped
5 scallions, finely chopped
2/3 cup chopped flat-leaf parsley, plus 1/3 cup leaves
2/3 cup flour
salt and pepper
3 large eggs
1 tablespoon Dijon mustard
1/2 cup plus 2 tablespoons vegetable oil
6 ribs celery, thinly sliced, plus 1/2 cup celery leaves
Preheat the oven to 200°. Place a rack on a baking sheet and transfer to the oven. In a large bowl, toss the sweet potatoes, ham, scallions, chopped parsley and flour; season with salt and pepper. In a separate bowl, beat the eggs with 1 teaspoon mustard. Stir the egg mixture into the sweet potato mixture.
In a large, heavy skillet, heat 2 tablespoons oil over medium-high heat. Working two at a time, add 1/3-cup mounds of sweet potato mixture, flattening into rounds. Lower the heat to medium and cook until golden, 3 minutes on each side; transfer to the baking sheet to keep warm. Add 2 tablespoons oil between batches.
In a bowl, whisk the remaining 2 tablespoons oil and remaining 2 teaspoons mustard. Add the parsley leaves, celery and celery leaves and toss to dress; season with salt and pepper. Serve topped with the warm fritters.