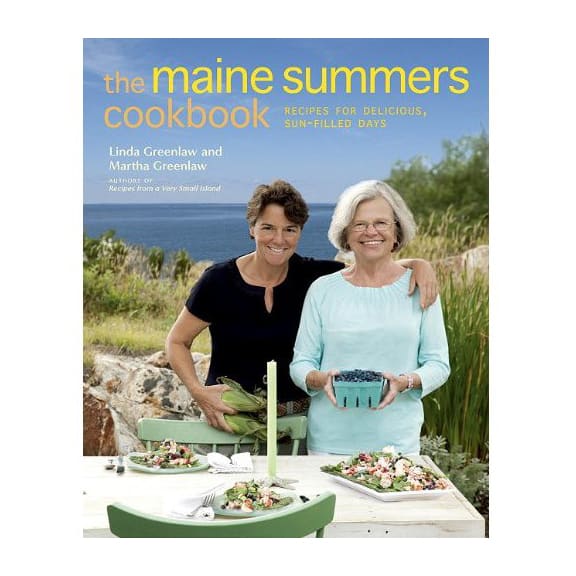 I hope you all of you in the USA had a wonderful holiday yesterday. I know I did – despite cloudy, rainy skies – and the day went by much too quickly!!
One thing that I love to do is travel. I don't get to do it often, which makes me sad, but I have a whole long list of places I'd love to go before I die. But since a lot of traveling isn't in the cards for me right now, I try to do the next best thing to experience other places – learn about them through their food!!
When I was contacted to review this cookbook – The Maine Summers Cookbook – I jumped at the chance. I've always wanted to visit Maine, and since I'm not sure when that will happen, I was excited to bring a little bit of Maine into my home! This cookbook, written by New York Time's best selling author Linda Greenlaw and her mother, Martha, is full of the tastes of the small island in Maine where the Greenlaws live.

Number of Photos: some
There are not tons of photos in this book, but there are a decent amount. There are many from finished dishes, as well as many lifestyle photos from their lives in Maine.
Difficulty Level of Recipes: Easy to Medium
I don't think most of the recipes are very difficult, but there are a lot of fish recipes, and if you aren't comfortable with cooking fish, this might be a little more on the hard-ish side. But definitely not difficult!
Availability of Ingredients: Easy to Medium
I think that most of these ingredients are easy to find, but there will be some ingredients – mostly seafood – that are harder to find if you live somewhere like I do!
Here's what I made: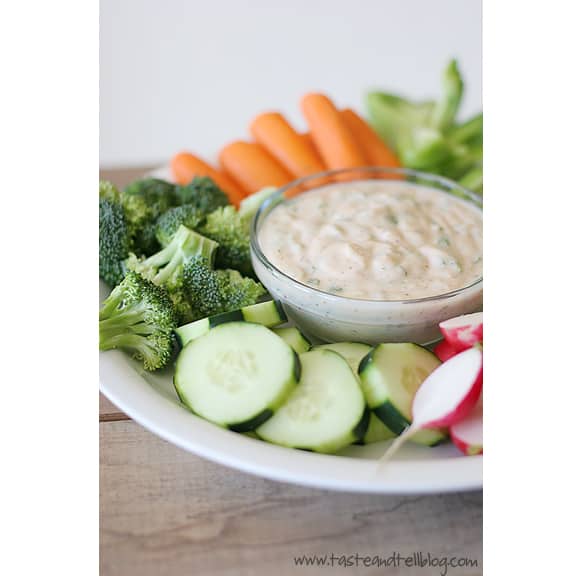 Raw Veggies with Spicy Yogurt Dip
I've been trying to keep healthy things on hand for when I am feeling snacky, so I wanted to give this one a try! This dip is a great switch up for me, and I loved the kick that it had. This was super easy, super healthy, and super delicious!!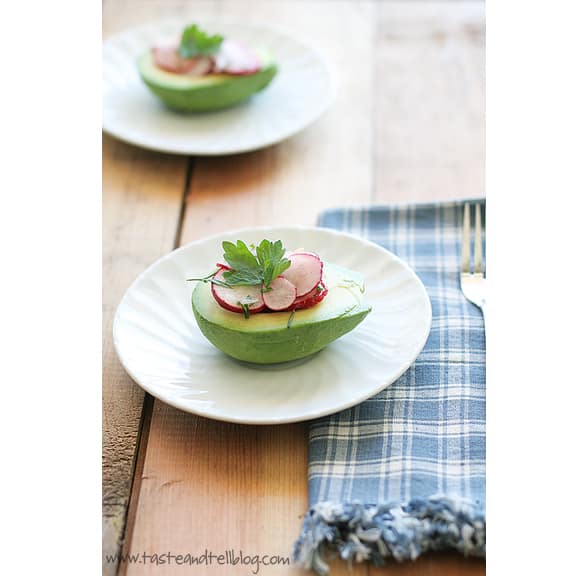 Carol Reynolds's Avocado and Radish Salad
I have had a thing for avocados lately. And when I read this recipe, I knew it would be a gorgeous dish. If I was a person that threw dinner parties, I would definitely serve these up as a starter. I thought they were so beautiful, and they tasted equally wonderful.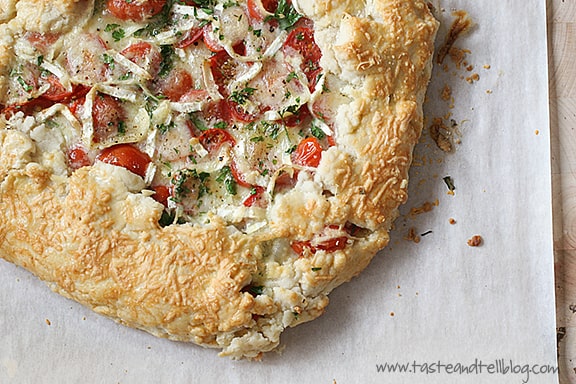 Tomato, Caramelized Onion and Brie Galette (recipe follows)
I love cheese. I love, love cheese. And brie is one of my favorites. So of course I had to choose this recipe to try out! I loved this. It was full of flavor and was a perfect summertime meal. And I'm guessing it would be even better with tomatoes straight from the garden. I only ran into one problem with this recipe, and it was my fault. I was trying to be proactive and get a head start on dinner, so I made the crust early and put it in the fridge. Then I didn't end up making this for 2 days. When I rolled out the crust, it was super crumbly and didn't want to stay together. I managed to make it work, but I think that it would have worked better if I would have made it straight away. But it was the flakiest crust that I have ever made! This recipe would have to be my favorite from the 4 recipes that I made.
This recipe came in a close second. This is a super rich homemade ice cream – it has 12 egg yolks in it!! I loved the addition of cinnamon, and it also has some orange zest that brings a nice zing of flavor to it. The only reason why this one didn't come in first was the blueberries. I wish they were broken down or cooked down first, because the whole blueberries get super frozen when you freeze the ice cream, and I think they don't have as much flavor that way. I definitely want to play around with this recipe and see if I can get it just how I want it!
If I didn't want to go to Maine before, I would after going through this cookbook! I feel like I kind of cheated it by not making a single seafood recipe, when there are so many seafood recipes in the book, but I loved each of the recipes that I did make. This is a great cookbook filled with great recipes and great stories!
Tomato, Caramelized Onion and Brie Galette
from The Maine Summers Cookbook
serves 6
total time: about 1 hour, 10 minutes
4 tablespoons unsalted butter
2 large onions, thinly sliced
2 garlic cloves, finely minced
pastry (recipe follows)
1 pint grape or cherry tomatoes, halved lengthwise
4 ounces Brie, cubed
freshly ground pepper
2 tablespoons finely chopped fresh flat-leaf parsley
1 large egg, beaten
1 tablespoon Parmesan cheese
for the pastry:
2 cups all-purpose flour
1 teaspoon salt
3/4 cup shortening
5 to 6 tablespoons cold water
in a medium-sized bowl, sift the flour and the salt. With a pastry cutter or a fork, cut in the shortening until the mixture resembles coarse crumbs. Sprinkle in the water, 1 tablespoon at a time, mixing lightly with a fork until the pastry is just moist enough to hold together. Shape it into a ball.
Preheat the oven to 425F.
Melt the butter in a large skillet over medium heat. Add the onions and garlic and cook until the onions are translucent. Lower the heat to low and cover the pan and cook slowly until caramelized, about 20 minutes.
Line a large cookie sheet with parchment paper. Roll out the pastry to 1/8-inch thick and transfer it to the parchment paper. Sprinkle on the onions and garlic evenly, leaving a border around the edge. Scatter the tomatoes on top, and then the cheese. Grind the pepper on top and sprinkle on the parsley. Fold the border up onto the filling. Brush the border with the egg and sprinkle with the Parmesan cheese. Bake in the preheated oven for 30 minutes or until golden.
Disclosure – I received a free copy of this cookbook for review, but all opinions expressed are my own.