Filled with lots of vegetables, this Vegetable and Clam Chowder is a great clam chowder alternative when you don't have access to fresh clams.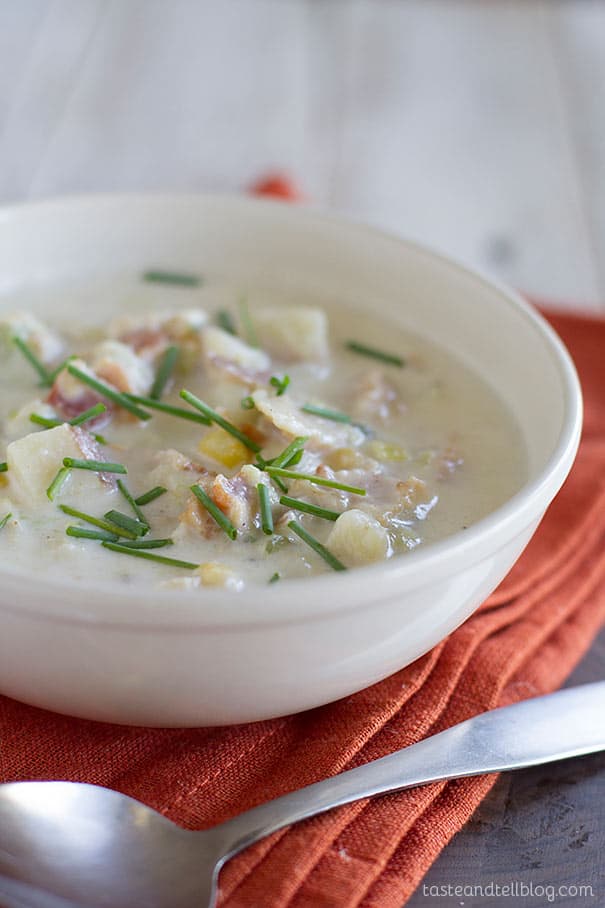 Photo and Recipe Updated October 2014



It's cold outside. It snowed last night (again) and the forecast says that there will be snow 8 of the next 10 days. I can see some blue sky out this morning, but that has definitely been a rare occurrence lately. And it's only January. I still have months of this. All I can say is thank goodness for 4-wheel drive and a nice soup to keep you warm at the end of a chilly day!!
We tend to eat soup for dinner quite often in the winter. My husband tends to prefer a thick, chunky soup or chowder to a broth based soup. And clam chowder is one of our favorites. I have made it before, but I decided to venture out and try a new recipe from a cookbook that I had never cooked from before. The verdict? It was good (and tasted even better the next day) but it definitely wasn't your typical clam chowder. It lacked the chowder-y-ness, if you know what I mean. I wish I would have pureed part of it, because it never quite thickened up. But it is chock full of veggies, as you can tell from the picture, and it's hard to make something bad when you top it with bacon! The original recipe called for pancetta in the chowder, but of course I couldn't find any. I ended up using a bit of prosciutto, but decided to top it with bacon in the end*. Because we live far, far away from any coast, finding good fresh clams is basically impossible. I went with canned clams, but it's always hard to know how much to add when the recipe calls for fresh. I ended up halving the recipe, and I used 2 6.5 oz. cans of clams. I learned from my last clam chowder experience to make sure and rinse the clams well. I had no problems with grittiness this time, but I didn't think there were quite enough clams. That's probably just my preference, so if you make this and choose to use canned clams, you'll just have to go with your gut to know how many to add.
*Note – this recipe was updated October 2014. I think it is now perfect!!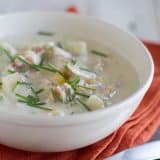 Vegetable and Clam Chowder
---
Prep Time: 20 mins
Cook Time: 30 mins
Total Time: 50 mins
Yield: 6 servings 1x
Description
Filled with lots of vegetables, this Vegetable and Clam Chowder is a great clam chowder alternative when you don't have access to fresh clams.
---
Scale
Ingredients
3–4 (6.5-oz) cans clams
fish stock or bottled clam juice, as needed
8 oz bacon, diced
2 leeks, including the green top, sliced and cleaned
2 celery stalks, sliced
2 cloves garlic, minced
2 teaspoons fresh thyme, chopped
1 lb. red potatoes, cut into a 1/4-inch dice
salt and pepper
1 1/2 cups heavy cream
1 cup fresh or frozen corn
chopped chives
---
Instructions
Drain the clams through a fine mesh sieve or cheesecloth, reserving the drained liquid. Thoroughly rinse the clams to remove any grit. Add enough fish stock or clam juice to the reserved clam liquid to equal 3 cups. Set aside.
Place the bacon in a large soup pot or dutch oven set over medium heat. Cook until crisp. Remove the bacon to a paper towel lined plate using a slotted spoon. Add the leeks and the celery to the bacon grease in the pot and cook until softened, about 5 minutes. Add the garlic and thyme and cook until fragrant, about 60 seconds. Stir in the potatoes, season with salt and pepper, then stir in the reserved clam juice and the cream. Heat until just boiling, then reduce the heat and simmer, uncovered, until the potatoes are tender, about 10 minutes. Add the clams to the soup, along with the corn and the reserved bacon. Simmer the soup until heated through.
Serve warm topped with chopped chives.
**This post contains affiliate links. If you purchase an item from Amazon from the link Taste and Tell receives a small commission. Thank you for supporting Taste and Tell through your purchases!**