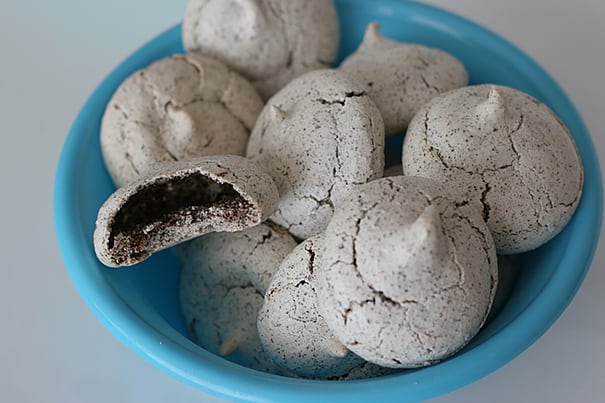 I keep all of my nuts in the freezer. I like to have lots of varieties on hand, and since I don't want them to go bad, I keep them in the freezer to give them a longer shelf life. And because they are basically "out of sight, out of mind," I often forget what I have in there. So, not surprisingly, sometimes I will go into the freezer to discover I have a TON of one kind of nut. And since they don't last forever, even though they are in the freezer, I sometimes have to use some up, just so that I won't lose them.
That is what happened when I decided to make these hazelnut cookies. Hazelnut usually screams out Christmas to me – and yes, I did find this recipe in a December issue of a magazine, but really, these cookies could be enjoyed year-round. In fact, I think they are a great chocolate cookie to eat in the summer, since the chocolate won't be melting all over your hands in the heat!
The recipe doesn't specify whether the hazelnuts should be skinned or not, so I decided to be lazy and leave the skins on mine. And I think that is why they have more of a gray tint to them instead of brown. And they didn't hold their shape as well as the picture in the magazine, but they sure were tasty! If you are a fan of meringue cookies, this you'll love this one!
Chocolate-Hazelnut Meringue Kisses
from Cooking Light December 2008
Makes 4 dozen
1/4 cup finely chopped hazelnuts, toasted
1/4 cup unsweetened cocoa
1 ounce bittersweet chocolate, finely chopped
1/4 cup sifted powdered sugar
1 1/2 tablespoons cornstarch
3 large egg whites
1/4 teaspoon cream of tartar
dash of salt
2/3 cup granulated sugar
1 teaspoon vanilla extract
Preheat oven to 325F.
Combine first 3 ingredients in a food processor; process until finely ground. Combine hazelnut mixture, 1/4 cup powdered sugar, and cornstarch in a medium bowl, stirring with a whisk.
Place egg whites, cream of tartar, and salt in a large bowl; beat with a mixer at high speed until soft peaks form. Add granulated sugar, 1 tablespoon at a time, beating at high speed until stiff peaks form. Gently fold hazelnut mixture and vanilla into egg mixture.
Cover two baking sheets with parchment paper. Spoon egg white mixture into a pastry bag fitted with a 1/2-inch round tip. Pipe 48 (1 1/2-inch-round) mounds onto prepared baking sheets. Bake at 325° for 25 minutes or until meringues are done and dry to the touch. (Meringues are done when surface is dry and meringues can be removed from paper without sticking to fingers.) Turn oven off; partially open oven door. Cool meringues in oven 30 minutes. Remove from oven; carefully remove meringues from paper.