Looking for a crowd pleaser? This Cheesy Bacon and Kale Crostini Recipe is filled with tons of flavor and texture and is perfect for any party or get-together.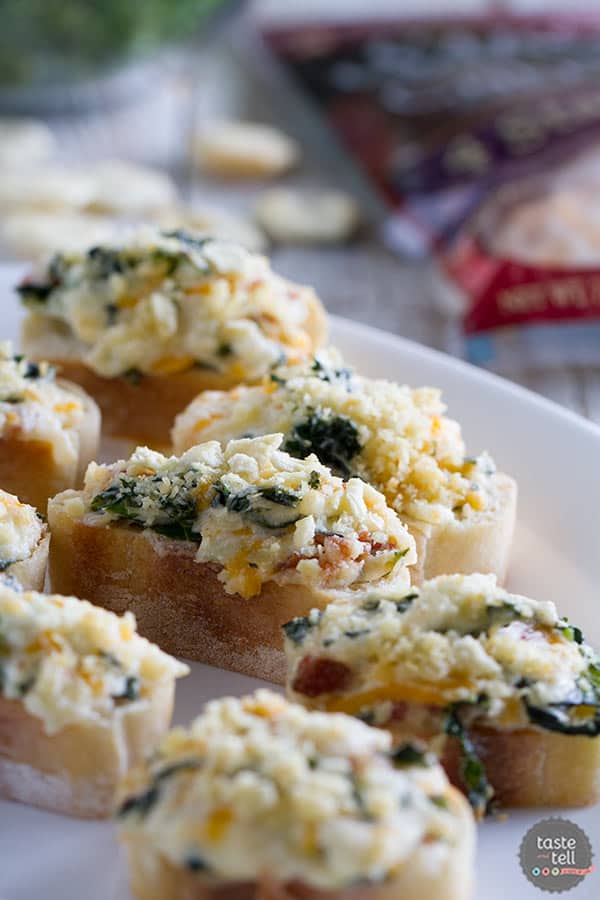 I am no stranger to the evening programming on The Food Network. I spend most nights working on the blog, after the kids have gone to bed, often after my husband has gone to bed. As much as I cherish any moment of silence, I can't sit and work while it's quiet. I have to have something on in the background, and 95% of the time, it's the tv. And when I'm working alone at night, the tv is usually on The Food Network. (HGTV comes in second – I love me some Fixer Upper and Property Brothers!) And nighttime on The Food Network usually equals Diners, Drive Ins and Dives or Chopped.

I honestly went through a period a couple of years ago when I think I had seen every single episode of Chopped that had been on. It's funny, because I think I would be terrible on the show – I'm not so great at cooking on the fly like that – but maybe that's why I like it so much. Because these chef's do what I could never do.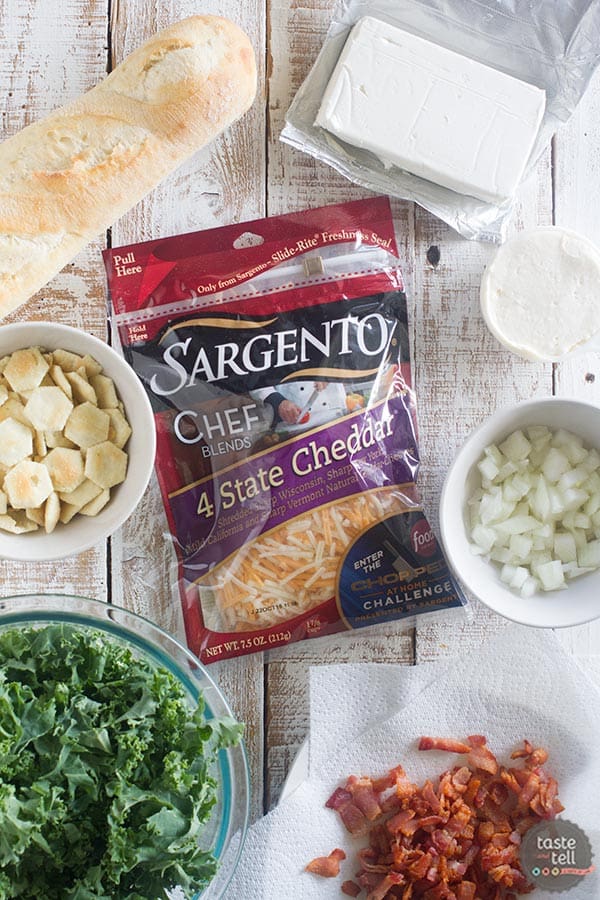 While I'm not good at cooking in the moment like that, I'm all for a good challenge when I have time to think it out. Which is why I was so excited to have the chance to show you all what I could come up with for the Sargento® "Chopped at Home" contest! 3 ingredients and some tasty Sargento® cheese – what would I come up with?
My ingredients were bacon, kale, oyster crackers and the Sargento® Chef Blends 4 State Cheddar. I couldn't have been given more perfect ingredients. You can't go wrong with bacon, and I knew I could incorporate kale and the oyster crackers pretty easily. And I totally fell in love with the Sargento® Chef Blends 4 State Cheddar – a mix of Sharp Wisconsin Cheddar, Sharp Vermont Cheddar, Sharp New York Cheddar and Mild California Cheddar.
My mind immediately went to work, and for some reason, I got stuck on appetizers. But really, there is nothing wrong with getting stuck on appetizers, right? 🙂 Before I knew it, I had this Cheesy Bacon and Kale Crostini Recipe. Cheese mixed with onions, kale and bacon, atop a toasted baguette – then topped off with some buttery oyster cracker "breadcrumbs". The perfect 2 bite appetizer.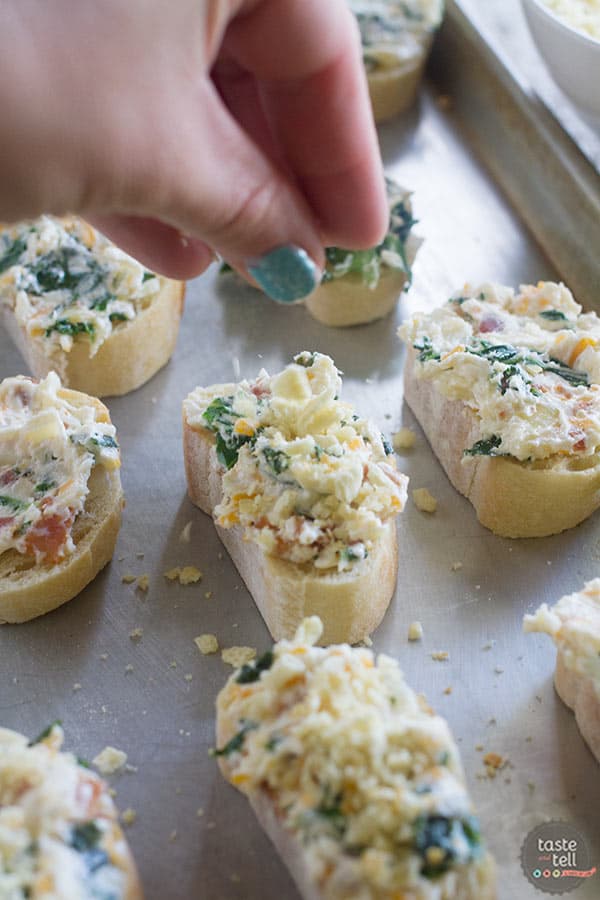 This crostini recipe would be perfect for parties or entertaining or any kind of get-together. Or for dinner – not that I would know from experience. Ahem.
Now if you'll excuse me, I'm busy stuffing my face with crostini…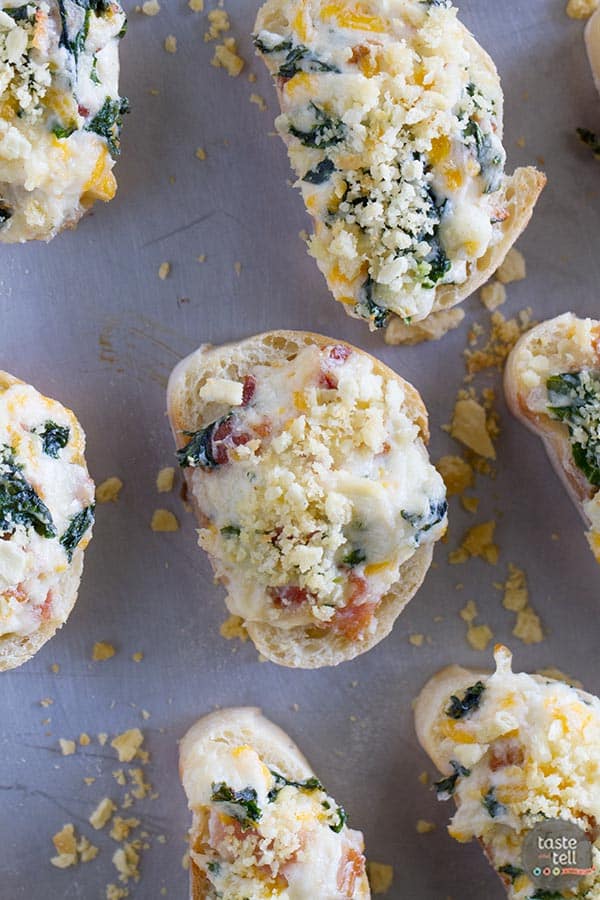 Like what you see here? Make sure you are following Taste and Tell for more recipes and ideas!
Facebook | Pinterest | Instagram | Twitter | Google+ | Weekly Newsletter | Feedly | Bloglovin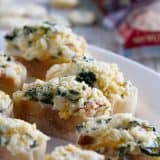 Cheesy Bacon and Kale Crostini Recipe
---
Prep Time: 15 mins
Cook Time: 25 mins
Total Time: 40 mins
Yield: 24 appetizer servings 1x
Description
Looking for a crowd pleaser? This Cheesy Bacon and Kale Crostini Recipe is filled with tons of flavor and texture and is perfect for any party or get-together.
---
Scale
Ingredients
8 oz bacon, chopped
4 cups chopped kale
1/2 cup chopped onion
8 oz cream cheese
1/2 cup mayonnaise
1 package (7.5 oz) Sargento® Chef Blends 4 State Cheddar
2 (12-in each) baguettes
1/2 cup oyster crackers
1/4 tablespoon butter
---
Instructions
Preheat the oven to 350ºF.
Cook the bacon in a large skillet until browned and crispy. Remove with a slotted spoon to a paper-towel lined plate. Discard all but about 1 tablespoon of the bacon grease. Add the kale and onion to the skillet and cook until the onion is slightly softened and the kale has stated to wilt.
Combine the cream cheese and the mayonnaise in a large bowl. Stir in the Sargento® cheese. Add in the kale mixture, as well as the reserved bacon and stir to combine.
Cut the baguettes into 1/2-inch slices and place on a baking sheet. Bake for 3-4 minutes, then flip and cook for another 3-4 minutes, until lightly toasted. Remove from the oven.
Top each of the baguette slices with a heaping tablespoon full of the cheese mixture.
Place the oyster crackers in a ziplock bag and crush into crumbs. Place the butter in a microwave safe bowl and microwave for a few seconds until melted. Add the crushed crackers and stir to coat. Sprinkle some of the crushed crackers over the top of the cheese mixture on the baguettes.
Return the pan to the oven and bake until the top is toasted and the cheese is melted, 10-12 minutes. Serve warm.
Come see what I'm pinning! Follow my Fabulous Food board on Pinterest!
Follow Taste and Tell's board Fabulous Food on Pinterest.



This is a sponsored conversation written by me on behalf of Sargento. The opinions and text are all mine.