Did you know that of all the photos posted to social media, food photos are posted more than anything else? And of those photos – guess what is the most popular?
Dessert, of course! There is just something about a little something sweet that gets almost all of us going. I know I love my sugar fix and have something sweet at least once a day. When you love sugar like I do, (and I'm guessing like most of you – since those are always the most popular photos), it's important to try to be smart when choosing what kind of sugar to use in your baked goods.
I was actually introduced to Sugar In The Raw several years ago when I wanted some turbinado sugar to top some muffins with. Since then, it's a pantry staple for me. It is all-natural, and I love the crunch it gives when it's sprinkled on top of things. (Like these muffins!) And surprisingly, it bakes up quite easily as well, not leaving a gritty or crunchy texture, but a natural texture. You'd never know I didn't use regular granulated sugar!
 


 
And Sugar In the Raw is also great for rimming drink glasses with, as well. I'm not a fancy drink girl, but it's a necessity for things like Virgin Frozen Margaritas! If you are going to take the time to make something delicious, you might as well be using a product you know is all-natural!
You all know that I have a little obsession with muffins. So when I came across this recipe for Carrot Pineapple Muffins on the In The Raw website, I knew they would make a perfect breakfast for my family. And I love that you use diced carrots for the recipe instead of shredding them, like I've always done in the past. I loved the little bursts of carrot flavor you got when you bite into one. And of course, I loved the crunch the Sugar In The Raw gave to the top of the muffins, and the sugar that was added to the muffins gave them the perfect amount of sweetness.
These are muffins that my whole family enjoyed!!

 

Carrot Pineapple Muffins
An easy carrot and pineapple muffin using Sugar In The Raw®.
Ingredients
1 can (8 ounce) juice-pack crushed pineapple
Milk, as needed
⅓ cup vegetable oil
1 large egg
½ teaspoon vanilla extract
2 cups unbleached flour
⅓ cup Sugar In The Raw®
1 tablespoon baking powder
½ teaspoon salt
¾ cup finely chopped carrots
2 tablespoons Sugar In The Raw®
½ teaspoon ground cinnamon
Instructions
Preheat the oven to 400F. Spray 12 muffin tins with nonstick cooking spray.
Drain the pineapple reserving the juice. Set the pineapple aside. Add enough milk to the pineapple juice to make ¾ cup. To the pineapple juice/milk mixture, add the vegetable oil, egg and vanilla.
In a bowl, mix together the flour, Sugar In The Raw®, baking powder and salt. Stir in the wet ingredients, just until moistened. Fold in the reserved pineapple and carrots.
In a small bowl, combine the 2 tablespoons Sugar In The Raw® and cinnamon. Sprinkle over the muffins.
Bake for 20-25 minutes, or until a knife inserted in the center comes out clean.
-----------------
From In the Raw
And now the fun part – since food photography is the most popular on social sites, you can submit your tempting pictures to the '
Au Natural In The Raw' app
which will give your tempting photo just the right amount of coverage!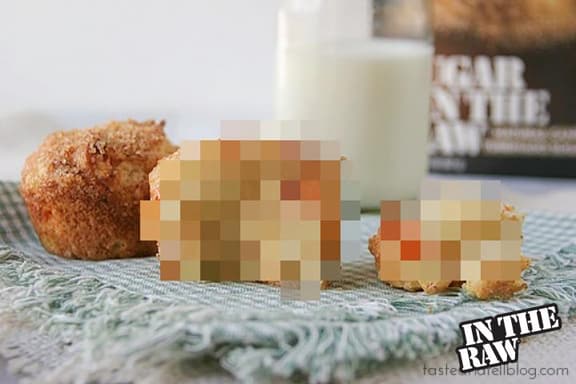 And you can have a chance to win a $100 Cooking.com gift card!
All you have to do is visit the
In The Raw website
and decide what recipe you want to make. Then come back here and let me know in the comments! It's as easy as that!  
Rules:
You may receive (2) total entries by selecting from the following entry methods:
a) Leave a comment in response to the sweepstakes prompt on this post
"b) Tweet (public message) about this promotion; including exactly the
following unique term in your tweet message: ""#SweepstakesEntry""; and leave the URL to that tweet in a comment on this post"
c) Blog about this promotion, including a disclosure that you are receiving a sweepstakes entry in exchange for writing the blog post, and leave the URL to that post in a comment on this post
d) For those with no Twitter or blog, read the official rules to learn about an alternate form of entry.
This giveaway is open to US Residents age 18 or older. Winners will be selected via random draw, and will be notified by e-mail. You have 72 hours to get back to me, otherwise a new winner will be selected.
The Official Rules are available here.
This sweepstakes runs from 9/10/12-9/30/12.