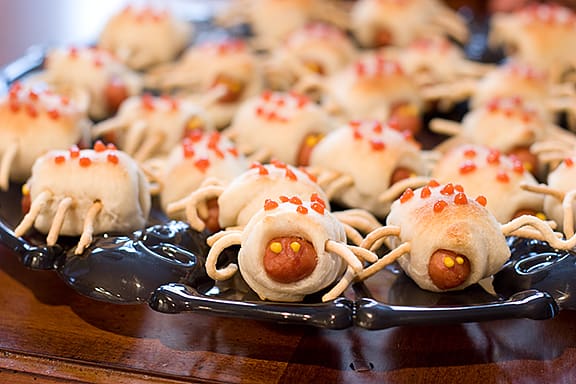 First of all, please excuse the horrible photo.  This is what happens when 1 – you are at someone else's house and you don't know where to find the "good" light and 2 – it is so cloudy outside that it looks like it's 9pm instead of 6pm.
But regardless of the photo, I think these little guys turned pretty cute!  Every year, my family gets together for an annual Halloween/pumpkin carving party.  We had soups and bread, and some spooky appetizers and desserts.  These little bugs were one of my contributions.  They go together pretty easily, although it does take a little bit of time to "decorate" them.  But if you want to get the kids involved – let them play with their food and allow them to decorate their own bugs!!  I wasn't quite sure of the best way to "draw" on them with the ketchup and mustard, but my sister had the brilliant idea of using a ziploc bag with a tiny corner cut out.  It worked perfectly!
Although I'm not one to normally eat bugs, these are bugs that I would gladly eat!
Bite-Sized Boo Bugs
from BettyCrocker.com
makes 24 bugs
1 can (11-oz) refrigerated breadsticks
24 cocktail-sized smoked link sausages
Chow mein noodles
Ketchup and mustard for decorating
Heat oven to 375°F. Unroll dough; separate at perforations into 12 breadsticks. With knife or kitchen scissors, cut each breadstick in half crosswise, making 24 pieces.
Wrap each piece of dough around center of each sausage, pinching to seal and leaving each end of sausage showing. Place seam side down and 1/2 inch apart on ungreased large cookie sheet.
Bake 11 to 14 minutes or until golden brown. Immediately remove from cookie sheet; place on serving plate or tray. Cool 2 minutes.
Insert chow mein noodles into baked dough to resemble legs. Decorate "bugs" with dots or stripes of ketchup.  
&nbsp