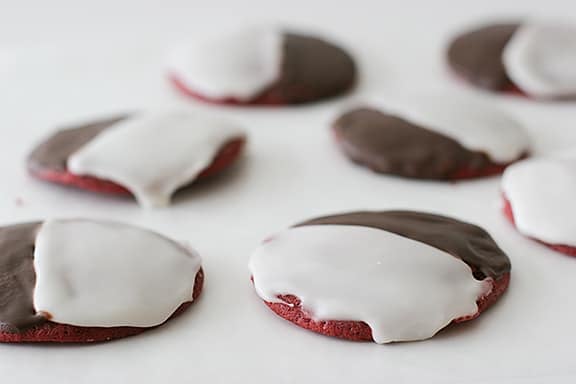 And we come to the last of the red velvet recipes…

  This has really been a lot of fun.  I'll admit that I'm pretty sugared out at this point – I don't usually have this many desserts on my blog!!
This cookie is actually one of the first recipes I thought to do when I came up with the idea to do Red Velvet Week.  I actually remember seeing these in an issue of Every Day with Rachael Ray years ago, and then shortly after, Joy the Baker made them.  From there, the idea caught on like wildfire – I remember seeing them on so many blogs after that.  And to me – that's a sign of a good recipe!!  So I pulled out my copy of the magazine and went to work!
Black and white cookies are not that popular in my neck of the woods.  In fact, I can't think of a local bakery that sells them off the top of my head.  (Any Utahns – feel free to correct me!)  But I was familiar with these little beauties.  And turning the cookie to red velvet was such a great idea!!  I'd have to say the chocolate side was my favorite, but I'd be happy eating the whole cookie!