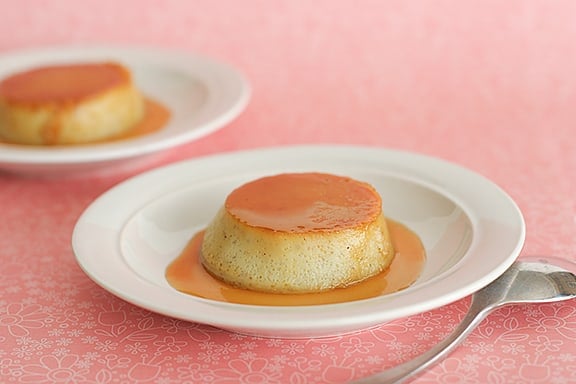 Are you still looking for that perfect dessert to serve to your Valentine next week?  Here is another great idea!!  I am a custard fan, and my husband is really a custard fan.  So when I saw this coconut version in this month's Cookbook of the Month, I knew I wanted to try them!!
Confession time, though – I actually had to make this recipe twice.  I've said it before, but caramel is my nemesis.  I don't know why I have such a hard time with it.  But I'm beginning to think it is the pan that I use.  See – I let the sugar dissolve.  I let it come up to a boil. But just as it starts to turn colors, it always solidifies and crystallizes.  The first time I made these, I took it off the heat right before that happened.  But my caramel wasn't really caramel at all – it was still clear, and the custards just didn't look right.  So I made them again.  This time, the same thing happened, but instead of taking it off the heat before it solidified, I kept it there.  Slowly, it turned back to a liquid!  I had to swirl it around for a minute or two to get all of the chunks to turn back to liquid, but it ended up working!  I don't think that is what is supposed to happen, so I'm thinking that my pan is too big.  It's just a guess (and it's the smallest pan I have), but at least I have some sort of guess!!
Regardless of the caramel woes and my having to make the recipe twice, both batches were actually delicious.  Just more to eat, right??  I love how fancy they look, yet they can be done ahead of time and are so delicious!
Recipe Notes:
Instead of cardamom, I used cinnamon.  The first batch, I used the 1/4 teaspoon, but I cut that in half for the second batch and liked it better.
I don't have 6-oz ramekins – only 4-oz, so my recipe made 6.  They were still a good size, though.
If your custards don't come out of the ramekins when turned over, put them in a bowl with hot water for 30 seconds and it will loosen them right up.
Recipe Rating:  9 out of 10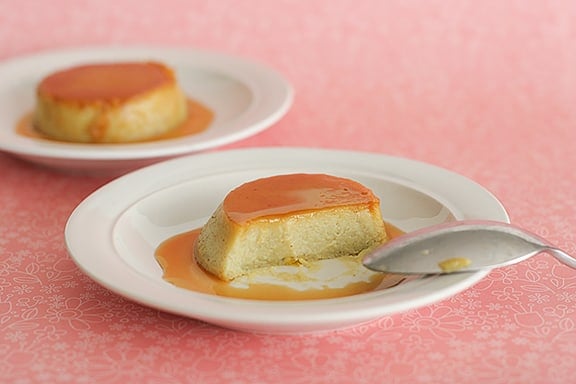 Coconut Crème Caramel
From Desserts 4 Today
Serves 4
1 can (13 to 14 ounces) coconut milk
2/3 cup granulated sugar, divided
3 whole eggs plus 1 yolk
¼ teaspoon ground cardamom
Preheat the oven to 325°F. Have ready four 6-oz ramekins and place them in a shallow baking pan that will hold the ramekins. Make room in the refrigerator for the 4 ramekins.
Pour the coconut milk into a medium saucepan. Bring to a boil over medium-high heat and cook until reduced to 1 ½ cups, about 8 minutes.
Meanwhile, put 1/3 cup of the sugar with 1 tablespoon water into a small saucepan and cook over low heat until the sugar is dissolved and the mixture is boiling. Increase the heat to medium and boil, without stirring, until the sugar is medium-amber, about 2-3 minutes. Gently swirl the pan to even out the color. Pour the hot caramel evenly into the four ramekins and quickly but carefully swirl each ramekin to cover the bottom with caramel.
Put the remaining 1/3 cup sugar, the eggs, the yolk and the cardamom in a medium heatproof bowl and whisk to blend. Slowly add the hot coconut milk in a steady stream over the egg mixture while whisking constantly, until all the coconut milk is added and well blended. Pour (or ladle) the cream into the ramekins. Carefully pour hot water into the baking pan around the ramekins until the water comes halfway up the sides of the ramekins. Bake until the custards jiggle when nudged (about 40 minutes). Transfer the pan to a rack and carefully lift out the custards and place them on a rack to cool completely. Cover and refrigerate until well chilled, at least 6 hours or for up to 2 days.
To serve, run a small, thin, sharp knife between the custards and the ramekins then quickly invert onto serving plates. Gently shake to loosen.