Well, we have come to the end of Red Velvet Week.  I believe that this week was even more fun than last year's Red Velvet Week!  I am sad that it's over, although I do have to say that I'm on a bit of red velvet and sugar overload.  Hopefully I've featured a recipe or two that will fit into your Valentine's Day plans – or anyday plans, for that matter!  Red Velvet is not just for February!
Since Saturdays here on Taste and Tell are reserved for Rachael Ray recipes, I was hoping that I'd be able to find a red velvet recipe in one of RR's vast archives of recipes.  I didn't hold my breath, since she is a self-proclaimed non-baker, but I crossed my fingers.  Afterall, the Black and White Red Velvet Cookies that were in her magazine that I made last year were a huge hit.  Well, the finger crossing worked, because I came across this red velvet cupcake recipe.  Now, these aren't just any red velvet cupcakes.  Keep the artificial red food coloring away, (we've used enough of that this week anyway!), these babies are au natural – colored naturally with beets.
I have to start off by saying that I've always wondered about the whole color-them-naturally-with-beets thing.  From everything I've read and seen, people say that the beets don't flavor the cupcakes, just color them.  But I was a bit sceptical. But since I had always wanted to try, there wasn't a better time!
And guess what – I was sceptical for a reason.  Maybe it was the recipe, or maybe everyone else is just crazy, but for me?  I could totally taste the beets.  Now, I like beets.  But I do have to admit that I did not care for the taste of them in these cupcakes.  It wasn't gross.  It was just – strange.  And not worth the calories for me. Oh yeah, and the original recipe was supposed to make 12 cupcakes. I made a half batch and got 20 cupcakes. Hmmmm….
But there was a saving grace.  This frosting?  It's the bomb.  It's not just your typical cream cheese frosting.  It's cream cheese frosting – with white chocolate.  And it was delicious.  I'll totally admit that my husband and I just went through and licked the frosting off of these cupcakes.  It was so good that it made me forget that I had just spent so much time and money on cupcakes that we ended up throwing away.  The frosting recipe is one I'll be keeping around!
———————
And just in case you missed any of this week's recipes, here is a summary of the 2nd annual Red Velvet Week!
Red Velvet Gooey Butter Cookies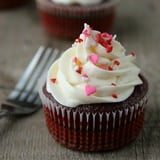 Red Velvet Cupcakes with White Chocolate Frosting (above)