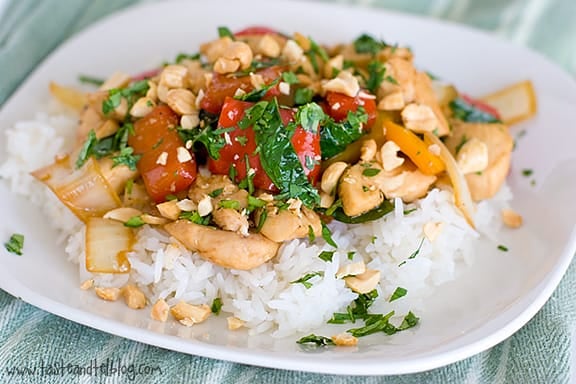 I was talking to one of my sisters the other day, and she mentioned that she hadn't had very good luck with the few Rachael Ray recipes she had tried. It's funny, because there are only a handful of her recipes that I haven't liked, and I've tried a lot of her recipes!! So I decided to go through what I had made to make a list of recipes I thought she should try. Before I even started looking through my past recipes, this recipe popped into my head. I had made it before, and I know at least one of my other sisters had tried it and loved it. And then I started craving it!! After pulling a couple of bell peppers from the garden, I decided that I should make this before the frost hits and I lose my basil plant, because buying this much basil any other time of year would break the bank!!
A few changes I made this time, using what I had on hand:
*I didn't use the Asian chili oil because I didn't have any. This made it so I lost the "spicy" aspect, so I just squirted on some Sriracha (which is what I did last time as well). But make sure if you do this to not use too much – that stuff is potent!
*I used a red bell pepper and a yellow bell pepper. Bounty from the garden!
*I left out the bean sprouts because I didn't have any.
See the first time I made this recipe here!