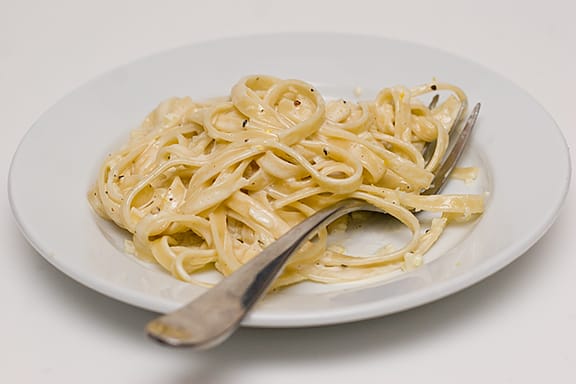 Following up to last week's lemon recipe, I'm continuing today with a lemon recipe – trying to use up the excess of lemons in my fridge. And I'll have another one for you sometime this week!
If I had to say one thing that is my husband's favorite food, I'd say fettuccine alfredo. We don't have it very often, because frankly – it's just not very good for you. And it's one of those meals that if you are going to have it, you want to go all the way. When I saw this recipe in the current issue of Food Network Magazine, I knew I wanted to make it. It was a way to use up another lemon, but most importantly, it just gives my husband one more reason to love me!!
This was a great recipe. I really loved what the lemon brought to it. I don't think I've ever had lemon zest in my fettuccine before, but I think it is something that I'm going to start always doing! It really brightens up the whole dish and gives it a whole new dimension. This is now a new favorite recipe – one I will always have on hand if I need to butter my husband up for something!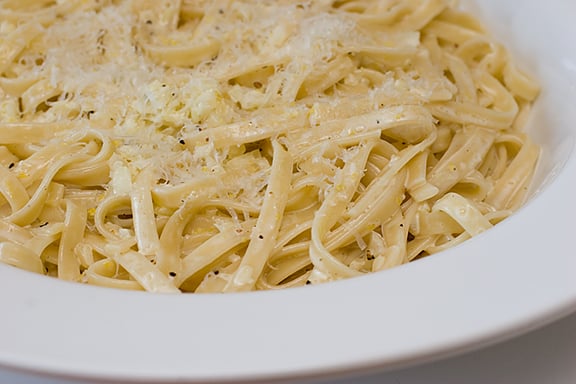 Lemon-Pepper Fettuccine
from Food Network Magazine March 2010
Serves 4
Active time: 20 minutes
Total time: 20 minutes
salt
12 ounces fettuccine
1 tablespoon unsalted butter
1 large shallot, minced
1 1/4 cups heavy cream
1 large egg yolk
1 to 2 teaspoons finely grated lemon zest
1/3 cup grated pecorino cheese, plus more for garnish
freshly ground pepper
Bring a large pot of salted water to a boil. Add the fettuccine and cook as the label directs. Drain, reserving about 1/2 cup cooking water.
Meanwhile, melt the butter in a skillet over medium heat. Add the shallot and a pinch of salt and cook, stirring occasionally, until lightly golden, about 3 minutes. Whisk the cream, egg yolk and lemon zest in a bowl. Reduce the heat to low and add the cream mixture and cheese to the skillet. Cook, whisking, until slightly thickened, about 2 minutes. Season with salt and 2 to 3 teaspoons pepper.
Add the pasta to the skillet and toss, adding enough of the reserved cooking water to loosen the sauce. Divide among bowls and garnish with more pecorino. Serve with crusty bread, if desired.