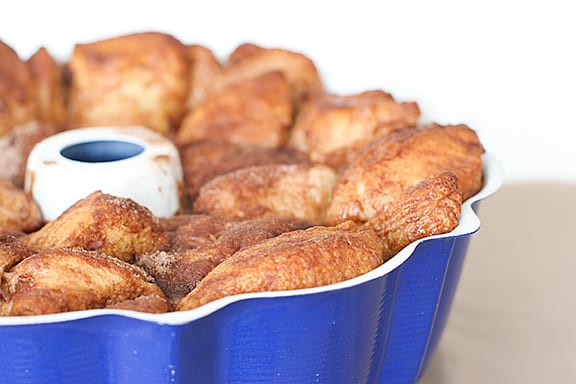 I've said it before, but I'm a recipe hoarder. I have thousands of them. And not just in cookbooks. Back in the day, whenever I would see a recipe online that looked good, I would print it out. And now I have a few binders full of these printed recipes – most of them have never been made. It's a little bit out of control.
Today, when I see a recipe that sounds good, I'll usually bookmark it using delicious. But I've come to learn that I should only save it if is looks really good, otherwise, I'd have about a million recipes saved online, combined with my hundreds of printed recipes. It gets to be a little overwhelming. But every once in awhile, I'll come across a recipe that I need now. The kind of recipe that doesn't leave your head until you make it. This is one of those recipes.
I received an email a few weeks back from Pillsbury, and this monkey bread was featured in that email. I was intrigued, so I clicked through to the recipe. I love monkey bread, and this was definitely an amped up monkey bread!! Biscuit dough covered in hot fudge and marshmallows, then covered with sugar and cocoa. I couldn't wait to try it!
If you are a fan of monkey bread, you should definitely try out this version. You'll go into sugar shock after eating it, but it's totally worth it! But just make sure you don't leave it out on the counter after you are done – you'll find yourself going back for little pieces all day long!!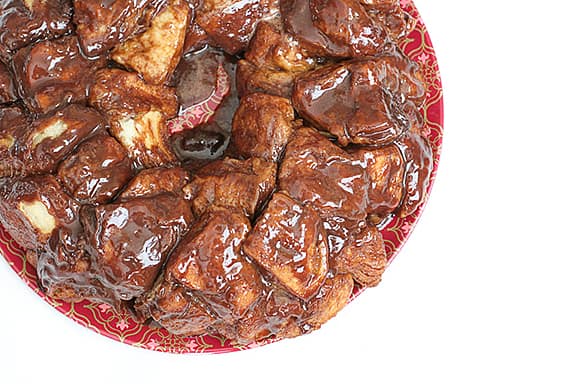 Hot Fudge-Marshmallow Monkey Bread
from Pillsbury
serves 12
1 tablespoon butter, softened
1 can (16.3 oz) Pillsbury Grands Homestyle refrigerated buttermilk biscuits (8 biscuits)
1 can (10.2 oz) Pillsbury Grands Homestyle refrigerated buttermilk biscuits (5 biscuits)
13 large marshmallows
1/2 cup butter
1/2 cup hot fudge ice cream topping
1 teaspoon vanilla extract
1 cup sugar
1 tablespoon cocoa
Heat oven to 350°F. Grease 12-cup fluted tube cake pan with 1 tablespoon butter. Cut all 13 biscuits into quarters; set aside.
In large microwavable bowl, place marshmallows, 1/2 cup butter, hot fudge topping and vanilla. Microwave uncovered on High 1 to 2 minutes, stirring once, until melted. Using wire whisk, stir until smooth.
In medium bowl, stir sugar and cocoa until blended.
Carefully place 1/4 of the biscuit pieces into hot chocolate mixture, gently folding in to coat. Add another 1/4 of the biscuits, gently folding in to coat. Using tongs, remove biscuits from chocolate, letting excess chocolate drip off. Drop 1 biscuit piece at a time into sugar mixture; spoon sugar over biscuit to coat. Layer biscuits in cake pan. Repeat with remaining biscuits. Sprinkle any remaining sugar mixture over biscuits.
Bake 30 to 40 minutes or until biscuits are deep golden and no longer doughy in center. Cool in pan 5 minutes. Place heatproof serving plate upside down over pan; carefully turn plate and pan over. Remove pan; immediately scrape any remaining topping in pan onto bread. Pull apart warm bread to serve.