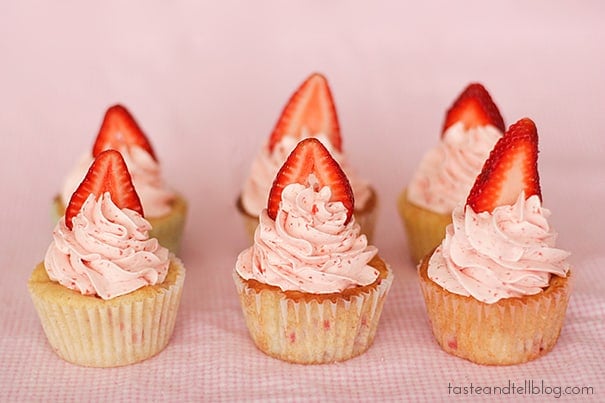 I usually have a "go-to" cookbook or two. I'm sure most of you know what I'm talking about. A cookbook (or website) you can go to and get a recipe to make that you know will turn out, because everything you've made from that book has been great. I actually have been making a lot of recipes from 2 cookbooks lately, and they are both Martha Stewart cookbooks. Every Day Food: Great Food Fast and her Cookie Book have both been very successful for me. So when I saw that she was coming out with a cupcake book – you better believe I'd be first in line!
I'm so glad I chose Martha Stewart's Cupcakes as the Cookbook of the Month, because I can tell that I'm going to have tons of fun. In fact, I may even get ambitious and post more than one a week.
For my first try out of the book, I debated between these strawberry cupcakes and a rhubarb cupcake. Both ingredients in season, and I really had a hard time deciding. But the strawberry cupcakes won out, mainly because they look so impressive!
I'm so glad I chose this one, because they were delicious!! I did have a couple of issues along the way, though. First of all, I live at almost 4800 ft. elevation. I've never made alterations in my baking for elevation – things usually work out for me. But when I took the first pan of these out of the oven, I could tell things weren't working correctly. They were falling in the middle and they baked way faster than the recipe said. So I went online and did a search for high elevation changes, just as an experiment. I went back and upped the temperature 25F, and baked the next pan for only about 15 minutes. And they came out perfectly! I guess I do need to start making high elevation changes…
The only other issue I had was that I got 44 cupcakes out of the recipe instead of the 34 that it claims. But that seems to happen to me a lot with cupcakes and cookies – I'm not sure why. So the recipe below says that you'll probably get 40 – 44 cupcakes.
Please also note that the recipe does not include the high altitude changes I made.
Recipe Rating: 4.25 out of 5