Can you believe that Halloween is less than a week away? I feel really unprepared right now – I don't even have a costume for my little boy yet! But really, he's not going to know what is going on, and he won't be eating any candy, so I guess it's not something to stress about!
For my daughter's first Halloween, we took her trick-or-treating with her cousins. She was still so young that she didn't really know what was going on, but it was fun for her anyway. She didn't get to eat the candy that year, so we gave some of it to her cousins, and of course, Josh and I helped ourselves to some of it as well! For her second Halloween, we took her to a church party where she was able to get a little bit of candy, but on Halloween, it was raining and cold. We figured that she wouldn't really know any better, and we really didn't want to take her out in the rain, so she went without trick-or-treating that year. But I can already tell this year is going to be different. She is finally at the age where she is excited for trick-or-treating. Both to wear her costume, and for the candy.
Since there is no way we are going to skip out on the trick-or-treating this year, I know we will end up with lots of candy. And as much as I know that Abbi will want to eat every single piece herself – well, that's just not going to happen. I'm sure most of it will be saved away to eat or use another day, but I also love finding and seeing all kinds of great ways to "change up" that candy.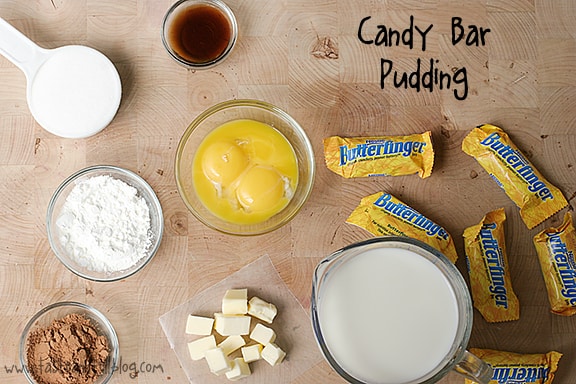 This pudding recipe is definitely a great way to incorporate leftover candy. And the beauty of it is that it would work well with just about any kind of candy bar! And if you have kids, I think it would be fun to make up a batch of the pudding, and then let each child choose what candy bar they want to mix in.
This pudding is so simple to make. If you haven't made pudding from scratch before, after making this you will wonder why. It's really not a whole lot more effort than the boxed stuff, and I think it tastes so much better!! Throw in some chopped up candy bars, and you have a simple, delicious dessert!!
——————–
Want more ideas on how to use up that leftover Halloween candy? Check out these posts:
Candy Bar Chocolate Chip Cookie Sandwiches from Picky Palate
Burnt Sugar Candy Bar Cake from Taste and Tell
Snickers Cupcakes from Annie's Eats