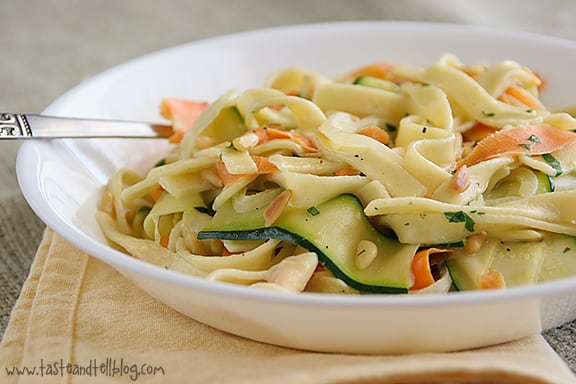 My husband and I will celebrate our 7th anniversary later this year.  Seven years of marriage, and just over a year of dating before we got married.  Yet, after almost 8 years, I am still surprised when I find out things about him that I didn't know.  Like that if he wouldn't have pursued baseball after high school, he would have probably gone into the Navy.  Or that he hates spiders more than just about anything.  (Ok, I learned that one pretty early in the marriage…)  Or that after almost 8 years of thinking that he didn't like egg noodles, he does, in fact, like egg noodles.
It is true.  I have put off numerous recipes, simply because I thought that my husband didn't like egg noodles.  Sometimes, I would adapt a recipe and use another kind of pasta, but overall, I've just skipped over them.  But lately, I've been seriously struggling with my menu planning.  It honestly takes me like half a day to plan a week's worth of meals.  I'm totally blaming it on the pregnancy.  But I came across this recipe, and it sounded good.  So husband liking egg noodles or not, I was making it!!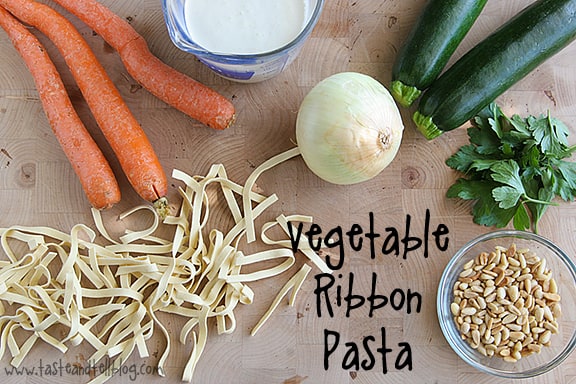 The recipe actually calls for pappardelle, but I have never seen pappardelle in my grocery store.  But I did run across these homestyle egg noodles, and they looked perfect.  So I went for it.  The recipe was super straightforward and pretty easy – except for the fact that I had the hardest time making the ribbons with the vegetables.  But I eventually got it, and dinner was done in a snap.  My husband wasn't there to eat dinner with us, but the kids and I ate.  Honestly, when it came down to it, I was afraid that this would be totally bland, but I actually really liked it.  The kids ate the noodles, (of course leaving the veggies behind…), but I was very happy with it.
Later that night, when my husband sat down to eat, he scarfed this down.  And he ate all of the leftovers the next day.  I didn't even ask him what he thought of it, but he willingly told me that he thought this was a 9.5 out of 10 recipe.  My jaw just about dropped to the floor.  "I thought you didn't like egg noodles," was all I could respond with.  This was when he informed me that yes, he actually really likes egg noodles.
So the meal was definitely a win/win.  Win that he liked the dish, and win that I can now stop avoiding egg noodles!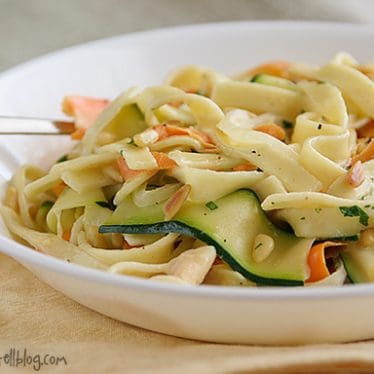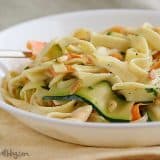 Vegetable Ribbon Pasta
---
Prep Time: 15 minutes
Cook Time: 20 minutes
Total Time: 35 minutes
Yield: 4 servings 1x
Description
Egg noodles are served with ribbons of carrots and zucchini in a light cream sauce.
---
Scale
Ingredients
1 pound homestyle egg noodles
3 tablespoons butter
3 large carrots, peeled, halved crosswise then thinly sliced lengthwise*
1 large onion, halved lengthwise and thinly sliced crosswise
salt and pepper
4 small zucchini, halved crosswise then thinly sliced lengthwise*
1 cup heavy cream
2 tablespoons chopped fresh parsley
2/3 cup toasted pine nuts
*to get thin slices, use a mandoline or a vegetable peeler
---
Instructions
Bring a large pot of salted water to a boil. Cook noodles according to package directions until al dente. Reserve 1 cup of the pasta water, drain the noodles and return to the pan.
Melt the butter in a large skillet. Add the onion and carrot and cook until crisp tender, about 5 minutes. Season with salt and pepper. Add the zucchini adn cream, bring to a boil, then reduce heat and simmer until the sauce thickens slightly. Stir in the parsley and pinenuts, then add the vegetables and sauce to the pot with the noodles. Stir together. Add as much of the reserved cooking water that you need to make the sauce. Serve.
————
adapted from Every Day with Rachael Ray June/July 2008

More egg noodle goodness:
Hoisin Pork Stir-Fry with Egg Noodles from Culinary Cory
Shortcut Chicken and Noodles from The Cooking Photographer
Pappardelle with Pork Ragu from Taste Food