This Polenta Crust Tomato Tart is a tart with a cornmeal crust that is filled with a creamy filling and topped with roasted tomatoes.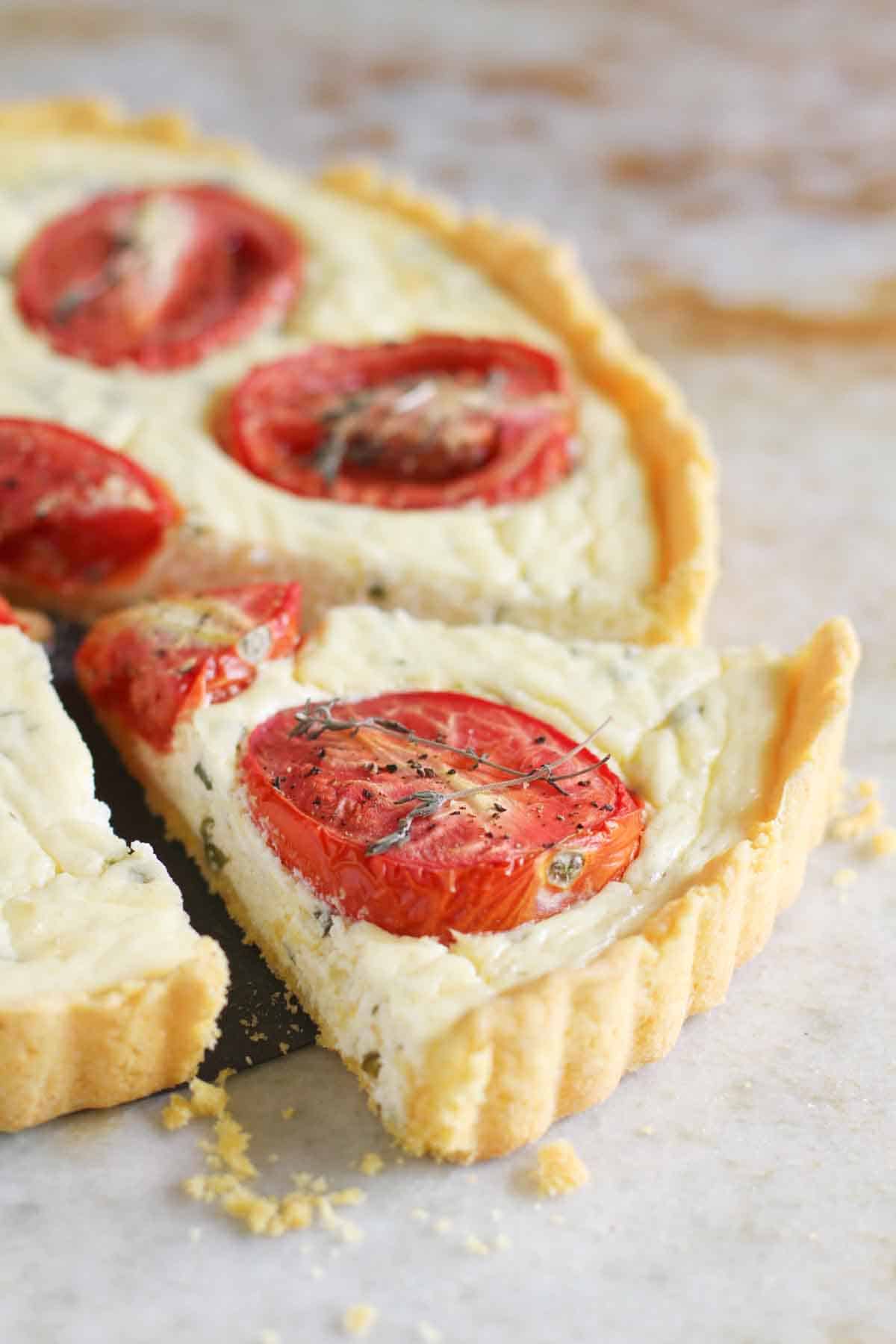 It's no secret that I'm a cookbook lover. And while I buy them to cook from, of course, I sometimes buy them just to look through them. To drool over the beautiful photographs. And there is one cookbook author whose books are at the top of the list of the most beautiful cookbooks – Donna Hay.
Donna Hay is an Australian food editor and cookbook author. She has a very recognizable signature style – very clean and simple. And stunning. I seriously cannot look through one of her cookbooks without getting hungry. They are seriously coffee table worthy.
So when I was offered a copy of her newest cookbook – Fresh and Light – to review, I knew I couldn't pass up the chance!

Fresh and Light is filled with over 180 recipes that are all about balance. I love what she says in the opening of the book – "So this is not a diet book. For me, it's always been about balance, and Fresh and Light is my answer to my own best efforts at juggling for that perfect balance." This is exactly my philosophy, so I was so excited to jump into this book.
I didn't have any problem choosing plenty of recipes from this book that I want to make. But I'm not going to lie – many of these recipes would take some convincing for my family to try. Things like Spicy Chicken Larb with Pickled Cucumber or Preserved Lemon Chicken with Kale. But that being said, I would love to cook more recipes like these so that my family will be drawn to them!!
Another note to mention – it would be smart to have a kitchen scale to cook from this book. Some of the ingredients are listed in only weight measurements, and if you don't have a scale, you might spend a lot of time online doing conversions. But really – you should have a kitchen scale anyway!!
When I was looking through this book for the first time, I saw the photo of this tart and knew immediately that this would be one of the recipes I would try. No question about it. And I'm so glad I tried it. This recipe definitely doesn't taste "diet" or "light". The buttery crust with the creamy filling – I could have actually been fooled into thinking this was something that was bad for me. The recipe calls for a 24cm tart pan, and all I have is an 11-inch pan, but I actually think the pan fit perfectly. There are only 2 changes I would make next time. First, I wish I would have roasted my tomatoes longer. Tomatoes aren't exactly in season here, so I think a few more minutes of roasting would have made them even better. And I would have added more salt. I sprinkled salt over the top of my piece and it was perfect, so I'd probably just salt the tomatoes as they roast.
But that being said – this tart was amazing. I loved it when it was warm, but I had a slice for lunch the next day, just cold, straight from the refrigerator, and I was blown away at how much I liked it. I would easily make this again – especially when the tomatoes are coming off the vine this summer!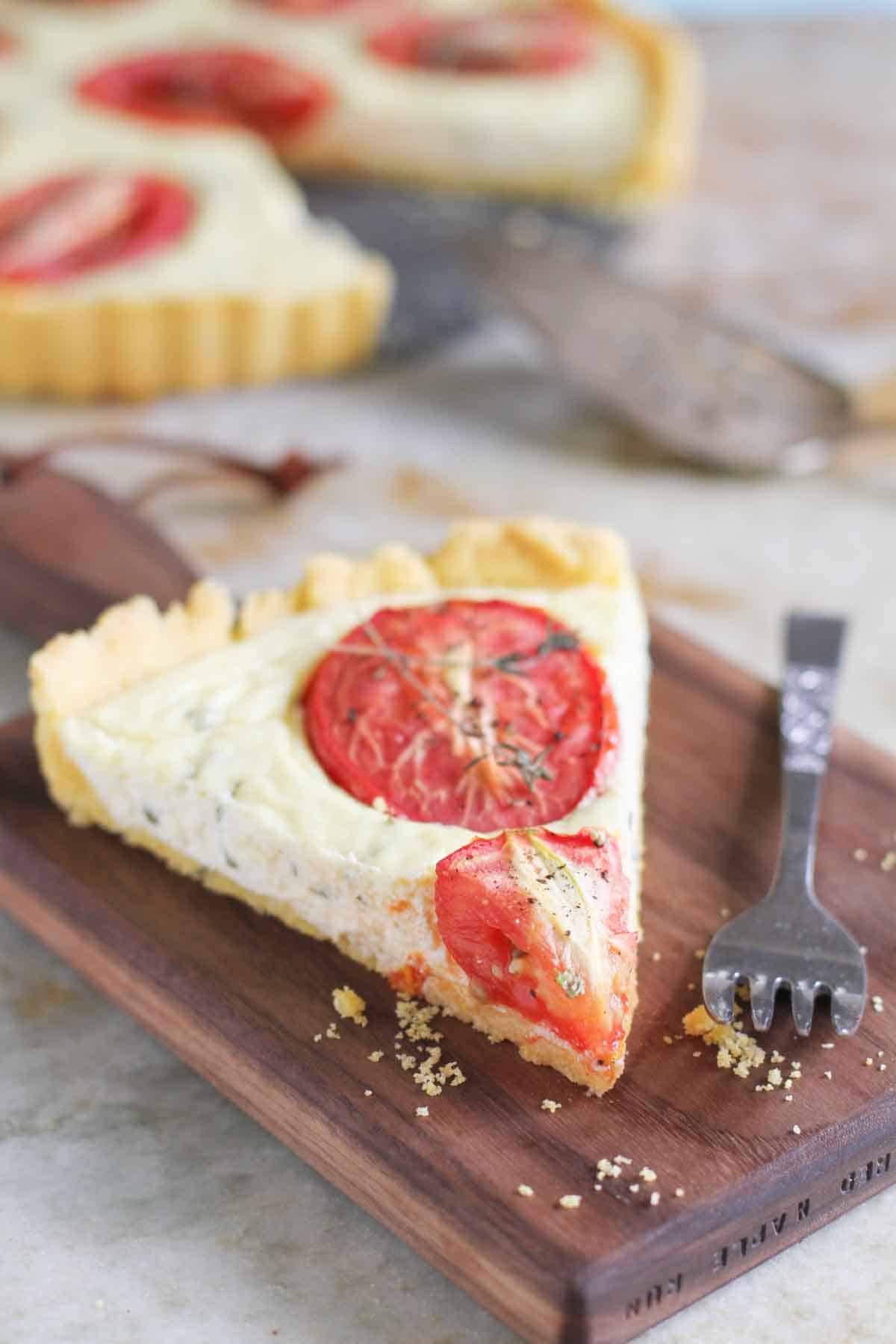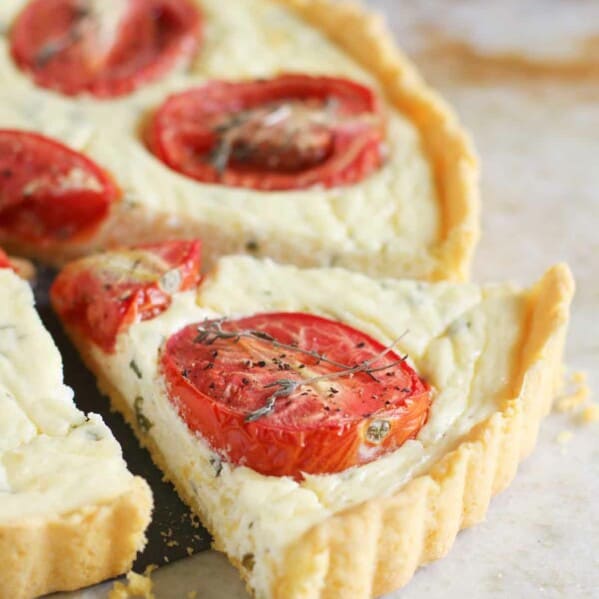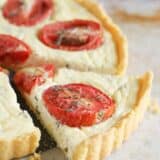 Polenta Crust Tomato Tart
---
Author:
Prep Time: 20 minutes
Cook Time: 1 hour 20 minutes
Total Time: 1 hour 40 minutes
Yield: 4-6 servings 1x
Category: Main Dish
Method: Baked
Description
This Polenta Crust Tomato Tart is a tart with a cornmeal crust that is filled with a creamy filling and topped with roasted tomatoes.
---
Scale
Ingredients
4 Roma tomatoes, halved
8 sprigs of thyme
cracked black pepper
1/2 cup (75g) all-purpose flour
1 cup (170g) instant polenta or cornmeal
120g butter (about 8 1/2 tablespoons)
1/3 cup water
salt
300g reduced-fat cream cheese
3 eggs
1/2 cup chopped basil leaves
1/3 cup (25g) finely grated Parmesan
---
Instructions
Preheat the oven to 400F. Line a baking tray with parchment paper and place the tomatoes on it, cut side up. Top each with a sprig of thyme and season with pepper. Roast until soft, about 30 minutes. Remove from the oven and set aside.
Reduce the oven heat to 350F. Combine the flour, cornmeal, butter, water and salt in a food processor. Process until a dough forms. Press the dough into an 11-inch tart pan. Place a piece of parchment paper over the crust and fill with baking weights or dry beans. Bake for 15 minutes, then remove the weights and parchment paper, and continue to bake for an additional 10 minutes, or until crisp.
Place the cream cheese and eggs in a food processor and process until smooth. Stir in the basil and parmesan. Pour the mixture into the pastry shell and top with the roasted tomatoes. Bake until set, about 25 minutes.