A homemade version of Jordan Almonds – whole almonds coated in a candy coating.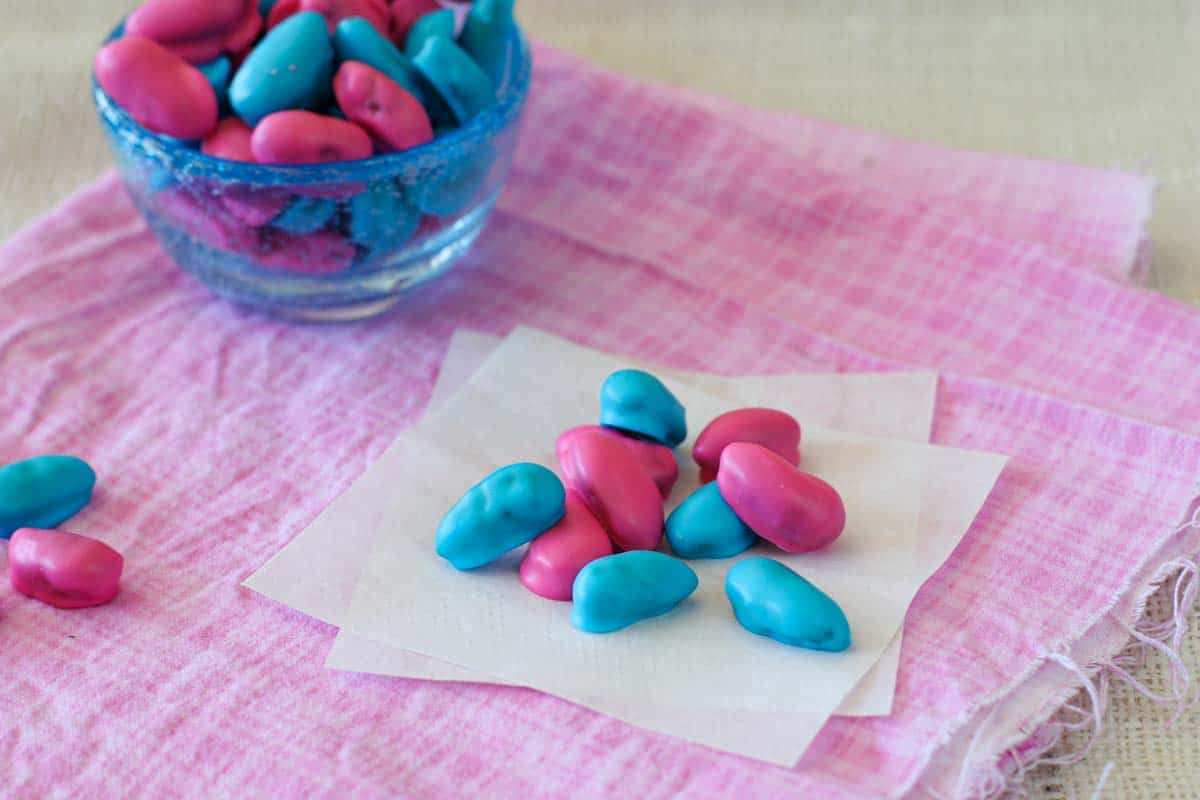 Can I just tell you how fun this month's Cookbook of the Month is? Sure, there are the expected candy recipe in this book – like the ones for caramels and truffles, but it goes way beyond with recipes like homemade candy corn and yes – Jordan almonds. I would have never imagined that I could make Jordan almonds at home!!
In high school, I worked for the local movie theaters. Those were the days of unlimited popcorn and Sprite with squirts of cherry flavoring. And half priced candy. One of my very favorites that I had a hard time turning down? The Jordan almonds.
It's funny that when I think of Jordan almonds, I think of watching a movie from the roof of the drive in theater. Most people associate them with weddings, but not me. Those were the good days when you could down a large box of almonds and a bucket of popcorn and not worry about how many miles you'd have to run the next day to burn off the calories. These days, I rarely buy Jordan almonds, but I still love them just as much.
When I saw this recipe for Jordan almonds, I just had to try them out. I honestly did not think that they would work. It's like trying to make M&Ms at home – something that is virtually impossible. So I was surprised at how well these actually did work! I obviously went a little overboard on the food coloring, but I figured that's kind of the fun of it. You can make these babies in any color that you want! They didn't taste exactly like the store bought almonds, but I guess homemade never really tastes just like their mass-produced counterpart. And even after 24 hours, the coating isn't super hard like the store bought ones, but it is set up enough that they can be thrown into a bowl and they won't get messed up. The only problem I had was that when I originally did these, the recipe didn't really explain how to coat the almonds in the fondant. I just threw them all in a bowl and stirred in the fondant – this did not work. I ended up having to start over and dip each almond individually. It took some time, but it was a fun recipe !!  Oh, and these are made with raw egg whites, so this probably isn't a recipe for young children or pregnant women or anyone scared by raw egg whites!
Recipe Rating:  8 out of 10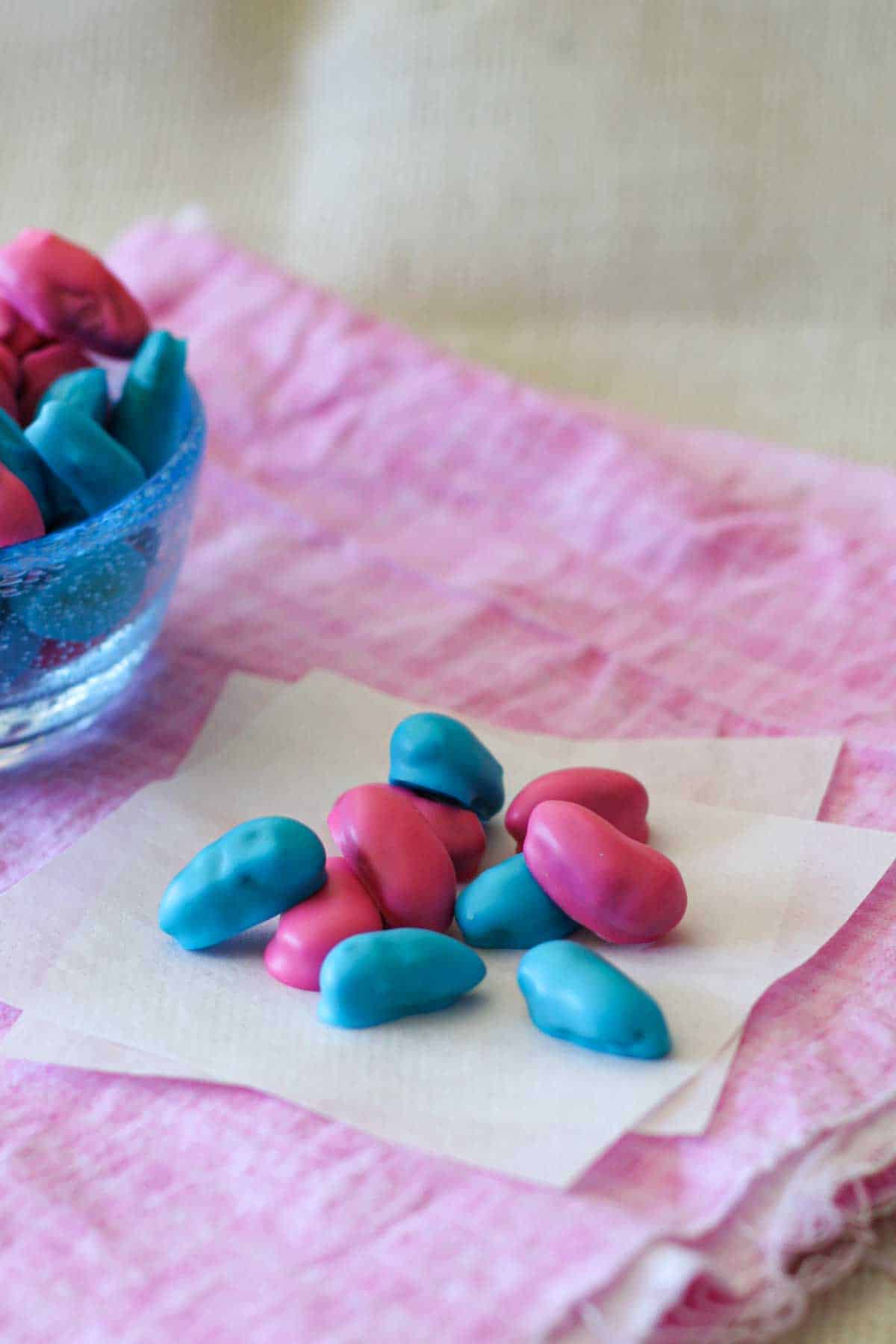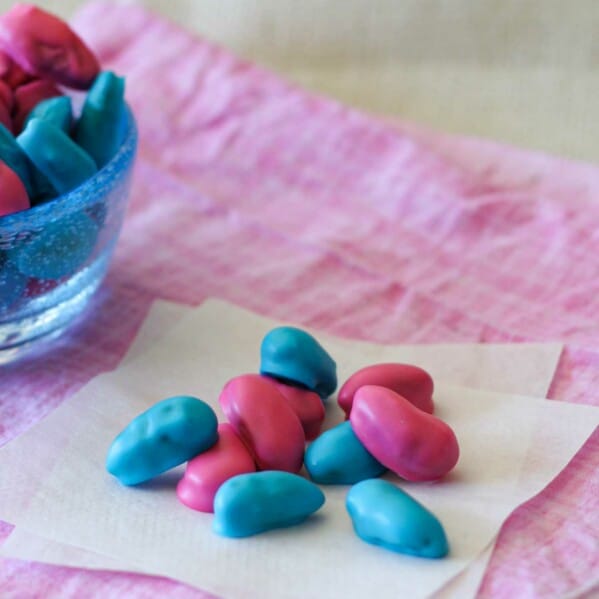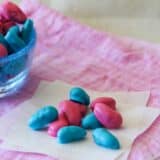 Jordan Almonds
---
Author:
Prep Time: 30 minutes
Cook Time: 10 minutes
Total Time: 48 hours
Yield: about 4 cups 1x
Category: Dessert
Cuisine: American
Description
A homemade version of Jordan Almonds – whole almonds coated in a candy coating.
---
Scale
Ingredients
2 1/2 pounds whole blanched almonds
1 pound powdered sugar
3 egg whites
food coloring, if desired
---
Instructions
Preheat the oven to 350ºF. Spread out the almonds in a single layer on several baking sheets. Toast in the preheated oven for 5 to 10 minutes. Remove from the oven and let cool.
Line clean, cool baking sheets with silicone baking mats or parchment paper.
In a stand mixer fitted with the paddle attachment, beat the egg whites and the confectioners' sugar together until thick. Add food coloring if desired.
Dip the almonds in the sugar mixture, removing with a fork and letting the excess drip off. Transfer to the lined baking sheets and allow to cool completely. (This can take awhile – I would let them sit for 12-24 hours.)