A recipe for Roasted Lemon Almond Cornish Hens – Cornish hens are cooked in the slow cooker with lemon, thyme, and almonds for a tender, fall off the bone slow cooker meal.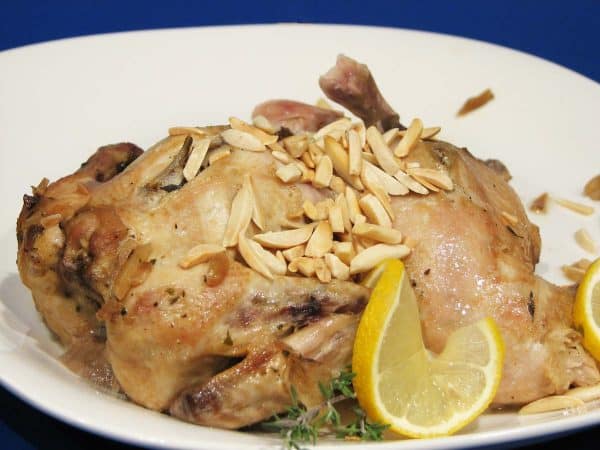 I don't participate in blogging events very much. It's not because I don't want to, because I would love to participate in every single one of them – but I swear time passes me by too quickly, and even though I have every intention to participate, it just doesn't always happen.
But then I saw that Lis was hosting this round of Weekend Cookbook Challenge and the theme is pressure cookers, dutch ovens and crock pots. Well, we all know how I love my crock pot, so I knew that I would be wanting to participate in this even this month. It seemed as though time had gotten the best of me again as I realized that the deadline is tomorrow, and I still hadn't made anything. But lucky me – as I was going through some photos on my computer last night, I found this recipe for Roasted Lemon Almond Cornish Hens that I made in the crock pot way back in December. It looks like I am getting to participate after all!!
This recipe came to me at the perfect time. I was at the grocery store one day just before Christmas, and I saw some Cornish hens on sale. I had never made a Cornish hen, and I don't think I had actually ever eaten one either. I did what I hardly ever do – I bought 2 of them, even though I didn't have a recipe in mind. (I am a total planner – I work out my grocery list based on what is on the menu, and I rarely just pick up something because I want to try it out without a plan in mind!)
So on Christmas morning, we are opening presents, and I get my new, beautiful, bigger-than-my-old-one crock pot. I pull it out of the box, and find the instruction booklet, that also has some recipes to use in your crock pot. Lo and behold – there is a recipe for Cornish hens!! And I had everything on hand that I needed to make the recipe!!
I made these the day after Christmas, and since I was home all day, I was able to baste the hens with the juices throughout the day. By the time we were ready to eat, these hens were falling apart they were so tender. I actually had to piece this one together to even take a picture, because they fell right apart when I took them out of the crock pot!! It was such a delicious meal, and easy to boot. If you are looking for a good crock pot recipe, this definitely fits the bill!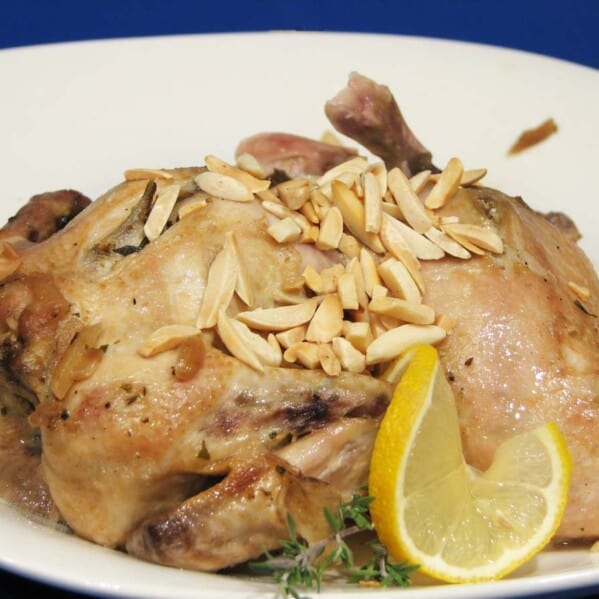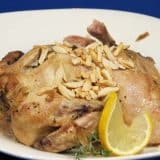 Slow Cooker Roasted Lemon Almond Cornish Hens
---
Author:
Prep Time: 10 minutes
Cook Time: 9 hours
Total Time: 9 hours 10 minutes
Yield: 2-4 servings 1x
Category: Main Dish
Method: Slow Cooker
Description
Cornish hens are cooked in the slow cooker with lemon, thyme, and almonds for a tender, fall off the bone slow cooker meal.
---
Scale
Ingredients
3 lemons
2 Cornish hens, thawed
2 tablespoons butter, melted
4 cloves garlic, minces and divided
4 teaspoons minced fresh thyme, divided
1/2 teaspoon salt
1/2 teaspoon ground pepper
1/2 cup slivered or sliced almonds, toasted and divided
---
Instructions
Slice one lemon; place 2 to 3 slices in the cavity of each hen. Place one teaspoon minced thyme and 1 clove of mince garlic in each cavity. Place hens in slow cooker.
Juice 1 lemon; mix lemon juice, butter, remaining garlic and thyme, salt and pepper and drizzle over hens. Sprinkle with 1/4 cup almonds.
Cover and cook on low 8 to 10 hours (4 to 6 on high). If desired, baste hens with juices throughout the time.
Arrange cooked hens on a serving platter. Serve with remaining lemon slices and garnish with remaining almonds.
Recipe Notes:
source: Rival Cooking