Chocolate Dipped Cookies – Crispy butter cookies are dipped in chocolate for a delicate cookie that is great with hot chocolate.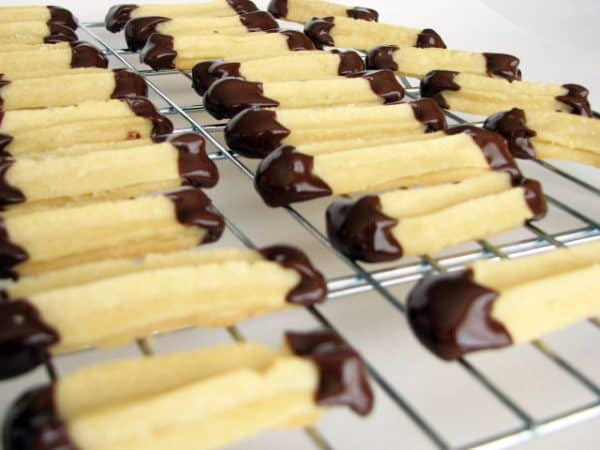 Since I started my cookbook of the month series 6 months ago, I have had a lot of fun going through various cookbooks. I have had a wide range of cookbooks, from Italian to bread to candy. Some months, I have all 4 of my recipes made in the first week of the month, but other months, I spread it out over the whole month. Some months I choose out all 4 recipes the day I decide on the cookbook for the month, and other months, I carry the book with me everywhere I go, looking through it every day, and changing my mind every day about which recipes I am going to choose. This month's cookbook falls in the latter category. There are just so many choices – I have changed my mind probably 20 different times throughout the month.
Because I have been so indecisive, I didn't have all of this month's recipes made in the beginning weeks of the month. In fact, yesterday I realized that I hadn't made my recipe to post this week yet. Of course I had lots to choose from, but I knew I had to work last night, and I didn't feel like doing anything extravagant or anything that would take a ton of effort. I also didn't feel like going to the store, so I sat down with the book and started looking through the recipes, and decided to make the first recipe I came across that I had all of the ingredients for. I got really lucky with this one, because it probably isn't one I would have normally chosen. These were the most simple cookies, and I loved them! My husband even loved them, and I thought that he wouldn't be very excited about them.
These aren't your typical "dessert" cookies in my opinion. The book says to serve them with "hot chocolate topped with swirls of whipped cream and dusted with chocolate powder" and I think that is where these cookies would really shine. They are very light and crispy, and very fragile. They aren't too sweet, and the chocolate tipped edges take these to a whole new level. This is a cookie where the quality of ingredients is really going to make a difference. Because they are so simple, each ingredient really stands out. I don't think my butter was soft enough when I made these, because when I went to pipe them out, the dough was too thick. I ended up putting the dough back into the mixing bowl and mixing in about a tablespoon of milk to loosen up the dough. It was still a little difficult to pipe, but by the time I was about half-way through, it became easier – probably because my hands had warmed up the dough. I would suggest either adding a bit of milk to soften the dough, or make sure your butter is soft enough when you start. The only other step I would change next time would be to dry them on parchment paper instead of the cooling rack. Because these cookies are so fragile, many of them broke apart when I was taking them off of the rack because the chocolate stuck a little bit on the rack. It wasn't a huge loss because I didn't make them for a specific purpose, and I just ate the broken cookies!!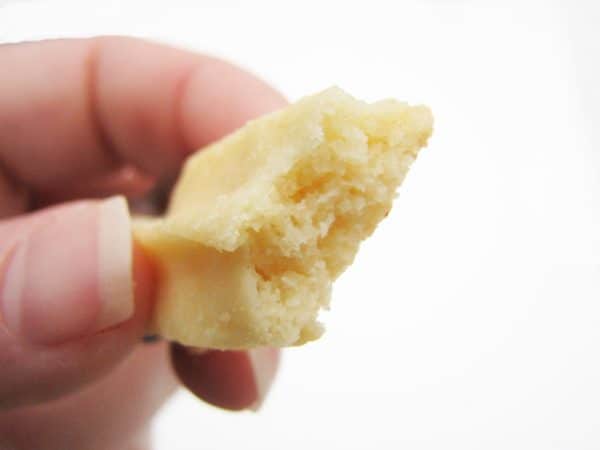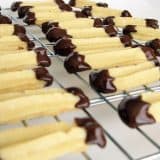 Chocolate Dipped Cookies
---
Description
Chocolate Dipped Cookies – Crispy butter cookies are dipped in chocolate for a delicate cookie that is great with hot chocolate.
---
Scale
Ingredients
4 ounces/ 1/2 cup butter at room temperature, diced
3 tablespoons powdered sugar, sifted
5 ounces/ 1 1/4 cups all-purpose flour
few drops vanilla extract
3 ounces semisweet chocolate, chopped
---
Instructions
Preheat oven to 350F. Lightly grease 2 baking sheets, or use parchment paper.
Put the butter and sugar in a mixing bowl and cream together. Add the flour and vanilla to the creamed mixture and mix until thoroughly combined.
Spoon the mixture into a large piping bag fitted with a large star nozzle and pipe 4-5 inch lines onto the prepared baking sheets, leaving space for expansion. (I made mine about 3 inches).
Cook for 15-20 minutes, until pale golden brown. Leave on the baking sheets to cool slightly before lifting on to a wire rack. Leave the cookies to cool completely.
Put the chocolate in a small heatproof bowl and melt over a pan of hot, but not boiling water. Dip both ends of each cookie into the melted chocolate, return the cookies to the wire rack or set on parchment paper to set.