Change up your stuffing this year by making this Pizza Stuffing – stuffing with a pizza twist!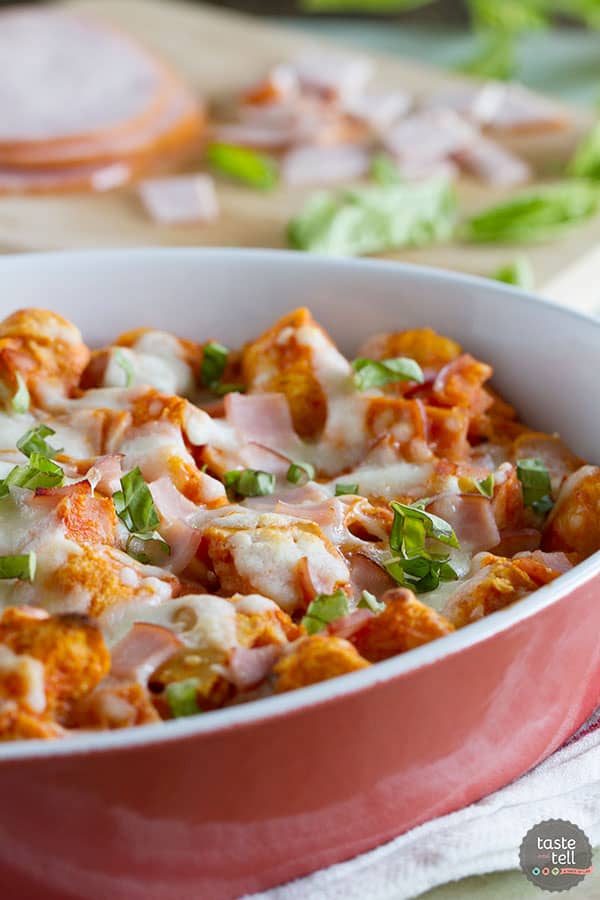 Every year around this time, it's the same thing. I start thinking to myself – do I try something new for Thanksgiving this year, or do I stick with the traditional recipes that we always use?
Luckily, I don't have to make a whole Thanksgiving meal myself. We have a lot of family close by, so the holiday is always spent with family. (I think this is why Thanksgiving is one of my very favorite holidays!) We usually go pot-luck style, each of us choosing what part of the meal we want to contribute.
There are a lot of recipes that we always keep the same – the Cranberry Salad, the Goodman Fruit Salad, the festive green beans, the mashed potatoes. But then my mom and siblings tend to get a little more creative when it comes to the rest.
One recipe that I think lends itself to creativity is the stuffing. Stuffing, dressing – I know there is a big debate about what it is actually called, but I just call it good. And a very important part of the Thanksgiving meal.
And thank goodness Jones Dairy Farm is back again this year with their Stuffing and More website!! This is the only site you will need when it comes to Thanksgiving stuffing this year. There is everything from Butternut Squash Stuffing with Jones Sausage to Jones Ham and Cheese Croissant Stuffing to a Traditional Herb Stuffing with Jones Bacon and Sausage.
And this beauty – Pizza Stuffing with Jones Canadian Bacon.
Don't ask me where I came up with this idea. I think it's a given that we love pizza and have it pretty much weekly. So really, pizza is always on my mind. When this idea popped into my head, I knew I had to run with it. It is definitely not your normal, traditional stuffing, but neither was the BBQ Bacon Stuffing I created last year. I say even if you want to stick with tradition, choose one or two sides and try something new. 🙂
I used Jones Canadian Bacon in this recipe, along with some pizza sauce and lots of cheese. It really does taste like a pizza in stuffing form! I have raved about the quality of the products from Jones Dairy Farm for years now – and you want nothing but the best when you are feeding your family!! Jones Dairy Farm products can be found at fine retailers nationwide. You can find the nearest retailer here.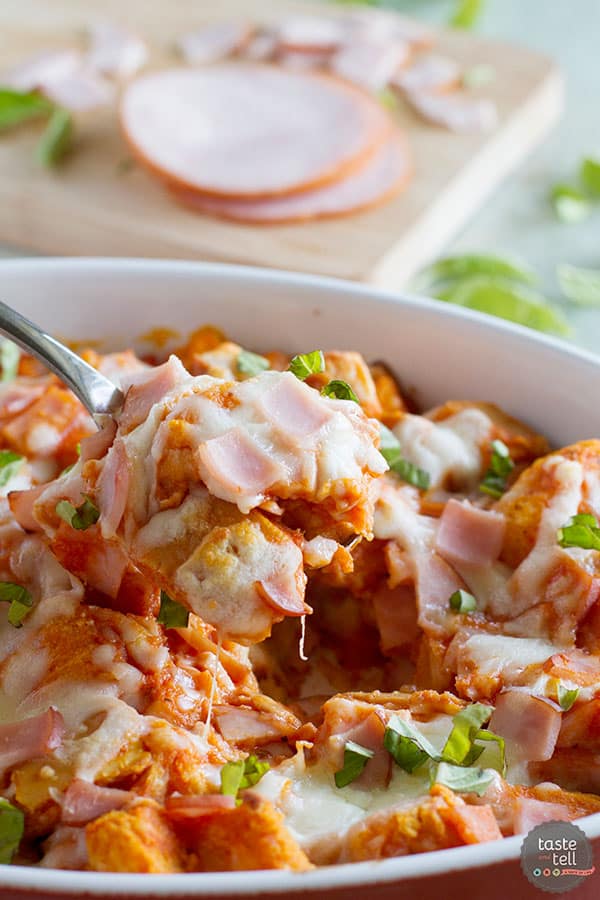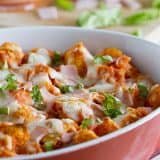 Pizza Stuffing
---
Prep Time: 15 mins
Cook Time: 42 mins
Total Time: 57 minutes
Yield: 10 servings 1x
Category: Side Dish
Method: Bake
Cuisine: American
Description
Change up your stuffing this year by making this Pizza Stuffing – stuffing with a pizza twist!
---
Scale
Ingredients
12 oz French bread (day old works the best)
1 1/2 cups chicken broth
1 cup prepared pizza sauce
1 egg
8 oz Mozzarella cheese, shredded
1 (6 oz) package Jones Dairy Farm Canadian Bacon, cut into 1/4 inch pieces
1/4 cup shredded basil
---
Instructions
Preheat oven to 375˚F.  Cut bread into 1/2-inch cubes and place in single layer on baking sheet.  Toast in oven until golden, about 12 minutes, stirring halfway through.
In large bowl, combine chicken broth, pizza sauce and egg.  Add toasted bread cubes, mozzarella and Canadian Bacon, reserving some cheese for topping.
Spray 3-quart baking dish with nonstick cooking spray and pour mixture into it.  Top with reserved cheese. Bake until cooked through and cheese is melted, about 25-30 minutes.
Top with basil to serve.